It's like something out of a bad science fiction movie: a creeping white crud slowly covers the city of Chicago – except it's for real.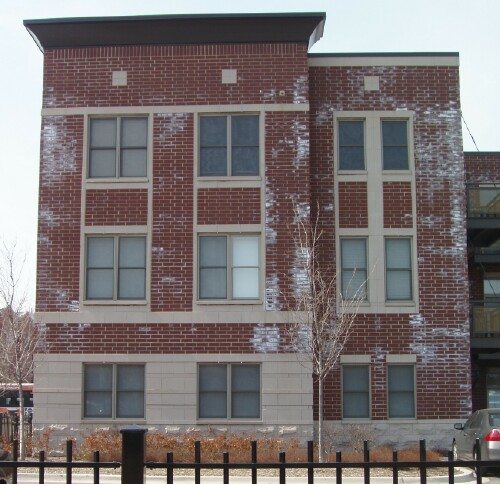 Perhaps you've noticed over the last month or so that many Chicago buildings have become mysteriously coated with this crud. So what is it, why is it appearing now, and is it a problem?
I did some checking around with various knowledgeable friends and John Reim of Bee Sure Home Inspection. Everyone seems to agree that it's efflorescence, which is defined as a crystalline deposit of salts. Efflorescence is not to be confused with effervescence, which is what happens when you open a bottle of soda. Apparently the masonry industry itself is confused about this because bricklayers have purchased ads on Dictionary.com under effervescence. It is also not to be confused with Evanescence, whose music I rather enjoy and am now reminded to buy one of their CDs.
Efflorescence occurs when moisture gets into the brick, dissolves the minerals  that are uselessly laying around in there, and then brings them to the surface as the water evaporates. Since we have had a fairly wet and cold winter there has probably been a lot of water seepage into bricks and now that the weather is warming up the water is bringing these minerals to the surface. Although it looks like hell, efflorescence apparently does not represent a threat to the structural integrity of the brick and it will probably wash away as we continue to get wet weather. Some of it may even get driven back into the brick only to reappear another day.
Such are the joys of living in Chicago.