Homes For Sale in Chicago's Rogers Park
As in most parts of Chicago, the vast majority of Rogers Park homes are condos or townhomes. You can browse through the MLS listings for Rogers Park homes at the links below.
Recent Listings
Market Data & Trends for Rogers Park
Rogers Park looks like another Chicago neighborhood where condo inventory levels got pretty ugly in the fall and winter of 2008/2009 – surpassing a 4 year supply. However, as we entered the spring selling season in 2009 home inventories dropped quite a bit and continued to improve through April of 2010, when they reached the best levels of 4 years. However, as in other Chicago neighborhoods, the situation deteriorated again in May and June of 2010 but have actually recovered quite a bit since. October inventory levels are actually at an all time low for this time of the year, with only a 9 month supply of homes on hand.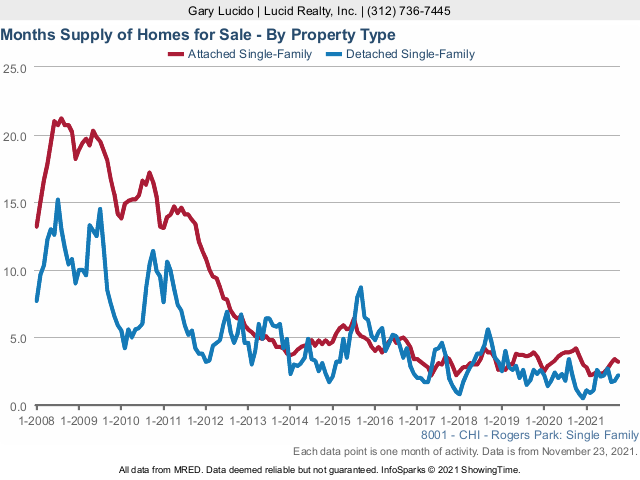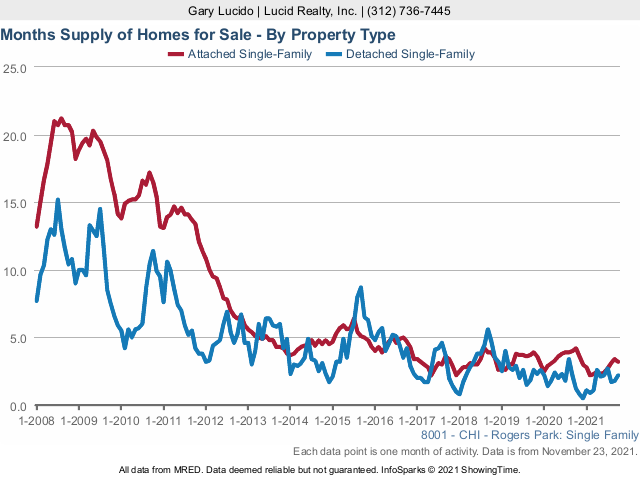 The market times in Rogers Park have actually been fairly steady between 140 and 180 days. The last 12 months appear to be slightly elevated.
Note that the MLS has changed their methodology for reporting market times, affecting all data after October 2007.
Explore Rogers Park
Bounded on the north by Howard Street / Juneway Terrace, on the south by Devon Avenue, on the west by Ridge Boulevard, and on the east by Lake Michigan, Rogers Park is Chicago's northernmost neighborhood area. Evanston may be just a skip away, but this lakeside neighborhood approximately 9 miles north of the Loop is a jewel of the Windy City. Not least among the selling points are the numerous direct-access beaches or the extremely diverse population that calls the neighborhood home.
Contents
History
Eating and Nightlife
Parks and Beaches
Transportation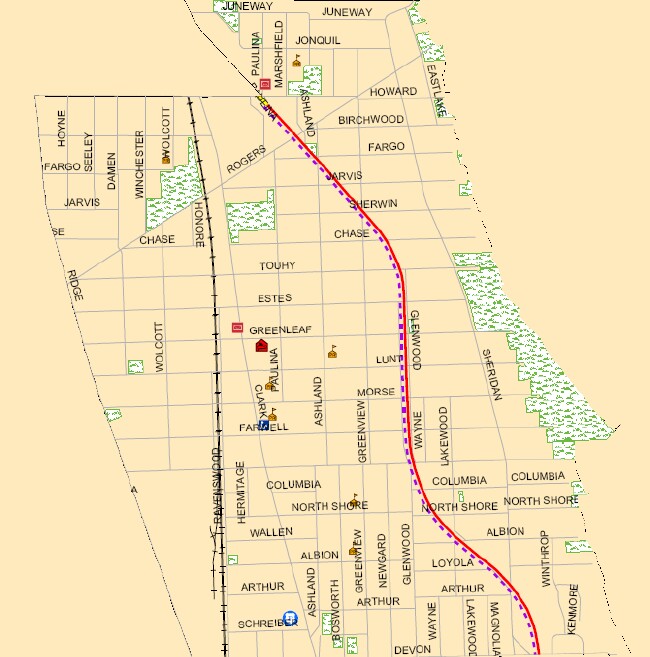 History
Named after the Irishman who first bought land there, Rogers Park has seen a confluence of peoples and cultures, from the Native American tribes who used the area as a thoroughfare/trading post to an influx of immigrants starting around the mid 1800s. What was once largely marshland soon blossomed into a full-blown town as roads replaced footpaths and the railroad arrived in the 1860s. By the time of the Columbian Exposition in 1893, Rogers Park had been annexed to the City of Chicago. During both World Wars, the population increased rapidly due in part to a housing shortage and in part to a vast array of new apartment buildings, the legacy of which is still felt in the fact that Rogers Park remains predominantly a renter community. In addition to two- and three-story apartment buildings, however, the neighborhood includes a variety of condominiums, low-rise flats, Victorian walk ups, townhouses, and other single-family options. Like many neighborhoods on the north side, rehabs are common, further fueled by a recent ban on high-rise construction. The lush, spread out feel of the neighborhood, combined with the availability of affordable housing (historically some of the most affordable on the north side) and its access to public transportation attracts a diverse crowd. Included in this crowd are students (over 15,000) who attend Loyola University, located on the community's southeastern edge.
---
Eating and Nightlife
Up until the 1980s, Rogers Park was a hot place to catch a movie, with four gigantic and highly ornamental movie palaces. These movie theaters have since shut down, but the neighborhood still maintains a reputation as an entertainment destination. In particular, Rogers Park is home to a thriving theater community, with a mix of long established companies and fledgling startups, typically in some very intimate venues. Need to grab a bite before the show? Not a problem as Rogers Park has its share of restaurants, whether upscale or simple, eatery or cafe — and when it's time to grab a late night drink, the younger population surrounding Loyola University keeps the watering holes open. Clark Street and Devon Street serve as commercial havens, and a good bite (or a good bargain) is always around the corner from one of several El stops in the area.
---
Parks and Beaches
One of the most visible — and expansive — amenities of Rogers Park is the superabundance of public spaces, most notably the public beaches at the end of nearly every east/west road (18 to be exact!). In fact, Rogers Park is the only neighborhood in Chicago with direct access to such lakeside hangouts — just keep on driving east and you're bound to meet up with a sandy strip or grassy patch. Whether working on a tan or getting one final game of volleyball in before dusk, there's plenty to keep you occupied. The neighborhood's namesake park is located along the lake, as is Loyola Park Beach (just north of the university), which offers baseball diamonds and basketball courts, all amidst some stunning views over the water. Even for those feeling a bit hydrophobic, this green neighborhood steps up to the plate — Ashland Park, Touhy Park, and Pottawatomie Park are all within short walking distance of Roger's Avenue.
---
Transportation
When it comes to the Red Line, Rogers Park is literally the end of the line. Before the stop at Howard — which has undergone some serious renovation as of late — one also has a chance to climb off at the Jarvis, Morse, and Loyola stops. The Purple line stops at Howard as well and, aside from its express route to the Loop (still about half an hour), provides a convenient way north into nearby Evanston. For those looking to cut down on the train time, there is also a Metra Station in Rogers Park off of the centrally located intersection of Ravenswood and Lunt Avenues. Some of the convenient bus routes in the area include the 147(which will take you to the Loop), the 151, and the N201. Parking is generally available and much cheaper than those grotesque downtown rates, and Clark Street/Sheridan Road provide a convenient-enough way there.
Search Chicago Area Properties For Sale