Homes For Sale in Chicago's West Town
As in most parts of Chicago, the vast majority of West Town homes are condos or townhomes. You can browse through the MLS listings for West Town homes at the links below:
Recent Listings
Market Data & Trends for West Town
After a brutal winter, spring, and summer in 2009 West Town's condo inventory (2 – 3 bedrooms) had been declining substantially, with April 2010 levels much better than the previous year. This improvement was clearly due to higher contract activity from the tax credit. However, once the tax credit ended condo inventory skyrocketed above the previous year's level but has since recovered substantially. For 2011 we are actually seeing better inventory levels than many of the months in 2010 – especially June of course. West Town condo inventory is slightly lower than the average Chicago neighborhood right now and it's lower than any October since we've been tracking it.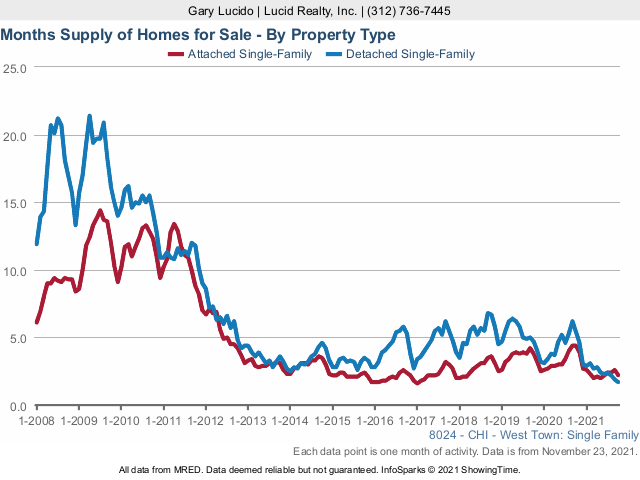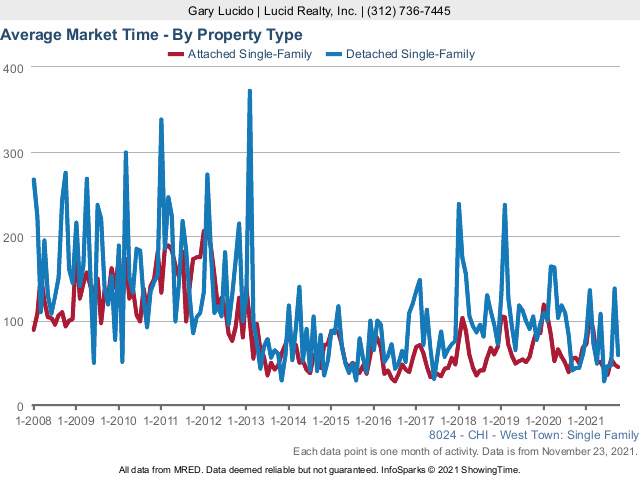 Fairly typical of a Chicago neighborhood. And in the last 2 years the market times have been on a steady, gradual decline.
Explore West Town
The Chicago neighborhood area known as West Town is, like the Near West immediately below it, home to a diverse assortment of neighborhoods. With s on the north, Kinzie on the south, the Chicago River on the east, and a meandering western boundary that goes as far as Kedzie, West Town has plenty to offer, from the tranquil boulevards of Humboldt Park to the teeming sidewalks of Wicker Park.
Contents
Wicker Park
Bucktown
Ukrainian Village
East Village
Noble Square
River West
Humboldt Park

Wicker Park
Of all the bohemian haunts on Chicago's north side, the neighborhood making up the northeastern part of West Town holds the distinction of being the most artsy. Even more so than the adjacent locale of Bucktown (which is only ambiguously set apart from its southern counterpart), Wicker Park is a haven for artists,hipsters, and thinly disguised dilettantes. Since the mid-eighties,this predominantly younger crowd has been drawn to the affordable prices as well as the independent feel of the place (including many small businesses and custom boutiques). Yuppies and chain stores have gradually made their way into the mix, but the unique, offbeat identity of this West Town neighborhood remains. In addition to the numerous galleries and studio spaces, Wicker Park has become a music destination, with venues such as the famous Double Door hosting names big and small. An eclectic mix of bars from rowdy beer halls to lounges spinning house music completes the neighborhood's reputation as alate-night hangout. In terms of residential options, Wicker Park contains the diversity that has become the rule rather than the exception for trendy, up-and-coming neighborhoods on Chicago's north side. Stone buildings constructed shortly after the Great Fire are paired with new condominiums, and many of the old houses have been split into two or three separate flats. During the autumn and summer,Wicker Park shares several festivals with like-minded Bucktown,including the Around the Coyote art fair as well as a bargain-rife sidewalk sale in July.
---
Bucktown
Most of Bucktown lies within Logan Square. However, the bottom third between North Avenue and Bloomingdale lies within West Town. See our Logan Square page for more information on Bucktown.
---
Ukrainian Village
Along with the proprietary name, ornate church spires styled in an eastern European vein betray something of the history behind the neighborhood known as Ukrainian Village. Originally settled by German immigrants, the Ukrainian Village experienced an influx of Ukrainians and Russians during the later part of the nineteenth century, an ethnic presence that was cemented with the 1903 construction of Holy Trinity Cathedral (which was partially funded by none other than Nicholas III of Russia). Nowadays, hipsters,entrepreneurs, and young couples of all backgrounds likely exceed veritable Ukrainians (not that we're counting), but the area continues to maintain a communal atmosphere. Houses old and new, two- to three-flats, and some sizable apartment buildings sit along the tree-lined streets. In addition to its residential allure, Ukrainian Village hosts a variety of small shops as well as a thriving nightlife. Like Wicker Park immediately north, the neighborhood has its share of dive bars and notable music venues.
---
East Village
Just east of Ukrainian Village (hence the name), this is the new home of Gary Lucido, the President of Lucid Realty. East Village shares in the mix of Eastern European culture and newer residents (some of them Wicker Park expatriates) that has come to characterize the area. Despite the fact that it was once viewed as an extension of Ukrainian Village, this neighborhood has a flavor all of its own. For example, East Village is a bit denser than its western counterparts, in part due to extensive new development and in part due to its historical proximity to the El (now the Blue Line). The real estate is varied,combining older homes, which dominate the scenery, with many newer single family homes, many of which have ultra-modern finishes.
---
Noble Square
The small neighborhood just east of East Village,south of Wicker Park, and north of the West Loop is often referred to as Noble Square. The rough center of the neighborhood is a small park, Eckhart Park, where Chicago Avenue and Noble Street intersect. Regarding demographics, Noble Square is a sort of blend between Wicker Park and the Ukrainian Village. Artists, immigrants, and young families looking to flee the increasing gentrification of Wicker Park or get a bit closer to downtown have settled here, with convenient access to the Kennedy Expressway. Culinary establishments of all prices and persuasions are packed into the small area, favoring the foodie over the shopaholic.
---
River West
Comparable to the Fulton River District on its southern border, the area sandwiched between the Kennedy Expressway and the Chicago River has only recently become a residential haven for city dwellers. Once dominated by the meat packing houses and wholesale operations, River West has experienced a transformation as large warehouses have been converted into loft space and soaring condos have popped up throughout the area. At present, the neighborhood holds an eclectic blend of people (mostly singles/non family households), from professionals looking to get away – but not too far away – from the downtown scuttle to artists and their loft-based galleries/studios. Residentially and commercially (read: trendy eateries and posh bars),River West is a neighborhood of some impressive growth.
---
Humboldt Park
The 207 acre park in the middle of this scenic neighborhood(on the west end of West Town) is one of the verdant"pearls" linking together Chicago's numerous boulevards – and when it comes to picturesque scenery, Humboldt Park is hard to beat. With a small river,a rose garden, a perennial garden, and even its own lagoon, a blanket is all one needs to soak in the sights (and a bit of sun as well). For the more energetically minded – including but not limited to riotous children – there's also plenty to do: the list consists of an outdoor swimming pool, baseball diamonds, tennis courts, a field house with two gyms, countless running paths, and several other amenities. This spanning plot of green and the accompanying streets are complimented by the architecture, which rarely rises above three stories. Typical options include two-flat houses, brick bungalows, graystones, and a mix of small apartment buildings. Denizens of the neighborhood appreciate its quiet, relaxed feel. This peace and quiet is purchased somewhat at the expense of a nightlife, but the area makes up for the dearth of chic bars/clubs with its numerous cultural offerings. Chicago's Puerto Rican neighborhood centers on the stretch of Division Street in Humboldt Park colloquially referred to as "Paseo Boricua". Even if slow-roasted pork and fried plantains doesn't prick your desire, the annual Puerto Rican Festival is hard to pass up. Lasting six days with not one but two parades, amusement park rides,and live music you can dance to, this June celebration is one of Chicago's largest. In comparison, the day-long festival in September known as Fiesta Boricua- yet another tribute to Chicago's Puerto Rican population – may seem small. The park itself is also home to numerous events.
Search Chicago Area Properties For Sale