Homes For Sale in Chicago's Logan Square
As in most parts of Chicago, the vast majority of Lincoln Square homes are condos or townhomes. You can browse through the MLS listings for Lincoln Square homes at the links below.
Recent Listings
Market Data & Trends for Logan Square
The Logan Square real estate market became horrible right after the tax credit expired, with inventory levels for 2 – 3 bedroom condos approaching a 3 year supply at times. However, since then inventories have plummeted just like they have throughout Chicago – to record low levels. These are levels typically associated with a seller's market.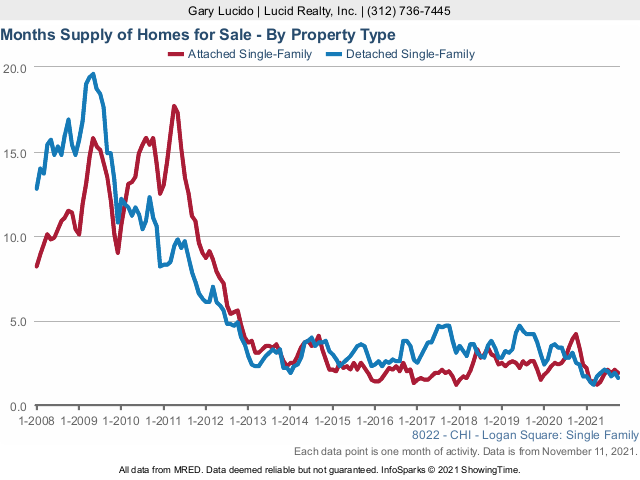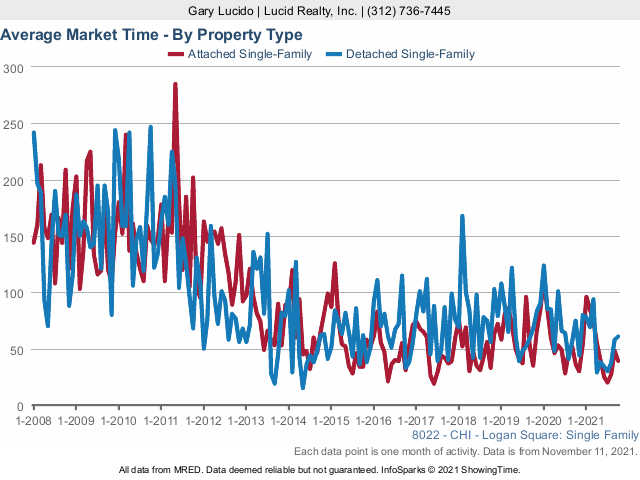 Logan Square is another neighborhood where market times have been fairly steady over the last couple of years, fluctuating between 120 and 160 days. However, in the early part of this year, there was a large drop but that merely reflected that a few listings with really high market times either sold, expired, or were canceled (mostly the latter two). Now the market times fluctuate between 100 and 120 days, which is really low.
Explore Logan Square
Bounded on the north by Diversey Avenue, on the south by Armitage Avenue, on the west by Pulaski Road/Metra North Line, and on the east by the Chicago River, Logan Square is known for its sweeping boulevards and vintage homes. This northwest neighborhood's proximity to the Loop(about 5 miles), abundance of transportation, and relative affordability have made it popular among a diverse group of people, from the hipsters and artists of its western end (in the area known as Bucktown) to the families occupying its numerous bungalow-style houses.
Contents

About Logan Square
Public Spaces and Summer Outings
Bucktown
Transportation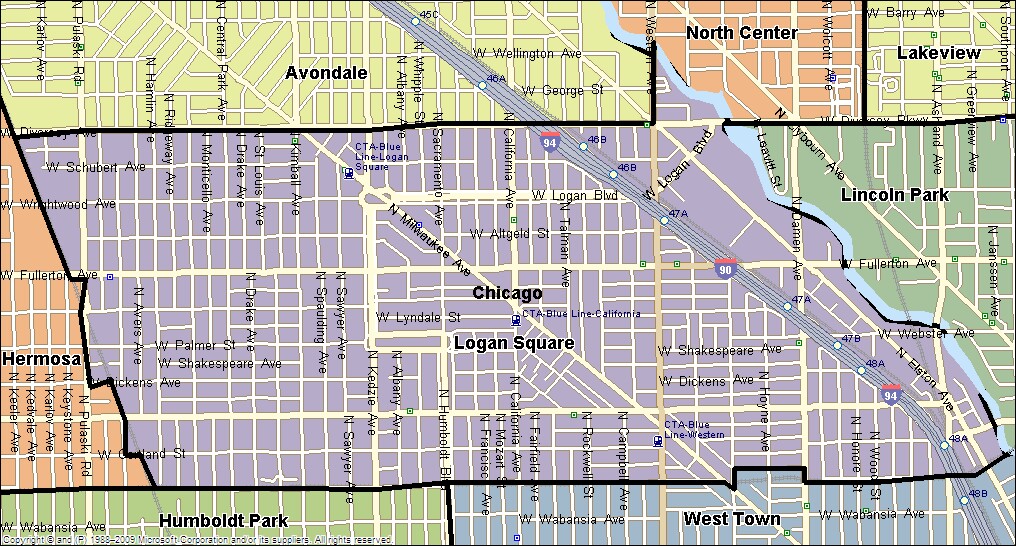 About Logan Square
Historically, Logan Square has always been a melting pot of sorts. Because the area was initially exempt from the stringent (and costly) building requirements of the city's fire limits, many economically priced frame houses were constructed following the Great Fire of 1871. Along with an extended street railway line to Armitage and Belmont, this led to an influx of German and Scandinavian immigrants who were unable to afford the brick and stone dwellings nearer to the city's center. On the other hand, the scenic boulevards laid down in the early 1890s -for which the area is still famous – made Logan Square a prime destination for the new wealth of Chicago's immigrant populations who were shunned, as it were, from joining the landed gentry of the South Shore. This cultural and economic diversity is still reflected in an abundance of residential options, from the prominent, aging mansions that testify to a bygone era to the more-humble condominiums situated off of the large parkways. New condos and brick townhomes are also available, adding to an already sizable list of options.
---
Public Spaces and Summer Outings
In addition to its residential feel, Logan Square is home to several public spaces, including the stately square which bears the same name, located at the 3-way intersection of Milwaukee Avenue, Logan Boulevard, and Kedzie Boulevard. A 70-foot Doric column was originally erected in 1918 to commemorate Illinois' first Centennial towers over the tree-studded intersection. If one square isn't enough, however, there's also Palmer Square (on the southeast corner of Palmer and Kedzie). Comprising 7-acres of green space, Palmer Square is the home of an annual arts festival in August known for its local flavor and live music. This is but one of several offerings that have made Logan Square a popular summer destination. In addition to the local farmer's market (which starts in June), the neighborhood holds its own culinary celebration – The Taste of Logan Square – a scaled-back but nonetheless massive counterpart to the earlier Taste of Chicago occurring in late June/early July.
---
Bucktown
Located on the eastern end of Logan Square and West Town (northernmost portion), Bucktown is a neighborhood that is known for its extensive nightlife as well as its artistic community. Supposedly, the area got its name from the scores of male goats (i.e. bucks) raised by Polish immigrants who flocked to Bucktown during the nineteenth century. One hundred years later, the neighborhood has become a haven for artists, due to its convenient location and low rents. Yet while there are still many galleries and performance venues in the area, the artistic community has begun to move south (to nearby Wicker Park) due to rising prices brought about by gentrification. Perhaps one of the upsides to this gentrification is the voluminous amount of trendy restaurants, bars, and clubs – not to mention plenty of upscale boutiques. The numbers swell on nights and weekends when people from all over the city venture to this trendy neighborhood. Amidst this hustle and bustle, however, the permanent residents may find some peace and quiet in the numerous local parks, of which there are plenty. The options include Holstein Park, which boasts of a free outdoor pool, as well as Senior Citizens Memorial Park, where you might try your hand at a game of shuffleboard. At various points in the year, there are also two large art festivals, the Bucktown Arts Fest in August – of national repute – and the Around the Coyote Festival in October.
---
Transportation
While most of Logan Square is quite walkable, there are plenty of ways to get around. For starters, the Blue Line runs diagonally through the neighborhood, with two convenient stops in the Bucktown area (at Armitage & Western and Damen) and two convenient stops further north (at California and Logan Square – near the square itself). If you plan on taking the car, Kennedy Expressway runs right across its northwestern corner as well as Diversey and Fullerton Avenues for those heading east. Parking is also surprisingly easy, with plenty of open spots and garages. Cabs rush by the major intersections and a host of busses will take you in every which direction.
Search Chicago Area Properties For Sale