Homes For Sale in Chicago's Lincoln Park
Some of Chicago's largest and most expensive homes are in Lincoln Park. However, as in most parts of Chicago, the vast majority of Lincoln Park homes are condos or townhomes. You can browse through the MLS listings for Lincoln Park homes at the links below.
Recent Listings
Market Data & Trends for Lincoln Park
The single-family home and condo markets are very different in Lincoln Park because of the drastically different price points. Historically there has usually been a higher month's supply of single-family homes than condos but at least the two markets moved in the same direction. And both markets have seen a dramatic decline in inventory from the highs coming out of the housing bubble. However, as you can see in the graph below the inventory levels have been moving in opposite directions over the last 2 – 3 years. While the condo inventory remains at extremely low levels – as low as 2.5 months supply – the single-family home inventory level has been rising and recently brushed up against a 10 month supply. This pattern is being repeated throughout the higher-income neighborhoods of Chicago recently and it could represent a demographic shift away from established families to more younger couples and empty nesters.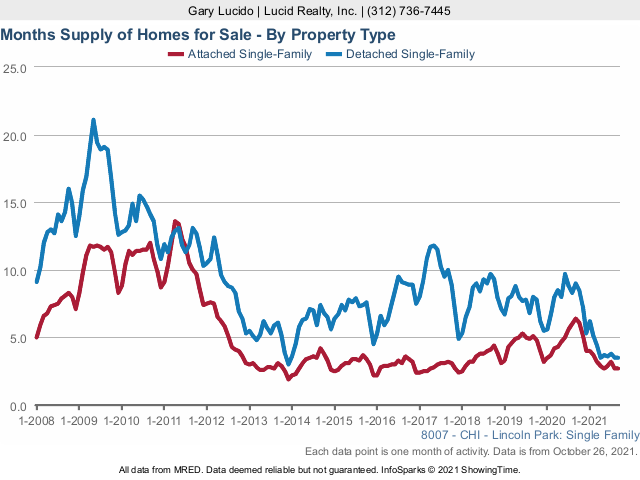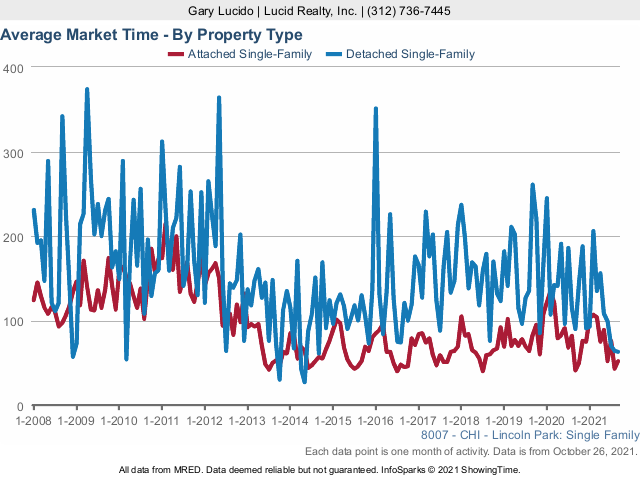 Consistent with the inventory picture above we see fast market times for condos and much higher and rising, market times for single-family homes in Lincoln Park. It wasn't that long ago that it took more than 200 days for the average single-family home to sell and we might see that again before too long.
Explore Lincoln Park
From hip boutiques to narrow, tree-laden streets, Lincoln Park offers a homey sophistication that has become a trademark of Chicago's North Side. Whether escaping the fray in the 1,200-acre park that bears the same name or hopping around its innumerable clubs and bars, one finds plenty of opportunities in this near-Loop neighborhood for both frenzy and relaxation.
Contents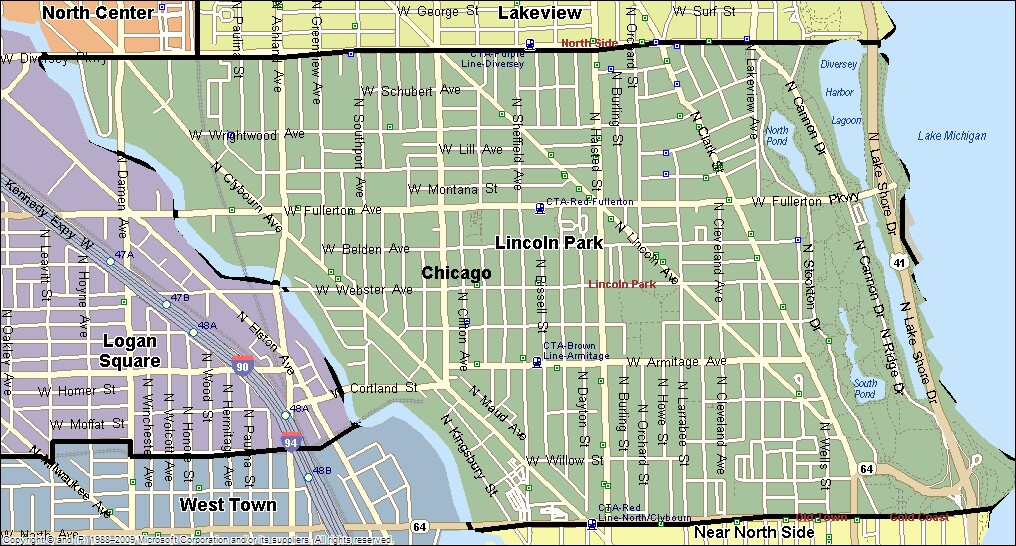 Overview
With Diversey Parkway on the north, North Avenue on the south, the river on the west, and Lake Michigan picking up the slack, one of Chicago's most historic neighborhoods is also home to one of its most youthful populations. This includes plenty of young urban professionals, students (who attend the centrally-located DePaul University – all 23,000 of them), and recent college graduates who manage to defy both the "student" and "young urban professional" designations. In addition to these groups, however, there are a significant number of new families looking to take advantage of the neighborhood's myriad offerings. The family-friendly options include a sizable zoo (free admission!), the Peggy Notebaert Nature Museum, a local branch of the Chicago Public Library, as well as numerous public spaces.
In terms of the scenery, Lincoln Park has kept much of its 19th-century architecture, with the occasional high rise towering over its eastern end. In part due to some extensive conservation efforts started in the '50s and '60s, sixty percent of its current structures were built between 1880 and 1904, shortly after the Great Fire destroyed most of the neighborhood. Brownstones, graystones, and brick walkups three to four stories high still account for the majority of residential buildings. Yet despite the impressive history of the place, the green streets maintain a groomed appearance, with renovations and restorations common.
---
Schools
Lincoln Park is served by 5 different elementary schools depending on where you live: Agassiz, Prescott, Alcott, Mayer, and Lincoln. See the map below for the boundaries as of May 5, 2013.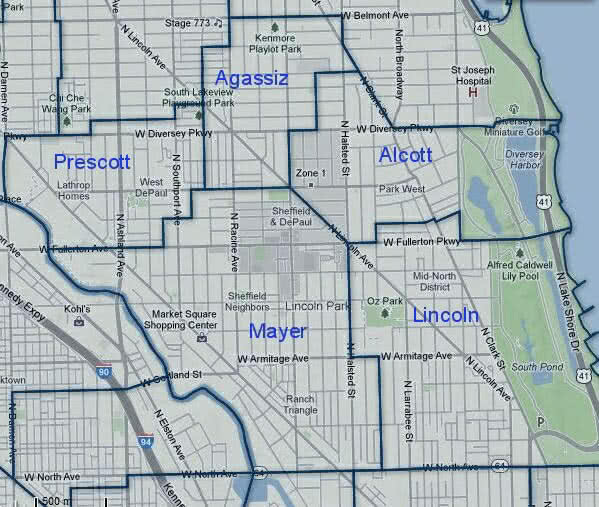 ---
Entertainment and Shopping
In addition to the numerous residential opportunities, the three square miles that comprise Lincoln Park are jam-packed with commercial offerings. From small, lush boutiques to the colossal, upscale malls recently appearing on its south side, the shopping is as diverse as it is expansive. Come summertime, people are out along the streets with bags, children, and/or leashes in hand. Not least on their minds is the smell of fresh fruit and vegetables emanating from the annual farmer's markets, staged at the parking lot of Lincoln Park High School (at the intersection of Armitage and Orchard) and at the southwest corner of the park (on Clark).
If the shopping doesn't draw one out under the mercurial Chicago sky, however, there are plenty of cultural diversions to provide the temptation. For starters, there's the park itself which includes a golf course; tennis courts and basketball courts; playgrounds; playing fields for football, soccer, and baseball; boating facilities; public beaches; gardens; a conservatory; and even an outdoor theatre along the lake. It is Chicago's largest public park, and yet just a couple blocks west lies another formidable tract – Oz Park – in which Dorothy and Toto supposedly first materialized in the mind of author L. Frank Baum. These vast spaces, in conjunction with summer street festivals and a vibrant nightlife, account for the massive pilgrimages to this prosperous neighborhood that take place on a daily basis.
Speaking of the nightlife, there's something for everyone in Lincoln Park – whether upscale or low-key, saucy or cerebral. Fueled by its younger population, the density of clubs, bars, and dining establishments is tough to match anywhere else in Chicago. Theatergoers also have plenty to choose from, including the historic Biograph Theatre (now the Victory Gardens Theater) -where John Dillinger was pumped full of lead by the FBI in 1934 – and Chicago's very own Second City Theatre, that comedic powerhouse of epic proportions. The Steppenwolf Theater and, on the same Halsted block, the Royal George Theater add to an already impressive list that has given Lincoln Park a reputation as an entertainment hotspot.
---
Transportation
Last but certainly not least, there are plenty of ways to arrive at your destination, although, if a car is your chosen medium, there can be a gnawing scarcity of parking spots (even at times for residents). Easy access to Kennedy Expressway on the west and Lake Shore Drive to the east make for a fast getaway/entrance, but if public transportation is your forte (or your wallet's forte…), there are also plenty of options: the Red, Brown, and Purple El lines stop at North Ave., Sedgewick, Armitage, Fullerton, and Diversey, and there are plenty of busses running off into the nearby neighborhoods of Old Town, Bucktown, Wicker Park, and Lake View/Wrigleyville. And when all else fails there's always a good old-fashioned stroll along the wrought-iron fences and lakeside esplanades.
---
Our Favorite Restaurants
Athenian Room – Simple, delicious, and inexpensive. This is a great place for lunch on the sidewalk on warm sunny days.
Rose Angelis – Like eating in an Italian grandmother's house, the food is priced right and delicious.
Charlie's Ale House (1224 W. Webster) – Cozy, friendly, and quiet neighborhood hangout with great food at a great price. See if you can find our business cards hidden around the restaurant.
Our Favorite Merchants
Simon's Shine Shop– Hidden on Shakespeare Ave. and named after the owner's dog, this is the place for people who take their cars seriously. The owner is obsessed with cleaning every nook and cranny of your car. The"spotless" theme even applies to their bathroom (makes sense, right?)
Search Chicago Area Properties For Sale