Homes For Sale in Chicago's North Center
As in most parts of Chicago, the vast majority of North Center homes are condos or townhomes. You can browse through the MLS listings for North Center homes at the links below:
Recent Listings
Market Data & Trends for North Center
North Center has a 50/50 mix of detached single family homes and condos. The inventory of detached homes declined substantially from the housing market crash through 2013, falling to record low levels. But then it started to increase substantially once again through 2016, as it did throughout Chicago during that period. More recently this inventory has declined once again, falling into "seller's market" territory.
Over the last few years condo inventory has fallen below the inventory of single family homes and remains there. However, more recently it has started to increase but it is still very low and also qualifies as a seller's market.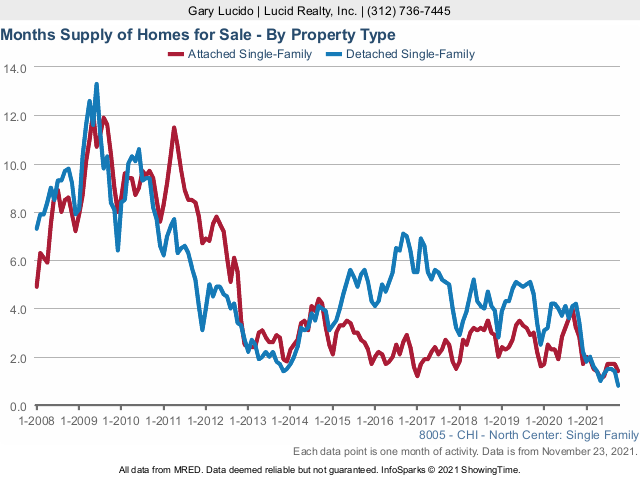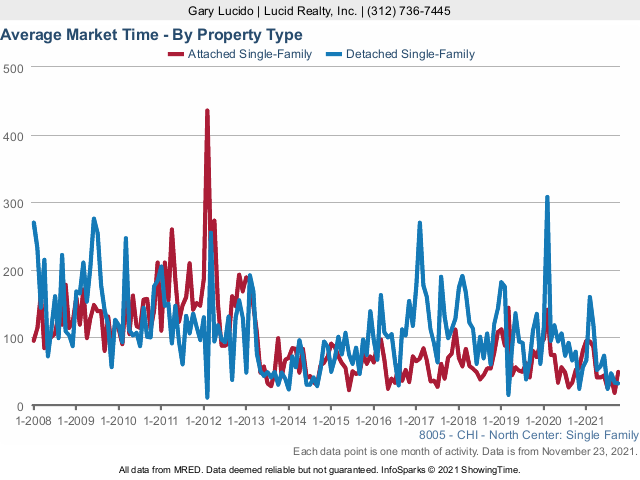 Market times have more or less tracked with inventory levels over this time period and are very seasonal, with condos selling faster than detached homes. This is consistent with the rest of Chicago. If you smooth out the data you would see that the amount of time required to sell detached homes has flattened out recenntly after increasing for several years. The market time for condos is gradually drifting up recently, though it has been fairly low and stable for many years.
Explore North Center
Conveniently located just five miles north of the Loop, North Center is a marriage of quiet residential blocks and metropolitan amenities. Bordered on the north by Montrose Avenue, on the south by Diversey Parkway, on the west by the Chicago River, and on the east by Ravenswood Avenue, this small North Side community is gaining prominence as more and more Chicagoans are taking advantage of its diverse real estate and affordable prices. Thrown into the mix of longtime residents and young professionals are also plenty of young families, which have given the neighborhood a family-friendly reputation.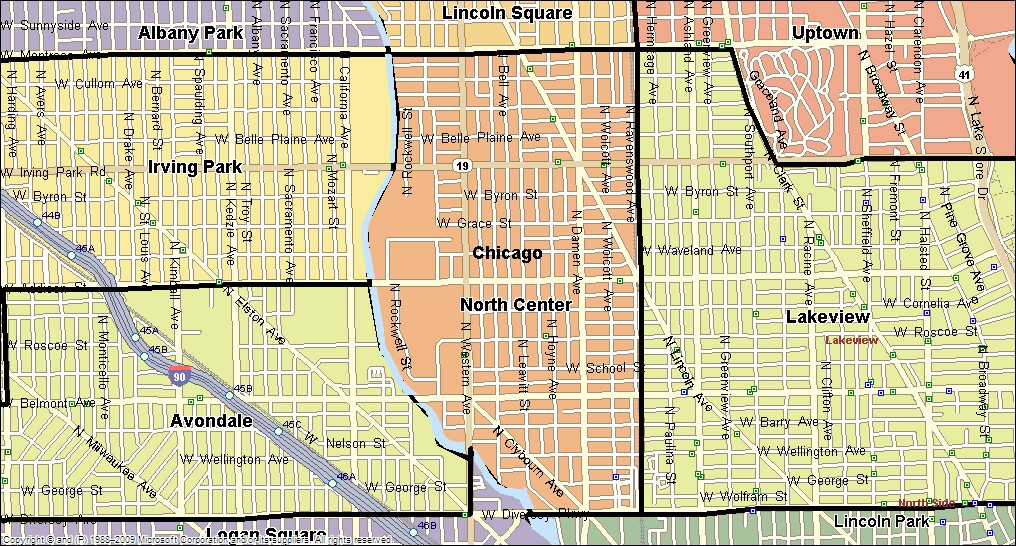 History
When it comes to North Center,you're sure to get plenty of bang for your buck, as it is home to some rather sizable lots (despite being so close to the Loop) – we're talking grand Victorians with wrap-around porches (especially in the historic neighborhood of St. Ben's) or townhouses with single to double car garages and front lawns for those summer barbeques. If a condo is more your forte, however,there's also a wealth of options, with recently converted apartment buildings, loft conversions, rows of brick two- to three-flats, as well as an assortment of new construction. Riverfront property on the west makes an already impressive list even more sizable. Whether small or large, single or family, one is likely to find something that fits.
The quiet residential streets may offer a respite from the buzzing congestion down south (or west in Lake View/Lincoln Park), but this doesn't mean the neighborhood is without its commercial attractions. In fact, the mere two square-miles that comprise North Center are home to some of the North Side's most unique eateries and shops. Main thoroughfares such as Lincoln Avenue or Irving Park Road are dotted with irresistible dives and occasional fine dining, yet you won't find many chains here: local fare is typically the only fare, and this also goes for the shops. Of particular interest with regard to the latter is the plethora of antique stores in the area. Antique Row, a commercial strip located along the border of Roscoe Village/West Lake View, has the largest concentration of antique stores in the Midwest. Need a break from the artifacts of the past? Revere Park offers the perfect opportunity. What was once largely industrialized land (including some of the unsightly clay pits that used to turn out the city's brick supply) is now a green sanctuary that includes baseball diamonds, tennis courts, a gym, and an auditorium. Last but not least, there's also plenty to do after the sun has gone down,whether catching a show of the acclaimed American Theatre Company,bowling a couple of games in one of the area's famous bowling alleys,or having a beer in a traditional German tavern. In general,the bars tend toward a relaxed feel, helping you retire the night at ease.
---
St. Ben's
Nestled in the center of the North Center neighborhood area is the small enclave known as St. Ben's. Approximately 8 square blocks in area, the neighborhood is named after the church on Leavitt Street. Built by German immigrants in the area around the turn of the twentieth century, St. Benedict's continues to serve as a place of worship and remains a popular place to send the kids (it's co-ed) for both elementary school and high school. In terms of architecture, St. Ben's tends towards the historic side, with many of the Victorians mentioned above, yet there are also plenty of two-flats and other single family homes to choose from, with renovations common. Come summertime, the neighborhood also plays host to not one but two popular festivals: for those carnivores out there,be sure not to miss Ribfest in June, where the public is trusted with the all-important decision of which barbeque joint serves up the best rack and, during the month of July, Ben Fest slides around with two days of live music, food, and events for the whole family.
---
Roscoe Village
On the southern end of North Center just west of Lake View is Roscoe Village, a neighborhood which has experienced a rebirth since the urban revitalization of the 80s. In particular, you will find many old warehouses in Roscoe Village that have been converted to trendy lofts, one of the more famous examples being the block-long Eversharp Pencil Factory, in addition to more traditional three-story walkups,single family homes (picturesque gardens included), and duplexes. The neighborhood has a young vibe to it, with its share of professional singles, young couples, and new families. As a nod to this energetic but welcoming atmosphere, Roscoe Village is full of interesting boutiques (including many family-oriented shops)and hip restaurants(with brunch a top priority!). Every August residents gather on Roscoe Street for the Retro on Roscoe festival,with scads of vendors and bands that play retro tunes (yes, the 80s count as retro).
---
Transportation
The Brown Line Elevated runs through the eastern half of North Center, with stops at Addison, Irving Park, and Montrose,along with a handful of bus routes such as the Lincoln Avenue bus(which will take you downtown) or the #80, 78, and 152 which will take you east/west. As a further convenience, the Kennedy Expressway is merely a few miles west, getting you downtown in no time (or, say, 10 minutes). Since North Center is relatively small, the neighborhood itself is quite walkable.
Search Chicago Area Properties For Sale