Homes For Sale in Chicago's Hyde Park
As in most parts of Chicago, the vast majority of Hyde Park homes are condos or townhomes. You can browse through the MLS listings for Hyde Park homes at the links below:
Recent Listings
Market Data & Trends for Hyde Park
There just aren't that many 2 – 3 bedroom condos selling in Hyde Park. The volume never has been that high so there can be a lot of volatility in the Hyde Park home inventory numbers. Consequently, the months of supply of these homes have run well in excess of a 4 year supply in recent times. When a low sales volume dips even lower the month's supply skyrockets, even though inventory may be down in absolute terms. After improving for periods of time in 2009 the inventory levels ran very high from the end of 2010 to the beginning of 2011. Then inventory levels started to drop off while sales picked up slightly. That allowed most of 2011 to register lower months of supply, a trend that continued into 2012. For April, the months of supply reached the lowest levels since 2010 when the homebuyer tax credit was in effect.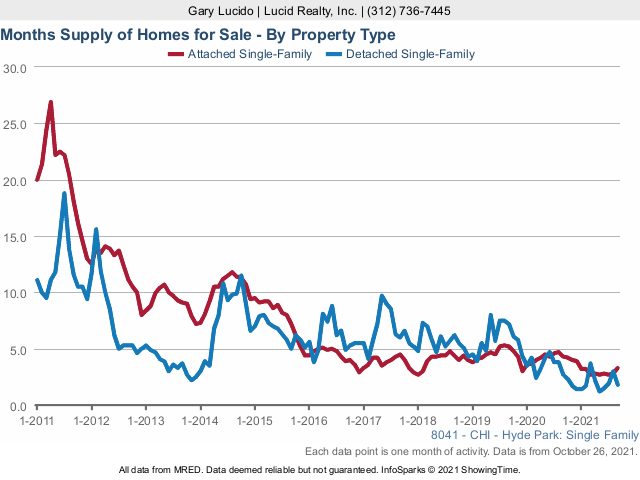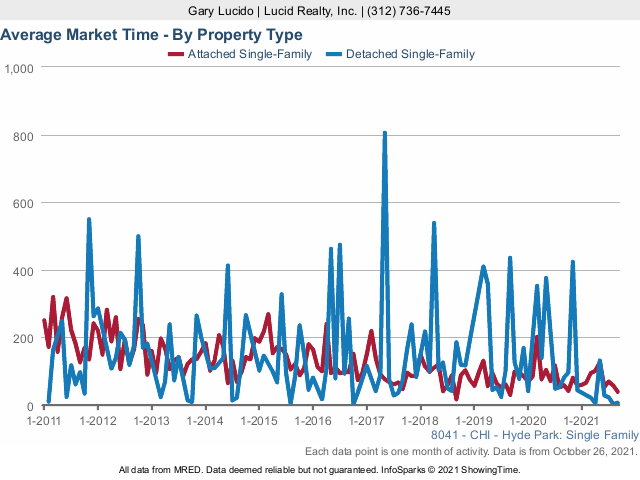 You can see the rest of the Hyde Park housing market story in the chart below. Market times for homes on the market follow a fairly typical seasonal trend, with December punching through the 200-day level occasionally. Last winter the market times got exceptionally high and even the spring market times were high for that time of year.
Explore Hyde Park
From the Columbian Exposition of 1893 to the neo-Gothic towers of the University of Chicago, the neighborhood of Hyde Park has hosted some of the Windy City's most prominent institutions and, into the 21st Century, a residential community that is both viable and eclectic. Nestled between Hyde Park Boulevard (51st Street) on the north, the Midway Plaisance on the south (between 59th and 60th), Washington Park on the west, and Jackson Park/Lake Michigan on the east, this South Side neighborhood, just 7 miles from the Loop, has its share of culture and scenery.
Housing and Architecture
A quick stroll down one of the shaded streets reveals a rich array of architecture and, with such names as Frank Lloyd Wright, Mies van der Rohe, Eero Saarinen, or Rafael Vinoly in the mix, an occasional jewel. Near the lake is an urban crowd of mid- to high-rise condominiums and apartment complexes, some of which date back to Hyde Park's bygone era as a lakeside resort and hotel destination. Planted along tree-studded streets just west of Lake Shore Drive, these pillars of brick and steel offer breathtaking views of the lake as well as the Museum of Science and Industry, a Beaux-Arts-limestone colossus of a building perched on the north lagoon of Jackson Park. Moving inland, high-rises are replaced with an assortment of residential buildings including low- to mid-rise brick apartment buildings, attached frame houses (some of which have been beautifully restored), as well as a mix of brick and stone walk-ups. Starting in the 1960s, Hyde Park experienced the largest urban renewal project in the nation's history – the Hyde Park-Kenwood Community Conference – and so many of the newer buildings/commercial outlets (as well as some not-uncontroversial shifts in demographics) still bear the stamp of that project. Also bearing the stamp of history is the Frederick C. Robie house designed by Frank Lloyd Wright and built around the turn of the century. The "Robie House", as it is known, sits on the corner of 58th Street and Woodlawn Avenue as a particularly famous example of the Prairie Style. Finally, the central quadrangles of the University of Chicago as well as its accompanying medical/physical science buildings (including a top-notch hospital) are located towards the southwestern end of the neighborhood. Home to approximately 5,000 undergraduates and nearly 10,000 graduate students, the University of Chicago is one of the world's leading research universities, famous for its educational rigor as much as the number of Nobel Prize winners (over 80) affiliated with the institution.
---
Museums
If academic lectures on ancient Persia or microeconomics don't fit your idea of a "cultural outing", though, fear not! There's plenty to do in Hyde Park, including a cornucopia of museums. Tour a real WWII German U-Boat at the Museum of Science and Industry and then check out the art scene at the University's Smart Museum of Art or the Renaissance Society, a long-running exhibition space known for its contemporary leanings. Then, if ancient Persia isn't out of the running, one can even check out the artifacts first-hand at the Oriental Institute. Theatergoers and music enthusiasts also have plenty to look forward to, with the Court Theater located on Ellis Street or live chamber music at Mandel Hall. All in all, there's plenty to keep you occupied.
---
Food and Shopping
When it comes time to grab a bite, Hyde Park is known for its soul food and laid-back atmospheres. Barbeque take-out, no-nonsense cafeterias, pizza joints, and affordable Asian restaurants represent a sampling of the local fare, and although the neighborhood is no Old Town or Lincoln Park, a handful of locales allow you to make the night a "white tablecloth" affair. For those in a hurry, there are also many chain restaurants in the area. Last but not least, a few amiable watering holes let you rub shoulders with the local philosophers/Sox fans.
With regard to shopping, the neighborhood has a couple of specialties, in addition to the basic amenities. Perhaps at the top of the list are the numerous independent bookstores in the area (many of which are stationed along the commercial strip of 57th Street). From antique, tattered tomes to college course books, it's easy to lose oneself in the aisles of literary largesse. Hyde Park is also known for its third-world boutiques, small-scale clothing stores, and occasional record store, catering to locals and students alike.
---
Parks and Public Spaces
Whether catching some sun along the lake or playing a game of pickup soccer on the Midway, Hyde Park serves as a testament to the motto: "City in a Garden". In addition to the greenery of Jackson Park(which also occupies a large portion of the Woodlawn community area), Hyde Park's eastern edge boasts a sandy beach and a charming grassy peninsula known as Promontory Point. Not only does the "Point" – as locals refer to it – link up with the lakeside biking/jogging trail, it also includes fire pits (for those dusk bonfires) and even a scenic chapel, all separated from the waters of Lake Michigan by a historic limestone seawall. For those who would rather stay inland, Hyde Park is set alongside 372-acre Washington Park (replete with baseball diamonds, a fitness center, tennis courts, swimming facilities, basketball courts, and even a cricket field). With the picturesque Midway Plaisance picking up the slack on the southern end (including an ice-skating rink), three-fourths of the neighborhood's boundaries are parks! As if that weren't enough, Hyde Park contains a scattering of smaller patches and playlots, including Nichols Park(between 53rd and 55th), Spruce Park (on Blackstone), Cornell Park (on Cornell), and Sherman Park (on 52nd).
---
Transportation
Although the El doesn't run through this south side neighborhood, it runs close by, and a number of buses (such as the 55th) will take you to Red Line and Green Line stations, depending on your destination. Buses such as the Jackson Express (#6) or the X28 provide a relatively convenient way downtown and the Metra's South Shore Line runs along the neighborhood's eastern edge, with stops at 55, 56, and 57th Streets. If you take a car, Lake Shore Drive has a convenient entrance and exit on 57th Street, and if you're just getting around the neighborhood, the shaded streets make for a pleasant bike ride.
Search Chicago Area Properties For Sale