Market conditions for 2 and 3 bedroom condos in the city of Chicago continue to show improvement through February. Once again inventory (months of supply) of these condos is lower on a year over year basis. This continues a trend that began in June, 2009, with February at about half of 2009's level.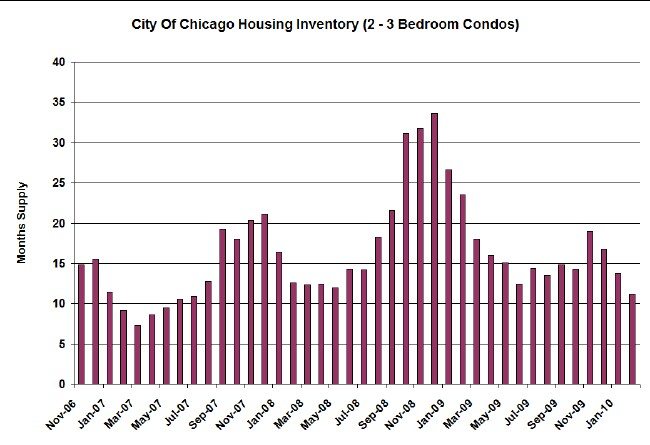 In addition, market times for condos that are on the market also continued their decline.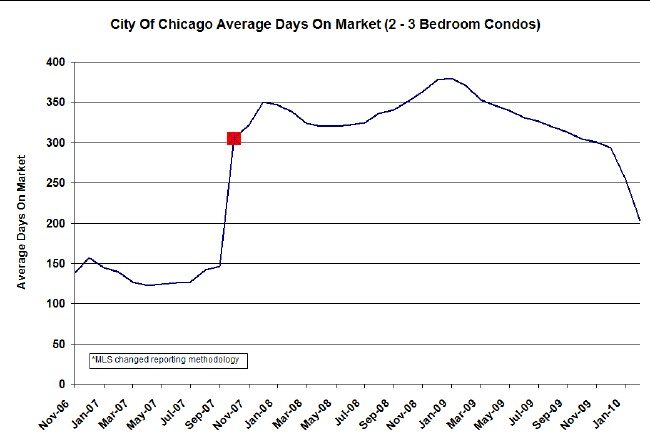 While inventories of unsold condos did show some decline in Chicago, the main driver of this improvement is an almost doubling of February sales volume from the previous year.
A bit of a caveat is in order here, as I recently discovered some issues with the underlying data. The calculations above differ from the standard industry practice of focusing on closed deals – for sales volume and for market times. In an effort to make the data more current and meaningful we use contracts written for sales volume and we report the market times for condos that are for sale instead of condos that sold. However, there is a problem with this approach in that as many as 15% of contracts written never materialize in a sale. When a contract falls through the property is reactivated and no longer counted as a sold condo in the data above. Consequently, as time progresses, the sales volume for February will decline and the inventory level will rise retroactively. Similarly, deals that fall through are returned to the inventory of unsold condos, having racked up additional market time without a sale. Consequently, the February market times will increase as these older properties are returned to the pool of unsold condos. In other words, both inventory levels and market times are initially understated but correct over the course of a couple of months as the data ages.
As always, you can find inventory levels and market times for some key Chicago neighborhoods and suburbs on our site: