Unless you live under a rock you know that last week Amazon announced that it needs to invest $5 B in a second headquarters somewhere in North America to house 50,000 employees in approximately 8 MM square feet of office space. If you haven't already, let that sink in for a second. No wonder that Rahm is all over this. He's apparently already had several conversations with Jeff Bezos about why Chicago is the right choice. I just hope that everyone takes a close look at Chicago's relatively low housing costs in this discussion because it should give us a significant edge.
Here are the primary stated components of Amazon's RFP for their new headquarters city:
In choosing the location for HQ2, Amazon has a preference for:

Metropolitan areas with more than one million people
A stable and business-friendly environment
Urban or suburban locations with the potential to attract and retain strong technical talent

Communities that think big and creatively when considering locations and real estate options
HQ2 could be, but does not have to be:

An urban or downtown campus
A similar layout to Amazon's Seattle campus
A development-prepped site. We want to encourage states/provinces and communities to think creatively for viable real estate options, while not negatively affecting our preferred timeline
The Amazon RFP requests a lot more information that gives additional insights into what they are looking for. Based upon this information numerous news outlets have produced rankings of various cities based upon some combination of airport quality, access to tech talent, cost of commercial real estate, housing costs, the strength of local universities, public transportation, etc…
Chicago comes out pretty well in these rankings and, frankly, the midwest makes a lot more sense than either of the coasts. It's centrally located for the best access to any part of the country and a heck of a lot cheaper than both coasts (that should be obvious). And that's where housing costs come in. If Amazon wants low cost housing in a cosmopolitan city that will attract young, tech savvy employees then Chicago has it hands down (OK, except for the weather and crime).
But you have to be careful how you look at housing costs. I found Recode's comparison of Amazon's headquarters options amusing at best and hope that the folks at Amazon bring a tad more sophistication to this process. As Recode explains they used Zillow's median home prices to do their comparison. However, that is totally nonsensical. On that basis Chicago has a median home price of $223,400. Never mind that the majority of the homes below the median are on the south side and the majority above the median are on the north side. Never mind that the median is brought down by hundreds of foreclosed houses under $50,000. Looking at the median smushes together apples, oranges, and bananas.
If Amazon really wants to understand relative housing costs they are going to need to dig in and analyze what you get for your money to make sure they are looking at comparable living circumstances. As my wife and I have looked for retirement options down the road in different cities it's clear that it's hard to find what Chicago has to offer at a reasonable price: an urban environment, with lots of entertainment options, access to excellent healthcare, close proximity to a city center, access to public transportation, and lots of restaurants and bars and stores within walking distance of your home. You know…the things that young people who Amazon wants to hire care about – except for healthcare…young people don't think they will ever get sick.
The proximity to amenities is exceptionally hard to find in many cities while a huge percentage of the homes in Chicago are within walking distance to all those amenities. You simply won't find that in some of the other middle-of-the-country cities that might otherwise be contenders for the new Amazon headquarters: Austin, Denver, Dallas, Atlanta – or certainly not at a reasonable cost. For instance my wife and I were really surprised to find out that comparable homes in Austin, TX were actually significantly more expensive than in Chicago.
If Amazon wants to do this right they are going to need to get into the nitty gritty of the housing markets. For instance, let's compare some fairly new construction in Chicago and then Dallas and Atlanta. This 2 bedroom, 2 bath condo at 3044 N Racine recently closed in Lake View for $567,500 and it's probably 1200 – 1400 sq ft. Now you know that that location is damn nice – a short walking distance to Lincoln and Belmont, with all kinds of restaurants and bars, and the L.
Now compare that to what you would get in Dallas for similar money: 5818 Lindell which is a 3 bed, 3 1/2 bath 2200 square foot townhome that probably sold for close to $500,000. So, it's bigger for sure and the finishes are comparable and the price was a little lower. However, I grew up in Dallas and I can tell you that despite being closer to city center than most of Dallas' housing this home is in the middle of a wasteland. In fact, this is the view from Live Oak, which is the closest major street to the home. Nothing like Racine.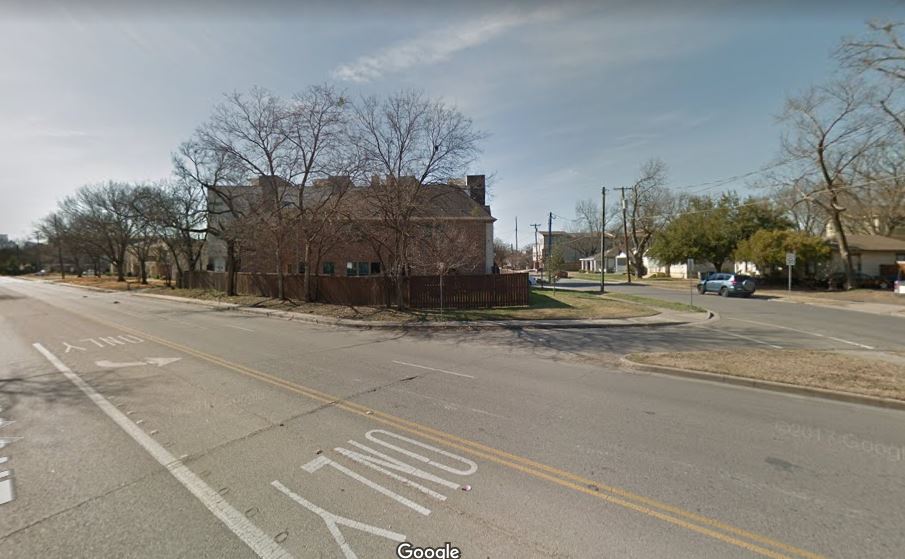 That's the problem with Dallas. Most of it is like a Chicago suburb – not exactly a dynamic urban environment that would attract 27 year old software engineers who might otherwise want to live in San Francisco or Seattle.
I think Atlanta is a similar situation. Check out this $550,000 3100 sq ft 3 bedroom, 3 1/2 bath townhome that recently sold at 54 Winslow St #34. It appears to be located close to city center in Peachtree Hills, right next to Peachtree Heights West, and not too far from Peachtree Park. But I don't know if the house comes with any peach trees.
So if you take a short walk down Peachtree Way to Peachtree Rd, which is the nearest main road, this is what you will see. Again, not as interesting as Belmont even. Basically the nearest bar is in a shopping center somewhere that you have to drive to.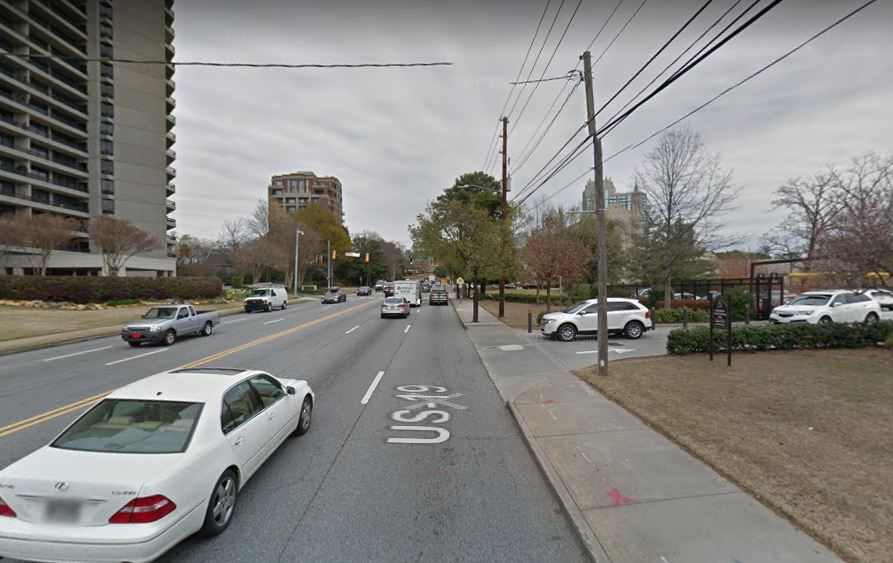 So the proposals are due October 19 but it looks like we won't get Amazon's answer until sometime in 2018. I think Chicago has a lot going for it so I can't wait to find out what Amazon decides. 50,000 additional employees in the area would really be good for home prices and the local economy!
#Amazon #ChicagoRealEstate #Housing
Gary Lucido is the President of Lucid Realty, the Chicago area's full service discount real estate brokerage. If you want to keep up to date on the Chicago real estate market, get an insider's view of the seamy underbelly of the real estate industry, or you just think he's the next Kurt Vonnegut you can Subscribe to Getting Real by Email using the form below. Please be sure to verify your email address when you receive the verification notice.