Not that long ago I wrote about how real estate commission rebates were apparently one of the best kept secrets in real estate. I'm not entirely clear on why more home buyers are not aware of this incentive that can put thousands, if not tens of thousands, of dollars in their pockets but more and more home buyers take advantage of them every day. What's even more surprising though, is that realtors themselves are often surprised to find out that some of us are doing this. And when they find out for the first time their reaction can be quite entertaining.
There is a realtor Facebook group where agents go to discuss ideas and issues and complain. There is lots of complaining going on there because…you know…real estate agents have it so hard…which is why we have way more realtors than we need. But I digress. Anyway, the other day someone in that group posted a copy of the newspaper ad below without any comment other than that she found it in her newspaper.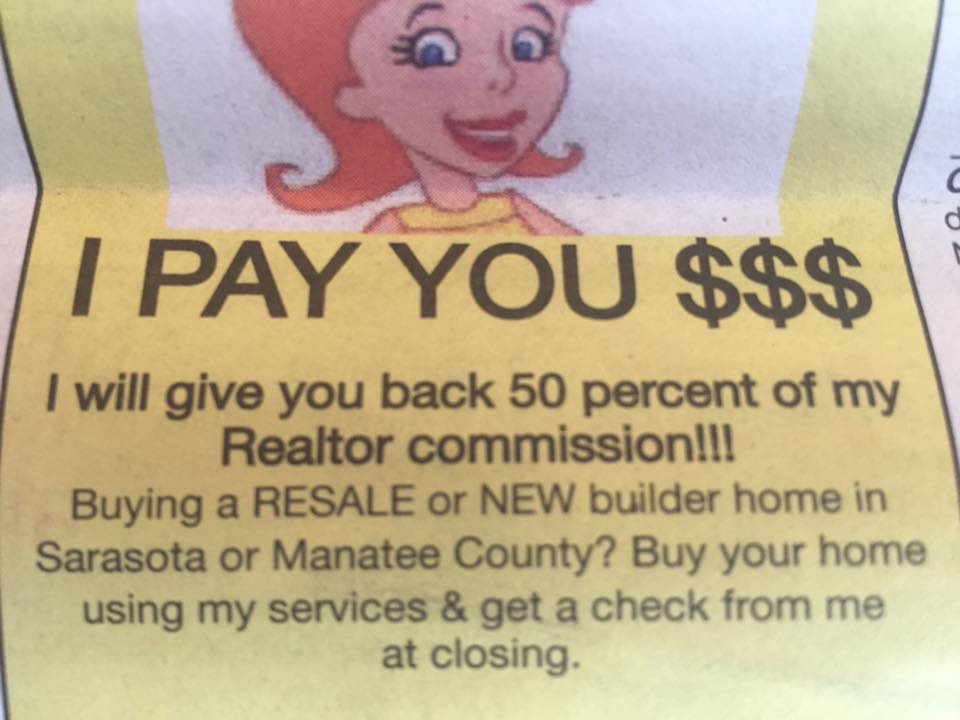 Yeah, the ad looks a little cheesy but apparently this is high blasphemy because the reaction was swift and furious, though no fatwas were issued. In only 3 days there were 53 Wow faces, 52 Angry faces, and 157 comments.
The most common reaction was a confident assertion that this was illegal – probably based on the belief that real estate agents deserve protection from competition. Now, some of the agents making this claim were in fact correct but many were not. Often these agents would defend their position by quoting totally irrelevant sections of some law, which confirms that many realtors can't interpret legal language (like what appears in a real estate contract). In reality commission rebates are only illegal in Alabama, Alaska, Iowa, Kansas, Louisiana, Mississippi, Missouri, Oklahoma, Oregon, and Tennessee. Why it's illegal in these state I have no idea other than I'm pretty sure the state realtor association lobbied hard for the law.

I did find it interesting that one agent pointed out that claiming this practice is illegal, when in fact it is not, could itself be illegal. That may be true – or at least it's unethical to falsely state that another realtor is breaking the law.
Then there were several comments along the lines of this one: " They must be a great agent if they actually have to pay people to work with them." Basically it's a smoke and mirrors argument because it's just a different marketing strategy. Most agents give away a huge percentage of their commissions by spending it on marketing themselves and others would prefer to give it to their clients who will then tell their friends and relatives. It's all just different ways of marketing. Not to mention that some agents are able to generate business more easily than others but that doesn't mean that they are better agents.
There were also several funny gifs posted – basically caricatures of someone refusing something but the general theme was that this was an absurd idea. However, to the credit of far more realtors than I expected many stepped up to the plate and acknowledged that this was an acceptable form of competition and all is fair in love and real estate.
In reality, for more expensive homes there is an awful lot of fluff in co-op commissions so I expect that we will see more and more real estate commission rebates until co-op commissions come down to squeeze out the waste in the system. That's why I found this comment particularly amusing: " Way to say we're worth 1/2 What we charge." I have to admit that a 50% rebate across the board seems pretty generous but I did feel like telling this agent that quite often realtors are indeed worth 1/2 of what they charge.
That notion was actually inadvertently supported by one comment, posted by an agent lamenting that improperly trained agents make these "mistakes": " Funny thing is I was debating between cosmetology school and real estate school. I knew I would do both eventually, but I went with RE first because just barber school was over $20K in my area and would take 22 months. I got my RE license for about $1200 in 3 weeks of classes." (there is a similar dynamic in Illinois). And that is why realtors are indeed often overpaid.
However, my favorite comment was this one, which leveraged off of the fact that the name of the Facebook group is Real Estate – Out Of The Box Owl: " For this group being named "out of the box" it seems a lot of people are stuck in it."
#CommissionRebates #HomeBuying #Realtors
Gary Lucido is the President of Lucid Realty, the Chicago area's full service discount real estate brokerage. If you want to keep up to date on the Chicago real estate market, get an insider's view of the seamy underbelly of the real estate industry, or you just think he's the next Kurt Vonnegut you can Subscribe to Getting Real by Email using the form below. Please be sure to verify your email address when you receive the verification notice.