I was tempted to say that there is no chance of the Chicago area currently being in a bubble but the fact is that just about anything is possible so I settled for "slim chance". As Robert Shiller (of Case Shiller Home Price Index fame) said in a recent interview "There's always reason to worry [about a coming collapse]." However, he goes on to say that the difference between now and 2006 is that back then people had crazy expectations of where home prices were going and they don't feel that way now. As for the Chicago real estate market all the data points to us remaining comfortably out of bubble territory despite all the hand wringing out there.
The first piece of evidence is that the Case Shiller home price index for the Chicago area is still showing single family home prices 18.4% below the bubble peak. Condo prices are a bit closer to the peak but still fall short by 12.3%. What kind of bubble would it be if prices hadn't even reached the level of the last bubble? Not to mention that Chicago is trailing most of the country in home price gains, ranking 4th from the bottom out of 20 metro areas.
In addition, according to the 2nd Quarter CoreLogic Equity Report the Chicago area is one of the top 5 metro areas in terms of homes with negative equity. 13.4% of our homes are in a negative equity position with another 4.9% of the homes near negative equity. Again, that is a function of not having fully recovered from the last bubble.
A number of publishers periodically try to identify markets that they believe are in a bubble. CoreLogic recently published a rather detailed analysis of potential bubble housing markets which starts by looking at price to income and price to rent metrics. On that basis they identified 21 markets that they believe are overvalued. Chicago was not one of these markets. In case you are interested, CoreLogic further refined their analysis by also looking at the percentage of flips in the market as an indicator of speculative frenzy. On that basis they narrowed their bubble candidates to 16 markets in Florida, Texas, and California. They then applied an additional filter by looking at fraud risk, which further cut their candidate pool to 13 markets in California and Florida.
UBS also recently published their Global Real Estate Bubble Index of the major financial centers, one of which is Chicago. In the ranking below you can see that not only is Chicago ranked last but they also have it as being a depressed market. Their methodology apparently looks at home prices relative to incomes and rents and indications of excessive lending and construction activity – although I have to say that it sure does look like we have a ton of construction going on here.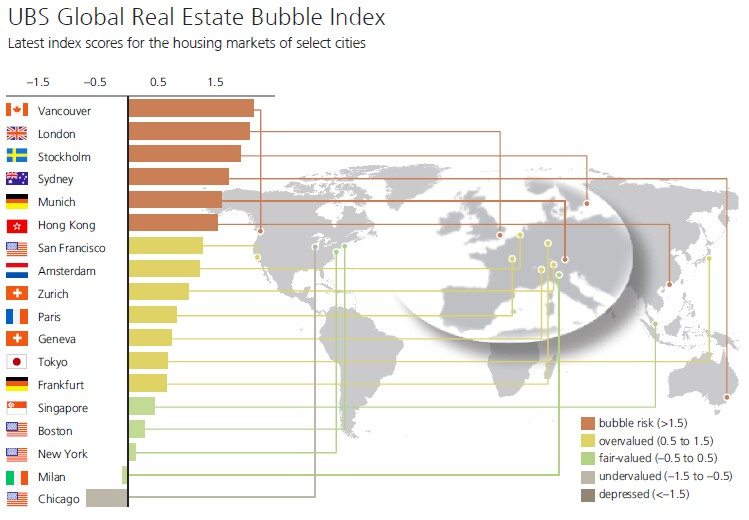 Sure, you can find some anecdotes of really high price appreciation over the last few years around Chicago but when you take an analytical approach and look at the entire metro area the data just doesn't support the notion that we are in a bubble.
#ChicagoHomePrices #HousingBubble
Gary Lucido is the President of Lucid Realty, the Chicago area's full service discount real estate brokerage. If you want to keep up to date on the Chicago real estate market, get an insider's view of the seamy underbelly of the real estate industry, or you just think he's the next Kurt Vonnegut you can Subscribe to Getting Real by Email using the form below. Please be sure to verify your email address when you receive the verification notice.