Just a couple of days after the latest Case Shiller Home Price indices were released Zillow and Pulsenomics came out with their fourth quarter Home Price Expectation survey of 117 real estate experts. The results of that survey are graphed below. The headline for the press release is a bit of a euphemism for what really happened – the survey respondents slashed their home price forecast from the third quarter survey:
They now expect home prices to decline 1.7% in 2023 vs. an expectation of a 2.6% increase in the third quarter
They slashed 6.5% off of their cumulative forecast through 2026
Note that in the fourth quarter they extended their outlook to 2027, forecasting an additional 4.4% appreciation in that last year. That brings the total appreciation over the next 5 years to 13.0% or 2.5% per year compounded.
Keep in mind that this survey was conducted in December of 2022 and in just the last few days mortgage rates have plummeted as a result of the Silicon Valley Bank melt down and the belief that the Federal Reserve will be too afraid to raise interest rates as originally planned. Those lower mortgage rates will likely heat up the housing market a tad. The survey respondents certainly didn't see that coming back in December. However, 63% of them did believe that mortgage rates would peak in the first quarter of 2023.
According to Zillow senior economist, Jeff Tucker, Zillow's in-house forecast calls for home values to be nearly flat, rising 0.2% during 2023:
Though we're seeing early signs of renewed buyer interest early this year, prices should generally flatten out in 2023, helping buyers to catch up. The sheer number of people in the first-time homebuyer age range and a lack of inventory should limit price declines. A return to more normal growth would be welcome after the rollercoaster ride that home prices have been on lately.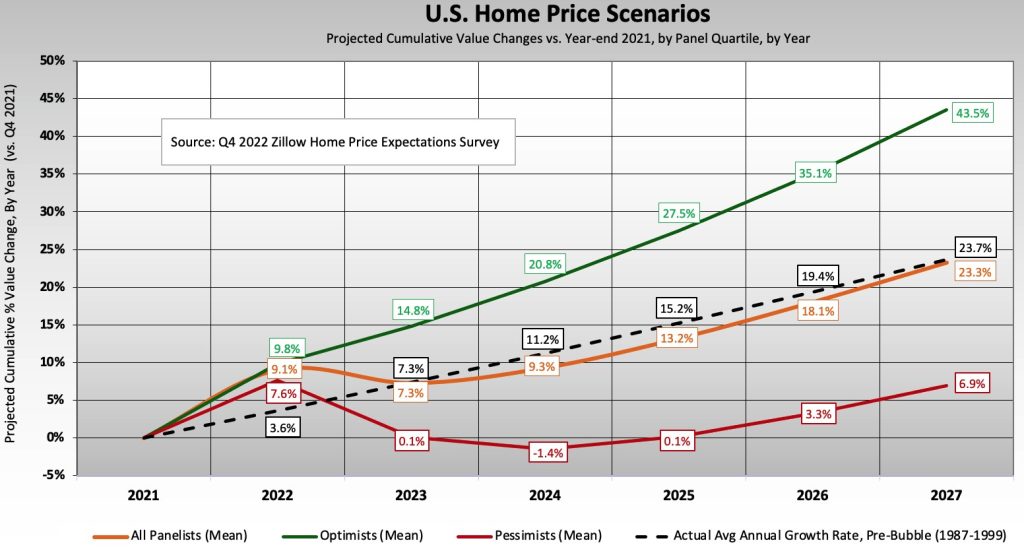 Chicago Area Home Price Outlook
If we want to know what the Chicago area home price forecast is we have to look to the Case Shiller home price futures market. John Dolan, the market maker for the Case Shiller home price futures, is the guy that provides me with that data for Chicago. His graph below, along with the underlying data he provided, implies a 4.7% drop in home prices in the Chicago area over the next year, followed by a further 1.1% drop in the subsequent year. Sadly, the futures are saying that 4 years from now Chicago area home prices will actually be slightly lower than they are now – 1.1% lower to be exact. If you think that's ridiculously pessimistic then feel free to go long the futures and make some money. I'm sure John would appreciate the business.