Since the August Case Shiller Home Price Index came out last week now is a good time to review the current forecast for home prices. Every quarter Zillow and Pulsenomics come out with their Home Price Expectations Survey of over 100 real estate experts and the Q3 2022 survey was still surprisingly upbeat about home price appreciation despite the fact that rapidly rising mortgage rates seem to have really spooked the real estate market.
The graph below summarizes the experts' collective wisdom. The current forecast is really not that different from the previous one:
On the surface it may seem surprising that the forecast for 2022 has actually gone up from 9.3% appreciation to 9.8%. However, it looks like the experts initially underestimated what was taking place this year so they are now trying to adjust.
Last quarter they forecast 4.2% additional appreciation in 2023 but now that's been dropped to 2.6%, which is not that bad.
And they only reigned in their forecast for the entire 5 year period from 26.4% to 24.6%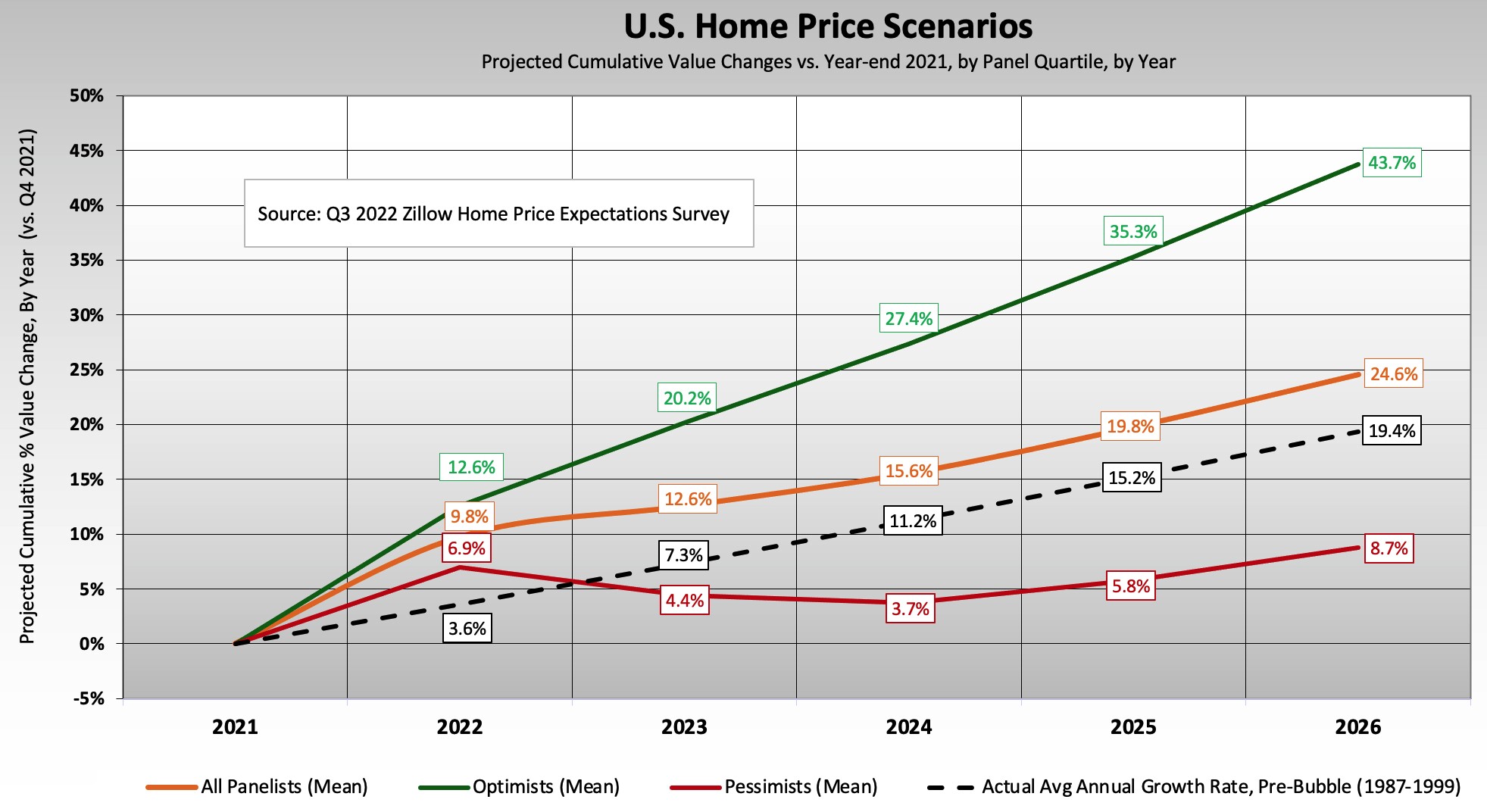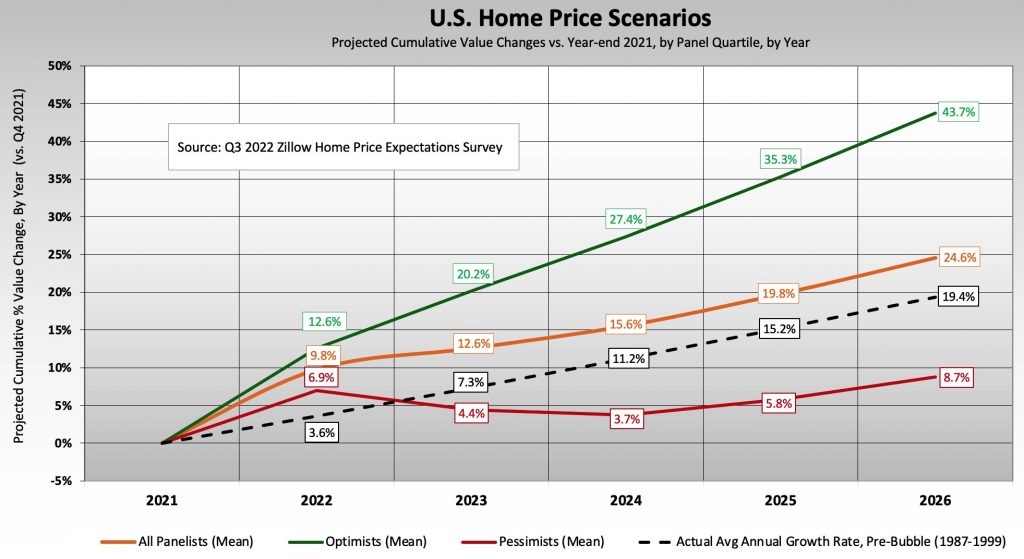 The conclusion of the group is that life is going to be tough for first time home buyers. The majority of the experts don't expect the real estate market to shift in favor of buyers until 2023 or later. Furthermore, rapidly rising rent is going to make it very difficult for first time home buyers to save up a down payment. As Terry Loebs, founder of Pulsenomics, said
Our expert panel's mean projections indicate that residential rent price growth is expected to outpace headline CPI inflation over the coming three years and exceed home price growth through at least 2025. Despite softening house prices, this implies that affordability hurdles for prospective first-time homeowners will remain high and persist for years to come.
Interestingly, the panelists believe that the part of the country that is most vulnerable to home price declines in the next 12 months is what they term "pandemic superstar markets" – those areas that became extremely popular when the pandemic was in the early stages. Unfortunately, that includes Raleigh, NC which is kinda where I just moved.
Chicago Area Home Price Outlook
I checked in with John Dolan, the market maker for the Case Shiller home price futures, to find out what those contract prices are predicting for the Chicago area. He was kind enough to provide me with the graph below and the underlying data.
John is only sharing actual pricing out to February 2024, which corresponds to the end of 2023 but as you can clearly see the futures are predicting a slight decline over that time period – a bit lower than the last time we checked in with him. Interestingly, the pricing implies a 6.6% decline by the end of this year from where we were in August. That seems a bit extreme. Then he's got another 4.3% decline baked in to the end of 2023. If we then use the last available pricing to look out to the end of 2026 we see prices rising by a total of 15.5% during that period from the low, which is equivalent to 4.9% per year.