Unless you live under a rock (cheaper than buying a home) you've heard about how high mortgage rates have risen and you've heard the speculation that that might kill home prices. That last point is debatable for reasons I'll go into later. So I was really curious what the Pulsenomics and Zillow Q2 2022 Home Price Expectations Survey of over 100 real estate experts was going to show for the future of home prices across the nation. That came out last week and, surprisingly, their outlook is not that much different than it was last quarter. See the orange line in the graph below.
In a nutshell they actually raised their 2022 forecast to 9.3% appreciation from 9.0% last quarter but over the entire 5 year period they knocked down their outlook just slightly – to 26.4% from 26.8%.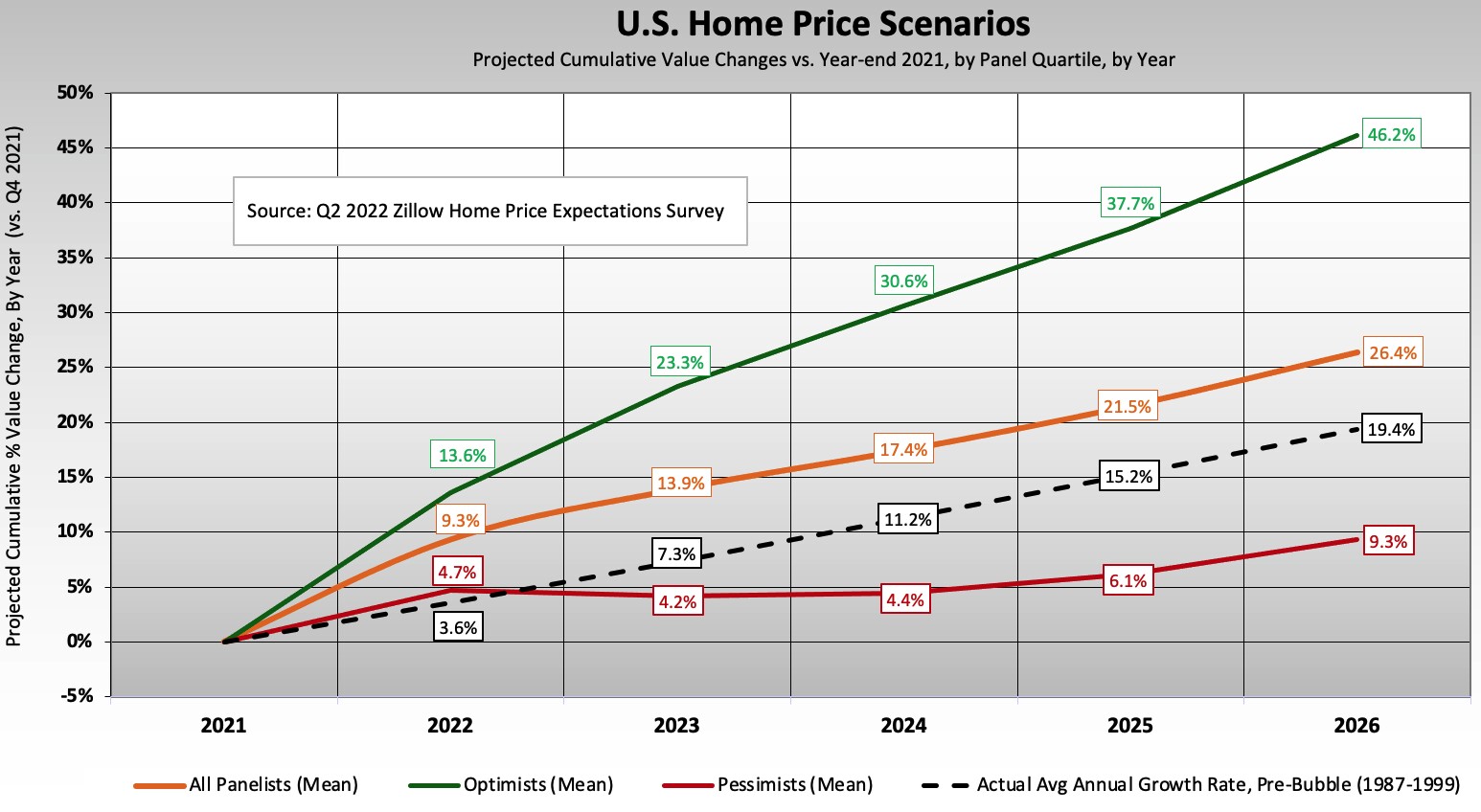 I thought Pulsenomics founder Terry Loebs seemed a bit surprised by this outcome:
Rapidly rising mortgage rates and looming recession risk threaten to tame the pandemic's hurricane-force winds that have whipped the market landscape and propelled U.S. home prices skyward. With home values at record-high levels and a vast majority of experts projecting additional price increases this year and beyond, home prices and expectations remain buoyant. Even among those panelists who believe the U.S. housing market is now a bubble, most expect it to gradually deflate, not suddenly burst.
Clearly these folks don't think higher mortgage rates are going to kill home prices, despite the fact that home builder and realtor stocks are crashing. How could that be? Well, it's possible. You could definitely see more buyers and sellers stepping to the sidelines now, which would be bad for those stocks. However, if demand and supply both contract equally then you might not get any change in the trajectory of home prices.
However, there are a couple of underlying beliefs behind this outlook. First, only 32% of these experts think the housing market is in a bubble. That means that, in general, the group does not foresee any pressure for home prices to "normalize". And, second, apparently these experts don't expect mortgage rates to go that high. Their mean forecast for 2022 was only 5.6% (back when this survey was conducted) but we've already hit 6.3%. So how will they forecast home prices next time?
Chicago Area Home Price Outlook
Once again John Dolan, the market maker for the Case Shiller home price futures, has provided me with pricing for the Chicago area futures contracts so that we can get an idea of where the market thinks home prices are going in the metro area.
Unfortunately, right now there are only bid and ask pairs going out 2 years due to the tremendous uncertainty surrounding the housing market. But those futures prices imply a measly 0.7% per year appreciation rate. John Dolan points out that this is probably due to a lot of selling pressure in the contracts but, then again, that must mean that these sellers are not too optimistic about the outlook for Chicago area home prices.
You will note that there are asks plotted out beyond 2 years and they are showing some increase in the index values. However, we can't read too much into that because there are no corresponding bids and it's not like there is a lot of competition for selling those contracts.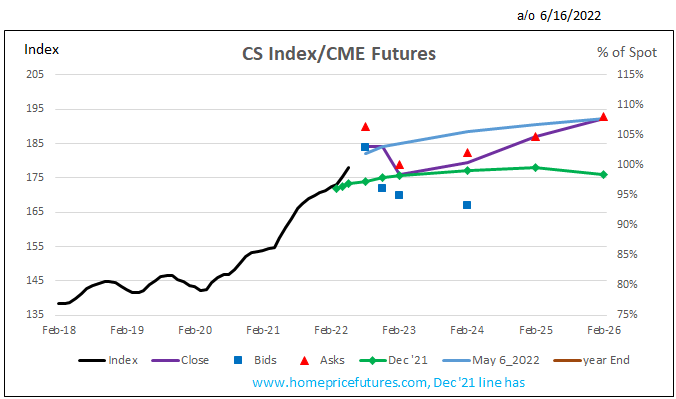 #RealEstate #ChicagoRealEstate #HomePrices
Gary Lucido is the President of Lucid Realty, the Chicago area's full service real estate brokerage that offers home buyer rebates and discount commissions. If you want to keep up to date on the Chicago real estate market or get an insider's view of the seamy underbelly of the real estate industry you can Subscribe to Getting Real by Email using the form below. Please be sure to verify your email address when you receive the verification notice.