On numerous occasions I've written about the smoking hot real estate market in Chicago's Ukrainian and East Village. That blog post I just linked to was written just a year and a half ago and already the average sales prices shown in that first graph have moved up from around $850,000 to right around $1 MM. And that's on average! And the high end of the real estate market has moved from $1.4 MM to $1.5 MM.
Of course, looking at average prices doesn't tell you much as I've pointed out ad nauseum – other than whether a neighborhood is getting richer or poorer. I can assure you that they reflect changes in the mix of housing sold as much as, if not more than, they represent changes in underlying prices. And those mix changes are a huge part of the average price equation in Ukrainian and East Village as high end new homes have taken the place of very old, small homes.
The real question is what options do newcomers to the neighborhood, who are looking for a single family home, have? Because it's not all $1.5 MM new construction homes. But let's start there for perspective – with the most recent high end sale at 1912 W Erie St which closed just 3 weeks ago for roughly $1.5 MM. With 6 bedrooms and 3 1/2 baths on 3 levels I'm going to assume that it's roughly 4200 square feet like many of the other big new construction homes in the neighborhood. If you check out the photographs at that link you will see the level of finishes that you get at that price – basically every feature you could imagine, and all top of the line.
Just for fun let's compare that to another 4200 square foot home built in only 2005 that recently sold at 1728 W Huron with 5 bedrooms (I'm counting the basement office as a bedroom) and 3 1/2 baths for only $970,000. That's more than half a million dollars cheaper than 1912 W Erie.
Now, I have to explain that I have not been in either of these homes but that seems to be a huge difference in price and those Huron buyers got just as much home but the finishes clearly aren't nearly as nice. In fact, the finishes are already quite dated since styles have changed so much in the last 12 years. Let's compare a couple of key photographs of the kitchens and the master baths to illustrate where the 1728 W Huron buyer might want to sink the most money.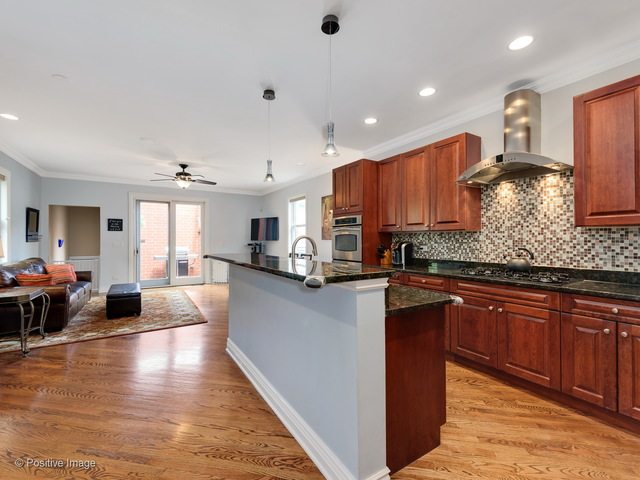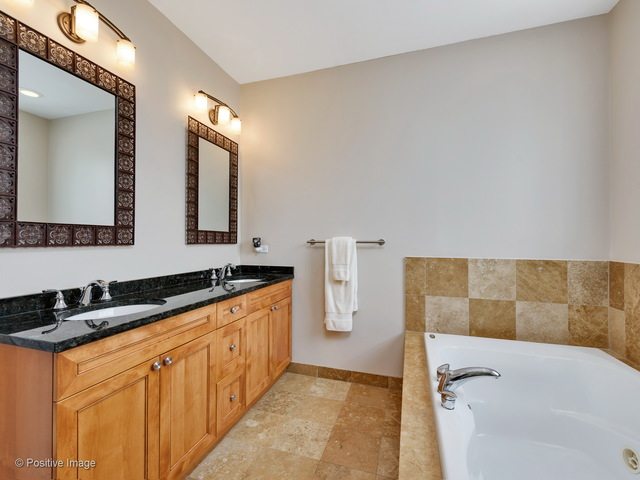 The main differences between the two homes are the kitchen, the bathrooms, the roof deck, light fixtures, and finishes like coffered ceilings, flooring, and wainscoting (OK, that's a lot). But what kind of upgrades could they do to the Huron home for $200 – 300K if they felt the need to keep up with the Joneses? Of course, I don't think they're ever going to be able to bring the Huron roof deck up the caliber of the Erie roof deck.
Just as a point of comparison, to see what a good deal the Huron buyers got, check out this recent sale of the 4200 square foot 4 bedroom (but the recreation room could easily be turned into a 5th bedroom), 3 1/2 bath home built in 2005 at 1750 W Erie that sold for $1,150,000. It's a very similar home with slightly more contemporary features but it cost $180,000 more!
And then you have this sale at 1951 W Huron which is a 4100 square foot 5 bedroom, 3 1/2 bath home built in 2007 that sold for $1,345,000. Go figure. It just goes to show you that prices can be all over the map and it really pays to shop around. But you knew that, right?
#ChicagoRealEstate #UkrainianVillage #EastVillage
Gary Lucido is the President of Lucid Realty, the Chicago area's full service discount real estate brokerage. If you want to keep up to date on the Chicago real estate market, get an insider's view of the seamy underbelly of the real estate industry, or you just think he's the next Kurt Vonnegut you can Subscribe to Getting Real by Email using the form below. Please be sure to verify your email address when you receive the verification notice.