The RealtyTrac October Foreclosure Market Report came out last week, though I guess I should start calling it the Attom Data Solution report since they bought RealtyTrac a while ago and that's how they are now branding the report. Their data for Chicago foreclosure activity shows a huge spike that occurred last month, entirely attributable to a 127% spike in auctions from September.
The other two components were actually down from the previous month, with defaults barely hitting a record low level since at least March 2009. The net effect was still the highest foreclosure activity in 19 months but it's actually nothing to worry about – and it could even be good news.
As I've pointed out before foreclosure initiations (defaults) are down while completions (auctions) are up. In other words they are making progress at chipping away at the shadow inventory of homes in the foreclosure pipeline.

At the national level all 3 components of foreclosure activity were up around 25 – 30% each. Daren Blomquist, senior vice president at ATTOM Data Solutions, commented that a lot of this increase may be coming from newer mortgages:
While some states are still slogging through the remnants of the last housing crisis, the foreclosure activity increases in states such as Arizona, Colorado and Georgia are more heavily tied to loans originated since 2009 — after most of the risky lending fueling the last housing boom had stopped. The increase in October isn't enough evidence to indicate a new foreclosure crisis emerging in these states, but it certainly demonstrates that this housing recovery is not completely devoid of risk.
Daren went on to point out how a lot of these foreclosures are coming from government programs:
The loans used in this housing recovery that appear to be most susceptible to foreclosure are those such as FHA and VA with low down payments. Our data shows FHA and VA loans combined represent 49 percent of all active foreclosure inventory for loans originated in the seven years ending in 2015. By comparison, FHA and VA loans only represent 12 percent of all active foreclosure inventory among loans originated in the previous seven-year period, from 2002 to 2008.
Hmmmm. Government programs with problems. Low down payment mortgages that default. Who would have thought?
But in all fairness the higher percentage of government loans doesn't mean that anything is worse than it was in the earlier period. For one, the statistic that does matter is what percentage of the loans made end up defaulting and we don't know that. In addition, the reason that these loans were a smaller share of the problem in the earlier period was probably because their problems were being dwarfed by the private sector foreclosures.
In order to provide some perspective on the quality of loans originated in different time periods Attom Data Solutions provided this nifty graph that shows the percent of open loans that are in foreclosure by when they were originated. It clearly shows that loans originated in the bubble years still have the highest level of foreclosures remaining though I'm not sure what to make of the newer loans since they may not have had enough time to default yet.

Chicago Shadow Inventory
Speaking of shadow inventory…it was actually down in the Chicago area to a new record low since I've been tracking it. Thankfully, this is consistent with the story I just told you above, although the decline is nowhere near as large as the increase in auction activity. Go figure. Maybe we'll see some holdover effect in November.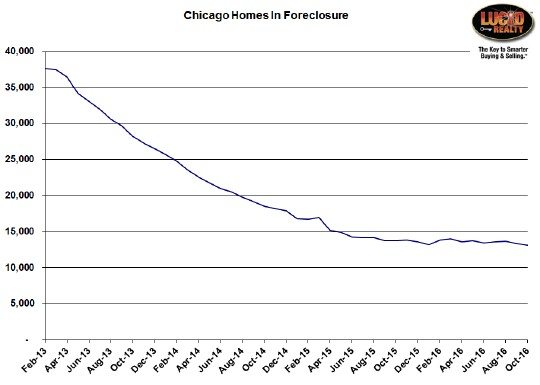 #Foreclosures #ChicagoForeclosures
Gary Lucido is the President of Lucid Realty, the Chicago area's full service discount real estate brokerage. If you want to keep up to date on the Chicago real estate market, get an insider's view of the seamy underbelly of the real estate industry, or you just think he's the next Kurt Vonnegut you can Subscribe to Getting Real by Email using the form below. Please be sure to verify your email address when you receive the verification notice.