Late last week ATTOM released their Midyear 2022 U.S. Foreclosure Market Report which basically shows that the pandemic did not have any sort of lasting effect on the foreclosure market. In the graph below the first half of this year is almost identical to the first half of 2020 and 2020 was depressed by the foreclosure moratorium.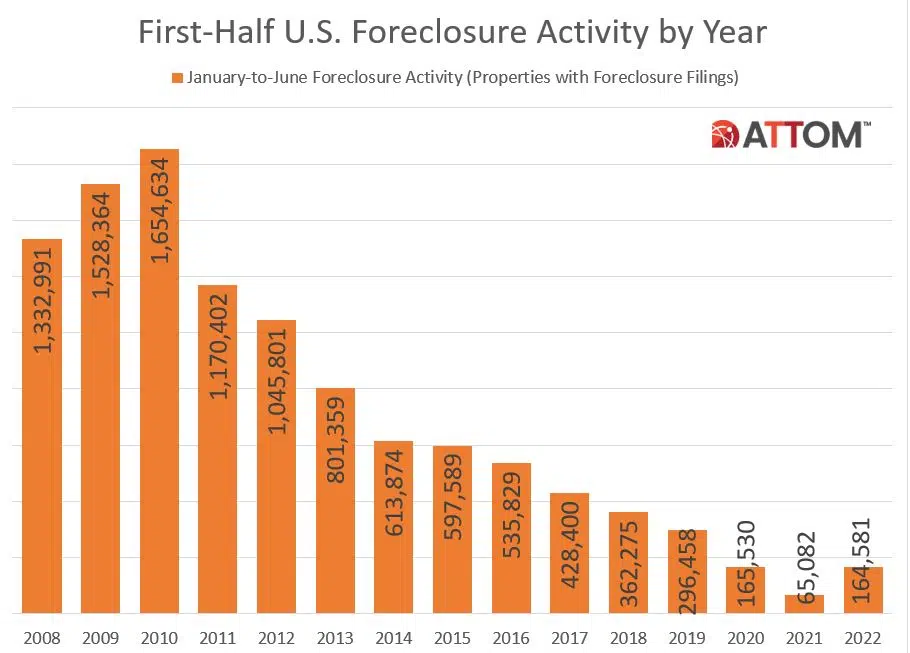 Yet, Rick Sharga, executive vice president of market intelligence at ATTOM, still seems to think that we're going up a bit further from here: "While overall foreclosure activity is still running significantly below historic averages, the dramatic increase in foreclosure starts suggests that we may be back to normal levels by sometime in early 2023."
I think he's wrong. We're already back to normal levels. First, he must be calling 2019 normal – probably because of the moratorium imposed during the first half of 2020. However, in all likelihood foreclosure activity would have been heading down even without the moratorium, given the historic trend. Also, the "dramatic" increase in foreclosure starts that he's talking about is relative to 2021, which was extremely depressed by the moratorium. In fact, foreclosure starts were only up 19% from the first half of 2020 and, again, 2020 was artificially depressed.
Rick goes on to make the exact opposite argument:
It's important to note that many of the foreclosure starts we're seeing today – in fact, much of the overall foreclosure activity we're seeing right now – is on loans that were either already in foreclosure or were more than 120 days delinquent prior to the pandemic. Many of these loans were protected by the government's foreclosure moratorium, or they would have already been foreclosed on two years ago. There's very little delinquency or default activity that's truly new in the numbers we're tracking.
OK…so now he's saying that there's not a lot of evidence of rising foreclosures – e.g. delinquencies. And that's correct. Black Knight's May 2022 Mortgage Monitor Report shows that new lows in the delinquency rates are being hit on a regular basis. The May rate was only 2.75%, just a tiny bit better than the April rate.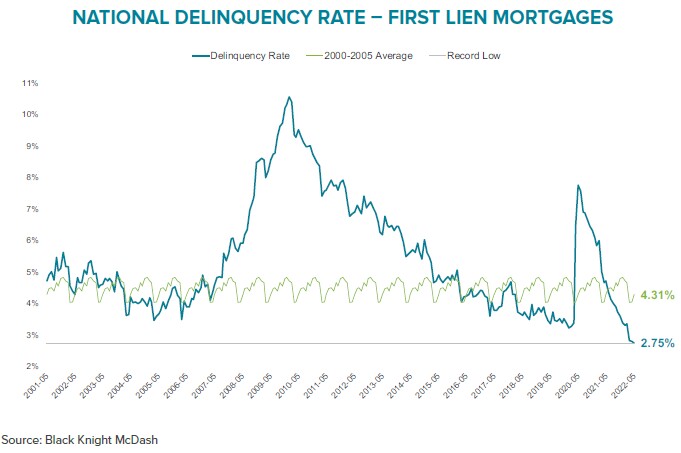 Once again Illinois had the highest foreclosure rate of any state and the Chicago metro area was among the top 5 nationwide. I have the monthly data for the city of Chicago plotted below going back to 2009 and broken down by foreclosure stage. You can see the steady decline over time and there are no signs that a resurgence is imminent. In fact, we are currently running below the level we were at pre-pandemic. And defaults are about at the same level that they were before the pandemic.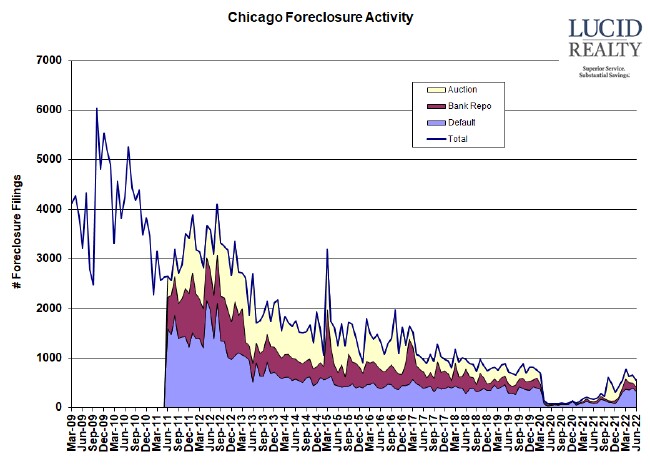 As a side note ATTOM's foreclosure market report shows that the amount of time it takes to complete a foreclosure remains ridiculously high.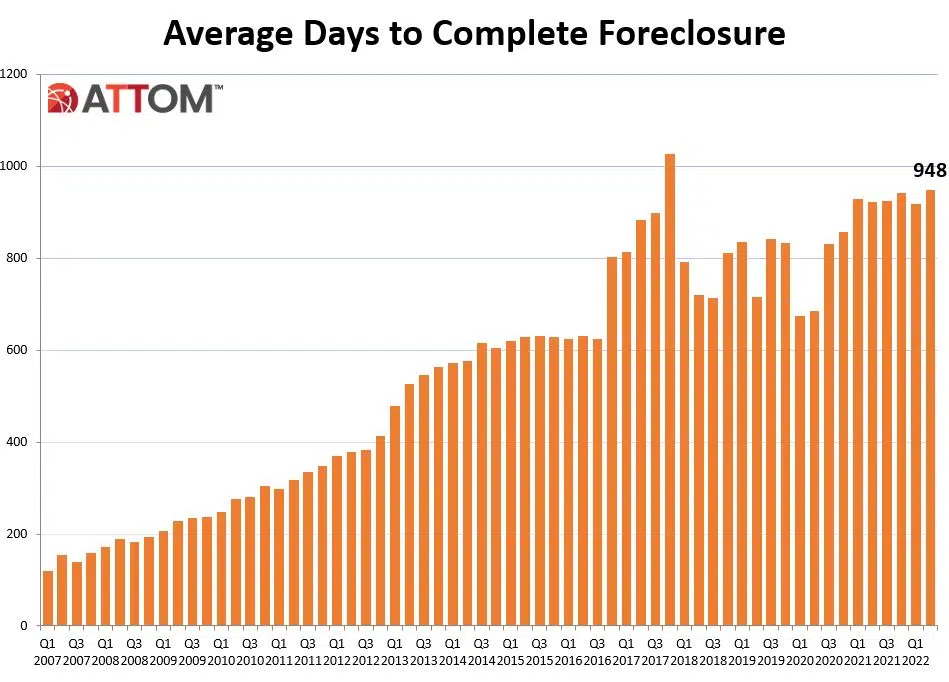 Chicago Shadow Inventory
The number of Chicago homes in foreclosure has been gradually rising for the last 12 months but very slowly as you can see in the graph below. Nothing really to get excited about so I don't think this will impact the real estate market in a significant way.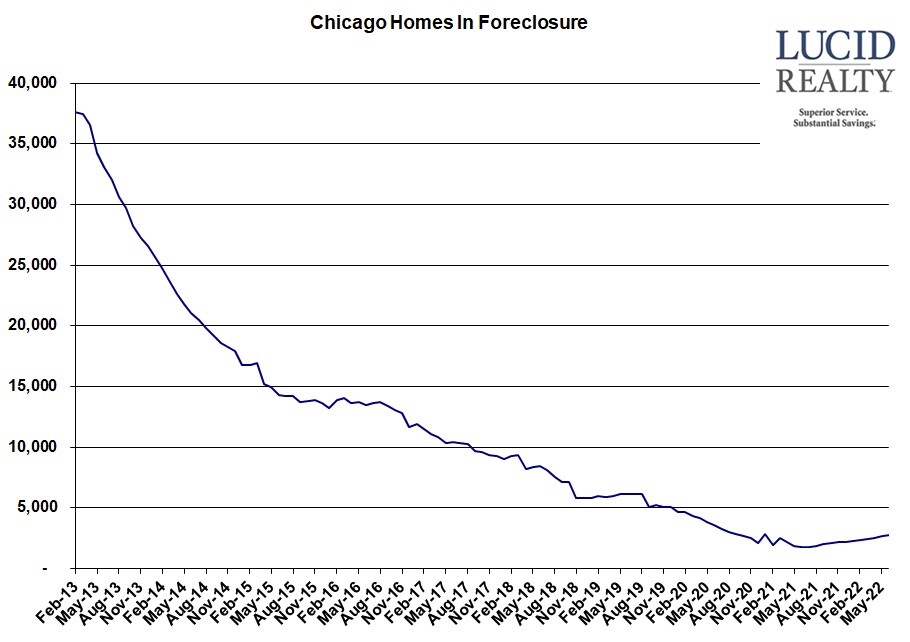 #Foreclosures #ChicagoForeclosures #Coronavirus
Gary Lucido is the President of Lucid Realty, the Chicago area's full service real estate brokerage that offers home buyer rebates and discount commissions. If you want to keep up to date on the Chicago real estate market or get an insider's view of the seamy underbelly of the real estate industry you can Subscribe to Getting Real by Email using the form below. Please be sure to verify your email address when you receive the verification notice.