Last week I posted on the hottest neighborhoods for new condo construction in Chicago so now I'm taking a look at the hottest neighborhoods for single family home construction. You're going to see much the same pattern in terms of pricing across the city. In total I identified 504 homes that I believe to be new construction that had some kind of activity in the last 12 months.
Of those 504 homes all but 8 had list prices above $300,000, only 67 were below $500,000, 238 were above $1 MM, 59 were above $2 MM, and one was priced at $13 MM. The 4 highest priced homes are all in the 1800 N block of Howe street, next door to each other, and are still on the market. They've been on the market for 100 – 200+ days, which is not at all unusual at their price points.
First, let's take a look at the activity by community area. Once again I am misusing the term "neighborhood" for the benefit of people searching that way.
Chicago Single Family Home New Construction By Neighborhood
In the graph below I ranked the single family home new construction activity over the last 12 months for the top 15 Chicago neighborhoods. No surprise that more of the activity is in the higher income neighborhoods on the north side. That's where builders are presumably going to make more money on a project. While West Town was #1 for condo development it's only #6 for single family home new construction, which I found surprising. I live in West Town and they are building new single family homes everywhere.
However, notice that several south side neighborhoods made the list – like Bridgeport, Washington Heights, and McKinley Park at numbers 8, 9, and 10, which are all ahead of Lincoln Square.
In addition, I should point out that there is a lot of gut rehab activity – much of it on the south side – across Chicago that is not reflected in the numbers below. Chatham would be a good example of this. Although gut rehabs don't really qualify as new construction they often fill the same need.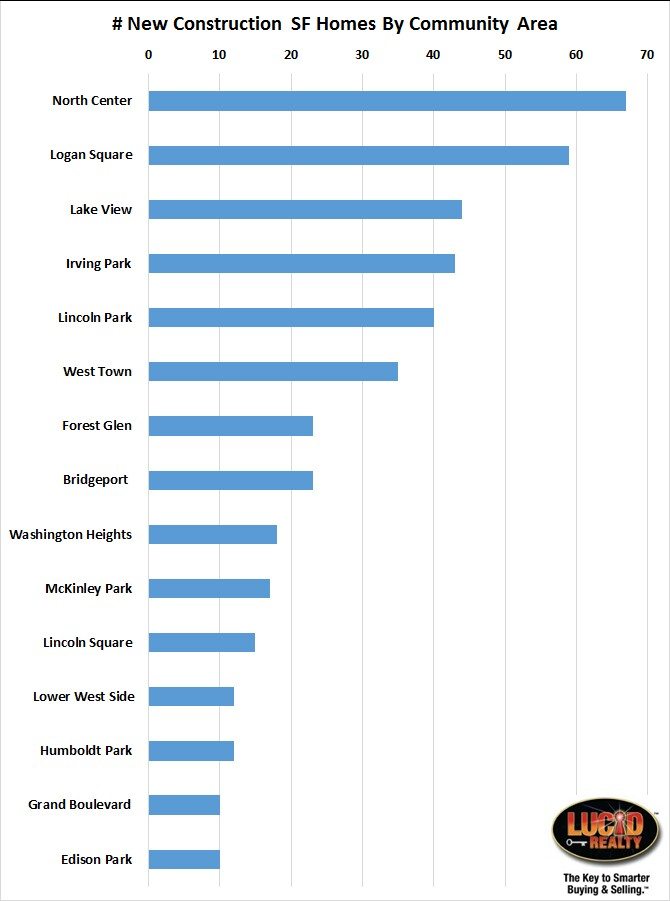 Average Single Family Home New Construction Prices By Neighborhood
In the graph below I show the average prices by neighborhood but this time (as opposed to how I did it for the condos which was probably too confusing) I sorted it from highest to lowest prices. The average prices of these homes vary in exactly in the way you would expect from a high of nearly $3.5 MM in Lincoln Park to a low approaching $300K in Washington Heights. Once again I maintain that West Town has some of the best values given it's proximity to downtown.
Of course the south side has much lower prices. Bridgeport looks interesting because of it's lower prices, proximity to downtown, and as I've pointed out in a previous post, a fairly low crime rate compared to a few more expensive neighborhoods. Also, notice that the Lower West Side, which contains Pilsen, made the list.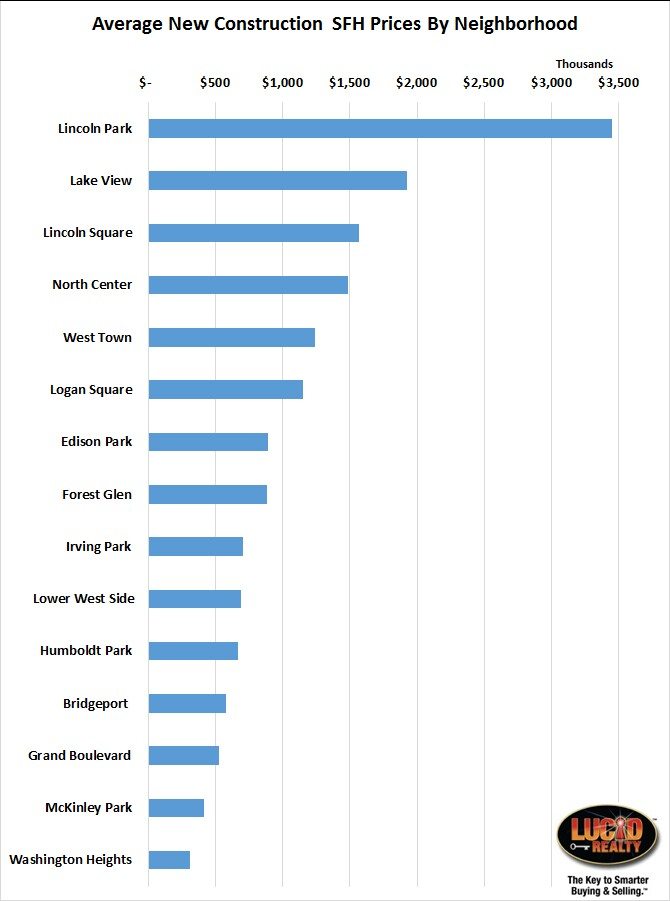 Mapping Chicago's Single Family Home New Construction
As I did with the condo new construction I mapped all the single family home new construction activity below but this time I overlayed it on a map of Chicago's community areas to make it easier to identify which area the activity is in. As before this map is interactive so there is a legend you can pop out and you can zoom, pan, click on the balloons for more information, go to a full screen, and share it.
The balloons are once again color coded by price range, with the lowest priced homes in red, transitioning to yellow, green, blue, and dark blue as the price rises. Generally speaking you can see that prices rise as you move from west to east and homes are cheaper on the south side and as you go further north. However, homes are not as cheap as you might expect on the north side of the city. What does happen on the north side is that lower priced homes extend further east.
We intuitively have this map in our head for advising our clients on which neighborhoods are available to them given their budgets. However, it's even better to make it provide this information to them on an interactive map.

#RealEstate #ChicagoRealEstate #NewConstruction
Gary Lucido is the President of Lucid Realty, the Chicago area's full service discount real estate brokerage. If you want to keep up to date on the Chicago real estate market, get an insider's view of the seamy underbelly of the real estate industry, or you just think he's the next Kurt Vonnegut you can Subscribe to Getting Real by Email using the form below. Please be sure to verify your email address when you receive the verification notice.