It looks like real estate populism is alive and well in Chicago and Illinois with growing support for the government to step in and "fix" the real estate market here. You know…stop bad things like rising rents and high home prices through rent control and affordable housing requirements. Never mind that Chicago is probably already the most affordable big city in the US.
Currently Illinois law bans rent control but there is a movement underway to lift that ban. J. B. Pritzker, the new governor, has previously expressed support for that and apparently the residents of wards 35 (kinda Logan Square), 46 (kinda Uptown), and 49 (kinda Rogers Park) think it's a good idea. 71%, 70%, and 66%, respectively, of those 3 wards voted in support of lifting the ban in the recent non-binding referendum that was on their ballot on November 6.
Hmmm. I guess those folks didn't read my last in a long series of blog posts on the subject: Chicago Voter Support For Rent Control A Huge Mistake. And they must not be familiar with the great success (not) rent control has been in San Francisco. As I've said before, I don't normally toe the realtor party line but this is one topic on which I'm totally in agreement with the realtor associations. The Illinois Association of Realtors basically mirrors my position here but it's a really nice summary, though it's a bit dramatic at times: Rent Control Threat Is Real.
Then there are all the affordable housing/ anti-gentrification efforts going on around the city on which I've also posted on several occasions. Here is my overview of the issues surrounding Chicago's love affair with the notion of affordable housing and a plan in late 2017 to increase the city's affordable housing burden requirement: Chicago's Affordable Housing Quagmire About To Get Deeper. Well, now there is a plan to expand the number of areas with high affordable housing requirements to include two additional areas: Pilsen and Little Village. In overly simplistic terms the high requirement for new developments is 20% affordable housing vs. 10% everywhere else in the city.
Of course, Pilsen already has an informal high requirement (21% affordable units) imposed by Danny Solis, the entrenched alderman who recently announced his retirement. Let's look at how this has worked out for Pilsen. First, that 8 acre parcel just south of 16th St. has been vacant forever as Solis tries to convince developers to take on a project that makes no economic sense for them. Then, if you look at my last annual review of new condo and single family home construction in Chicago you'll see that it ain't happening in Pilsen. No surprise with the anti-development mentality there.
Basically, the demand for housing in Pilsen is there but new construction is stifled. So what does Econ 101 teach us about high demand with restricted supply? Rising prices. Yep, Danny hasn't been able to keep prices from rising in Pilsen. Check out the graph of average sales prices in Pilsen for condos and single family homes over the last 10 years: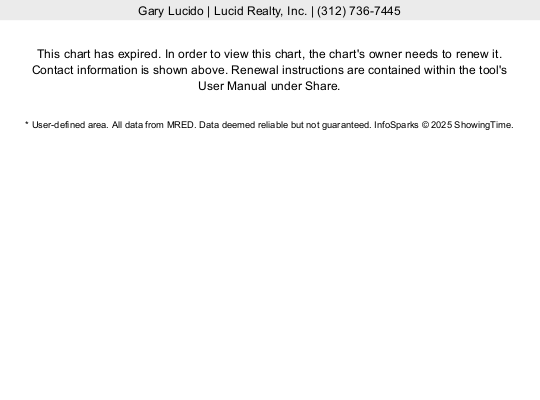 *Note that average sales prices are not necessarily an indication of the value of an existing housing stock but rather what is being sold. It can be an indication of changing demographics though as higher sales prices necessarily mean higher income folks moving into an area.
There is a lot of variability in the data because the transaction volume is so low. That's why I used a 12 month moving average to highlight the overall trend. But there is still a lot of variability. Nevertheless, the trend is fairly obvious. You can't stand in front of a moving freight train.
So, in case it's not obvious, the answer to the question in my headline is yes, government interference in the real estate market really is a bad idea. I purposely structured the headline with "yes" as the answer because I recently saw someone joking online that the answer to questions in headlines is always "no". I love not conforming.
#RentControl #AffordableHousing #ChicagoHomePrices #Gentrification
Gary Lucido is the President of Lucid Realty, the Chicago area's full service real estate brokerage that offers home buyer rebates and discount commissions. If you want to keep up to date on the Chicago real estate market, get an insider's view of the seamy underbelly of the real estate industry, or you just think he's the next Kurt Vonnegut you can Subscribe to Getting Real by Email using the form below. Please be sure to verify your email address when you receive the verification notice.