Between rising home prices, rising mortgage rates, and rising rents housing costs are on the rise and have just hit some of the highest levels in recent years. Last week Zillow released their Analysis Of Mortgage And Rent Affordability which showed that, nationally, mortgage payments are taking up the largest share of income since June 2010. That same analysis also showed that rents are taking up a near record share of income since early 1979.
Before we go any further let me clarify one thing. It's really misleading for Zillow to refer to this analysis, which looks at costs as a percentage of income, as a housing affordability analysis. On the one hand it does indeed reflect affordability for the local population in terms of costs relative to income. However, you can't compare these percentages between cities or over time because the incomes or lifestyles probably aren't comparable. In other words, home owners might spend a low percentage of their income on housing because their incomes are higher or because their housing costs are lower or because they choose to live in more modest homes.
Nevertheless, it is an interesting analysis as long as you keep this caveat in mind. Here is a national graph that looks at the trend in mortgage and rent payments as a share of income. Currently home owners are spending 15.8% of their income on their mortgage payments compared to 21.0% for the period from 1985 – 2000 so they are considerably cheaper now. But note how it has recently ticked up sharply since mortgage rates spiked and it's been drifting upwards for a while now as a result of rising home prices.
Meanwhile, rents have gone in the opposite direction. They are currently at 29.2% of income compared to a historic average of 25.8%.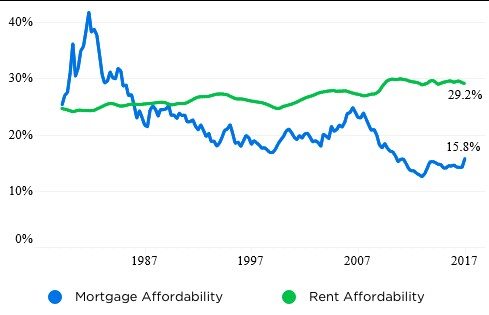 The picture for the Chicago metro area is similar but Chicago's rent percentage is higher than the national average and the mortgage payment percentage is lower. Again, that doesn't necessarily mean that rents are higher here than the rest of the country, just that the people renting here spend more of their money on rent.
Mortgage payments in the Chicago area, at 14.6% of income, are down from a historic average of 22.8%, which is a bigger drop than the nation has seen. And Chicago area rents have risen from 25.2% to 29.8%, which is a bigger jump than the nation.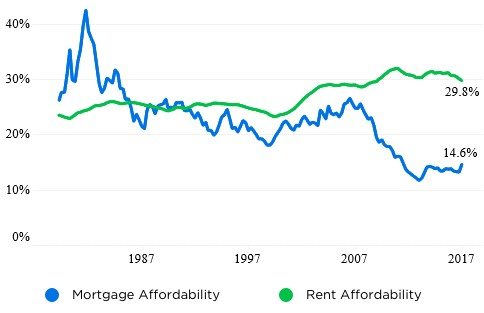 But if you compare the Chicago area to other urban areas our percentages are much lower. For instance, Houston is the largest city where mortgage payments are a lower percentage of people's incomes and in comparing rents you have to go down to like Atlanta or Washington DC to find lower percentages. Just to put this in perspective the residents of several California cities (the usual suspects), New York City, and Miami spend near or above 40% of their income on rent. A lot of those same California cities spend 35% or more on their mortgage payments and New York City home owners spend 26.7%.
Oh…and in case it didn't already catch your attention…notice how high the mortgage payment percentage spiked during the 80s when interest rates went bonkers and people were recovering from disco. That did not kill the housing market back then. I guess people just tightened their belt buckles. So we probably still have plenty of room to run.
There is also one other interesting observation from those graphs during the 80s. Despite the rise in mortgage rates and mortgage payments it looks like rents did not rise, which is extremely interesting. I guess landlords decided to not tick off their existing tenants. And there must have been fewer investment properties switching hands at that time because if an investor bought during that period their financing costs would have been much higher. So this would have either severely depressed prices or landlords would have had to raise rents to cover their debt costs.
#Foreclosures #ChicagoForeclosures
Gary Lucido is the President of Lucid Realty, the Chicago area's full service discount real estate brokerage. If you want to keep up to date on the Chicago real estate market, get an insider's view of the seamy underbelly of the real estate industry, or you just think he's the next Kurt Vonnegut you can Subscribe to Getting Real by Email using the form below. Please be sure to verify your email address when you receive the verification notice.