The 3rd Quarter 2017 Home Price Expectations Survey for the nation came out from Zillow and Pulsenomics a couple of weeks ago. This quarterly survey of 114 real estate experts produced a slightly more optimistic outlook for home prices than it did last quarter and last quarter was more optimistic than the quarter before that. As shown in the graph below, for 2017 the experts are now predicting a 5.1% gain vs. a 4.8% gain last quarter and over the entire 5 year period the forecast went from a 17.9% gain to an 18.4% gain. That's equivalent to an average annual compounded rate of 3.4%.


According to Pulsenomics Founder Terry Loebs, "Stronger short-term expectations for U.S. home prices are a sign of the persistent inventory challenges facing first-time and move-up homebuyers". That would be true for the nation as a whole. However, as I have been pointing out in my monthly updates, Chicago's home inventory is extraordinarily low and continues to hit new record lows. Nevertheless, Chicago home prices have not exactly been reflecting these tight inventory levels.
Terry Loebs went on to say that "experts' long-term predictions suggest that buyers will have more bargaining power in the years ahead" but, frankly, I don't see that in their numbers. Their outlook for home price gains over the next 5 years is pretty consistent at about 3.1% per year after 2017.
They also asked the experts what their thoughts were on the next recession and they gave it a 52% chance by the end of 2019, most likely caused by either geopolitical crisis or monetary policy (I'm sure they mean raising interest rates). And they thought it would have a…well…you tell me from the chart below how much of an impact they thought it would have on the housing market.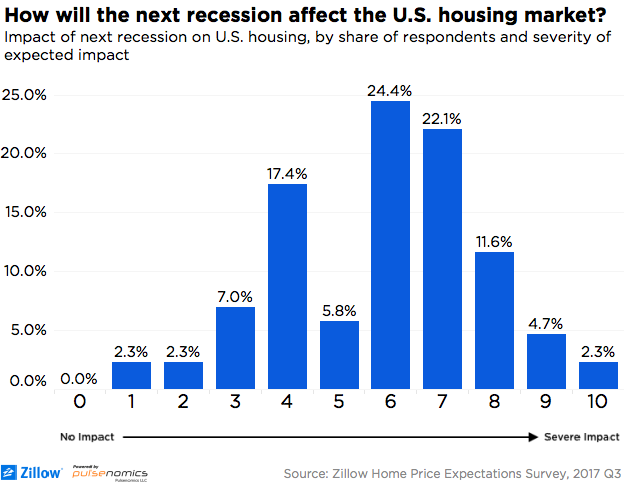 Outlook For Chicago Area Home Prices
Usually I provide a graph of the Case Shiller index futures prices as an indication of the expectations for Chicago area home prices. However, I don't currently have access to an updated graph so instead I just pulled the prices for the November 2018 contract, which represents the index value for September 2018 and is the furthest out contract month with pricing. With a bid of 145.4 and an ask of 148.6 I use the midpoint of 147. That compares to the September 2016 value (so that I can look at whole years) of 136.1, which implies a compounded annual appreciation rate of 3.9%.
That is much lower than the last time I looked at the effective price forecast implied by the futures market when I came up with 5.0% per year. That was really way too optimistic considering that just Tuesday the latest release of the Case Shiller Chicago index recorded only a 3.2% price gain over the last 12 months so this current implied home price forecast is much more realistic.
#ChicagoHomePrices #HomePrices
Gary Lucido is the President of Lucid Realty, the Chicago area's full service discount real estate brokerage. If you want to keep up to date on the Chicago real estate market, get an insider's view of the seamy underbelly of the real estate industry, or you just think he's the next Kurt Vonnegut you can Subscribe to Getting Real by Email using the form below. Please be sure to verify your email address when you receive the verification notice.