According to the data published by MRED LLC., there were 42 single family homes sold in Hinsdale during the month of June 2010,  that's up 50% from the same month in 2009 when there were 28 single family home sales. Under 10% of these homes sales was a result of a short sale or foreclosure with only two of each.
For homes that sell, its taking about 200 days, which is pretty consistent to the average time its been taking to sell a home in Hinsdale in the year of 2010.  The selling price of the homes sold in June range from $162k  – $3.6mm.  In June, the sales were spread pretty evenly in all price ranges with 12 sales being over $1mm.  The majority of the homes sold in June were in Northeast Hinsdale.  Take a look at the distribution in the image below.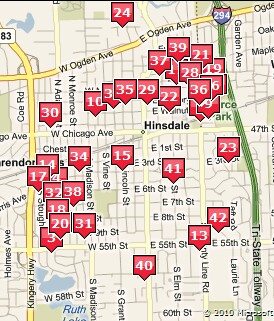 For more information on Hinsdale, including market conditions, visit our Hinsdale  page or you can find the details of all the homes sold on our Hinsdale Sales Data page.  And in keeping with my motto that laughter is the best medicine, take a look at the photo below that was used to market one of these homes.  Meow.