According to the January data from Attom Data Solutions, parent of RealtyTrac, the number of Chicago homes in the foreclosure process fell below 9000 for the first time since we've been tracking the data – 8983 homes to be exact. That sounds like a lot – and it is. But it's so much less than the 37,000+ homes when we started tracking Chicago's foreclosure problem. It's been on a steady decline since February 2013, as seen in the graph below, and it continues to make progress.
Attom Data Solutions did not release a full blown Foreclosure Market Report this month.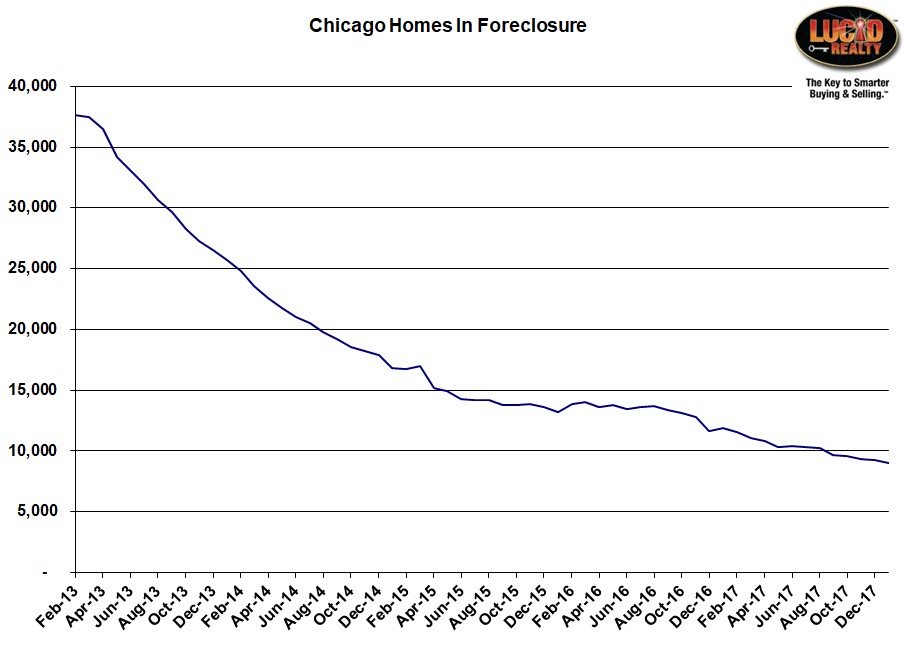 Chicago Foreclosure Activity
Chicago's foreclosure activity also has been showing regular declines, with all 3 components approaching recent lows. What's important, though, is that defaults remain low in order not to grow the pipeline and auctions and bank repos run as high as possible in order to clear out the backlog. January foreclosure activity was down 25.3% from last year.


The folks at Attom Data Solutions tell me that total US foreclosure activity was down for the 28th consecutive month in January with defaults down 10.5% from a year ago and repossessions down 17.3% from a year ago. Auctions were down 20.3%. Also, Illinois had one of the 5 highest foreclosure rates in the nation. Go Illinois!
#Foreclosures #ChicagoForeclosures
Gary Lucido is the President of Lucid Realty, the Chicago area's full service discount real estate brokerage. If you want to keep up to date on the Chicago real estate market, get an insider's view of the seamy underbelly of the real estate industry, or you just think he's the next Kurt Vonnegut you can Subscribe to Getting Real by Email using the form below. Please be sure to verify your email address when you receive the verification notice.