You remember the subprime mortgage crisis, right? Skyrocketing homeownership levels, assuring everyone in America that they could become wealthy by participating in the American dream? And the ever popular narrative of evil bankers, forcing people to take on mortgages that they couldn't afford to pay back? Soaring home prices, followed by a crash? Banks taking people's homes? A government bailout?
Yeah, that wasn't that long ago. In fact, it should be so fresh in everyone's memory that we shouldn't be trying to repeat the same mistakes all over again. Yet, there's been a lot of hand wringing over the fact that mortgages have been harder to get for people with lower incomes or higher debt levels and homeownership levels are down to 64% from 69% at the peak of the housing bubble (which may have been a historic high). Consequently, last July Fannie Mae raised their allowable debt to income ratio (DTI) for low down payment mortgages from 43% to 50% under certain circumstances.
Well, 6 years ago I wrote about How Fannie, Freddie, And The Government Contributed To The Mortgage Crisis and it looks like they are determined to do it all over again. Just to put things in perspective check out Fannie Mae's historic delinquency rates in the graph below from the Urban Institute. The black line represents the riskiest pool of mortgages with lower down payments and you can see how the delinquency rate peaked around 14%. Do we really want to go back there?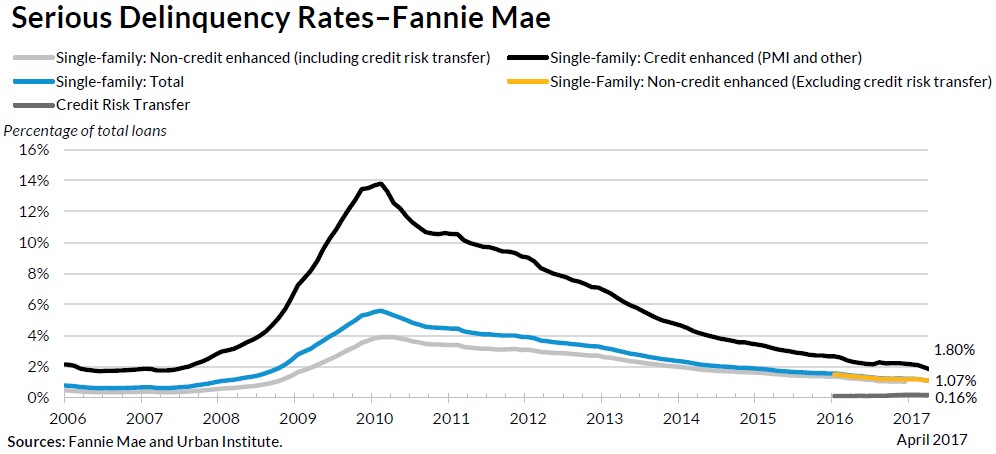 However, this time the private sector isn't going to let these government sponsored enterprises suck them in and they may ultimately prove to be the only adults in the room. According to a Chicago Tribune article the mortgage insurers (the credit enhancers in the graph above) have raised concerns and are setting stricter limits on what they will insure.
You can just tell by the tone of that article that the wailing and gnashing of teeth about denying home ownership to tens of thousands is about to begin. But before you join that chorus consider that the American dream is not all that it's cracked up to be. I've actually written about this before but some researchers with a little more credibility than me have once again shown that homeownership doesn't build wealth. As that article points out, taking control of your finances does.
#FannieMae #MortgageCrisis #Mortgages #HousingBubble
Gary Lucido is the President of Lucid Realty, the Chicago area's full service discount real estate brokerage. If you want to keep up to date on the Chicago real estate market, get an insider's view of the seamy underbelly of the real estate industry, or you just think he's the next Kurt Vonnegut you can Subscribe to Getting Real by Email using the form below. Please be sure to verify your email address when you receive the verification notice.