After a small gain in home sales in August the Chicago real estate market turned in a weak performance in September. Closings were down 0.9% from last year and also down from 2013. In the graph below I show monthly sales back to 1997 with all Septembers flagged in red and a 12 month moving average in light blue. Looking at that moving average you can see that home sales really haven't advanced that much over the last 3 years.
The Illinois Association of Realtors will report these numbers in a couple of weeks but they will show it as a 3.2% decline in sales. What can I say other than my number is more accurate?

Chicago Home Contract Activity
Contract activity, which precedes closings by 1 – 2 months, is similarly demonstrating a loss of momentum in the last 3 years and, in particular, the last 4 months have been negative vs. the previous year. I'm currently estimating that September contracts will be 11.1% below last year, which would be the worst year over year performance in a little over 2 years.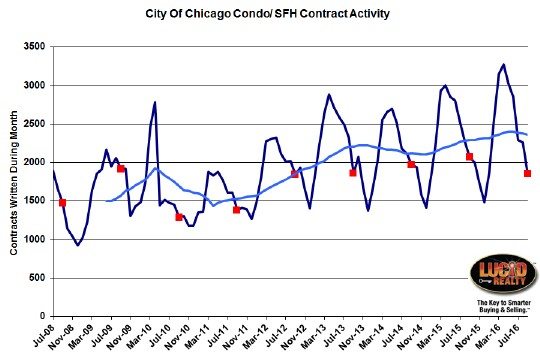 Pending Home Sales
The pipeline of home sales that are still pending actually increased a bit from last year. It currently stands at a 1.81 month supply vs. last year's 1.61 month supply. That means that October could get a little bit of help from this backlog despite the declining contracts. The fact that this metric is actually increasing while contract activity is declining could be an indication that fewer contracts are dissolving.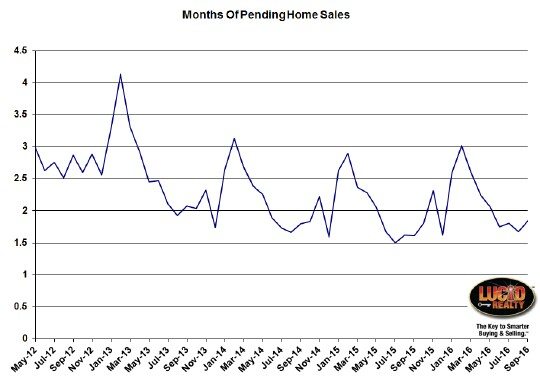 Distressed Home Sales
The percentage of home sales that are distressed continues to explore new lows as we work through the mess left behind by the bursting of the housing bubble. Only 12.1% of September's sales were distressed vs. 17.5% last year and the decline in availability of these troubled properties is contributing to the overall decline in sales.

Chicago Home Inventory
One theory on why Chicago home sales have been so anemic is that there just aren't enough homes available for sale and the numbers bear that out each month as we hit new lows. In September there was only a 3.4 month supply of condos and townhomes for sale vs. a 4.1 month supply last year and only a 4.5 month supply of single family homes available vs. a 5.4 month supply last year.
As I like to point out this is across the entire city and the picture can be quite different in certain areas. For instance, on the north side there appears to be a large and increasing supply of single family homes for sale. It's a good time to be a buyer in those areas.

Chicago Home Sale Market Times
Ultimately it's the low inventory levels that are keeping market times depressed. Condos and townhomes that closed in September did so in only 69 days on average, which is essentially unchanged from last year's 70 days. Single family homes took 76 days, which is down slightly from 84 days last year. #RealEstate #ChicagoRealEstate
Gary Lucido is the President of Lucid Realty, the Chicago area's full service discount real estate brokerage. If you want to keep up to date on the Chicago real estate market, get an insider's view of the seamy underbelly of the real estate industry, or you just think he's the next Kurt Vonnegut you can Subscribe to Getting Real by Email using the form below. Please be sure to verify your email address when you receive the verification notice.