The writing has been on the wall for the Chicago real estate market for a while as all signs have been pointing towards lower and lower home sales. Sure enough October hit the lowest sales level in 11 years. The graph of monthly home sales below, which flags all the October data in red, really highlights just how low sales were. In fact, October sales were down 29.3% from last October, driven almost equally by detached and attached homes. If not for the fact that there was a monstrous drop in sales in May 2020 October would have also seen the largest percentage drop in almost 12 years. And odds are that the next few months at least are not going to look much better as I'll get into below.
Roughly two weeks from now the Illinois Association of Realtors is going to tell you that home sales actually fell 30.8% because of the peculiar way in which they calculate year over year changes.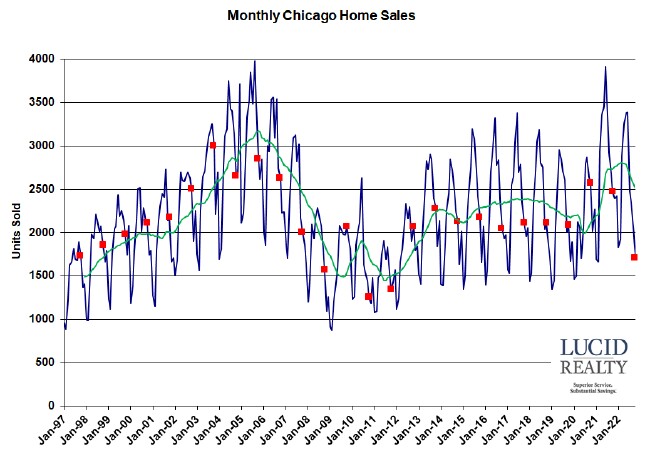 Chicago Home Contract Activity
One of the reasons I have such a pessimistic outlook for home sales is that contract activity, which leads closings by 1 – 2 months, was down around 37.9% from last year to the lowest level in 11 years as shown below. With the exception of April 2020 that is the biggest percentage drop in the more than 13 years that I've been tracking this data. And it looks like attached homes were hit a bit harder than detached homes.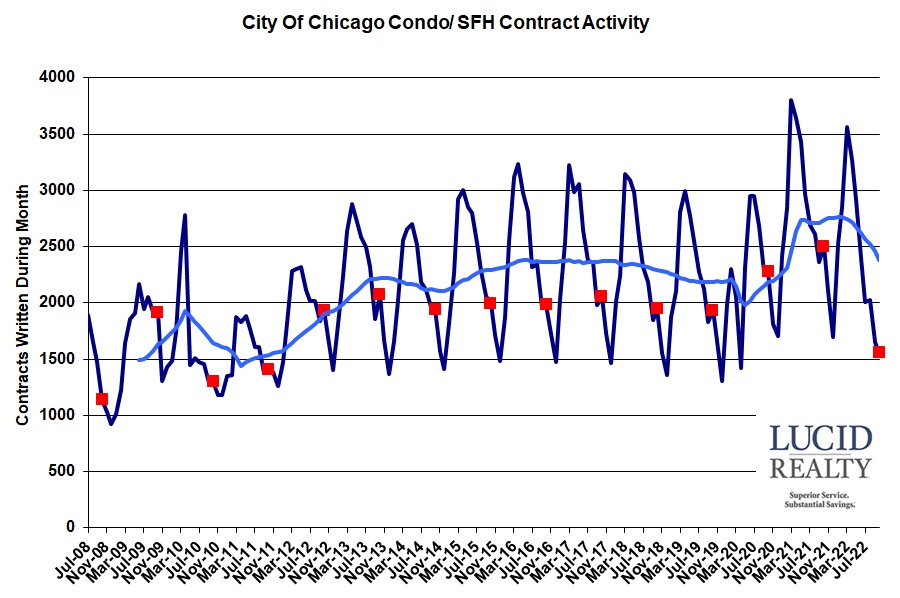 Pending Chicago Home Sales
Pending home sales is the other indicator that the future will not require shades. It's at least another 11 year record low, which is as long I've been collecting this data. This measure of the backlog of homes waiting to close fell by 1444 units in the last year – a bigger drop than we saw last month.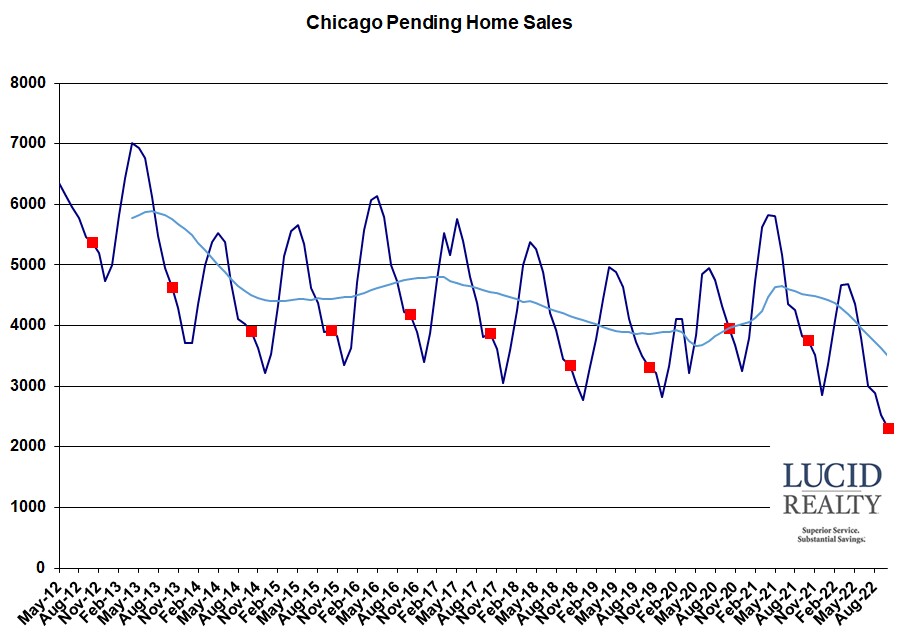 Distressed Chicago Home Sales
The percentage of home sales that are distressed continues to inch up from the bottom reached in the last 2 years. October came in at 2.5%, which is slightly higher than 2.3% last year and 2.4% the year before. Given the foreclosure and default data I've been sharing with you I don't think this is going to get much worse.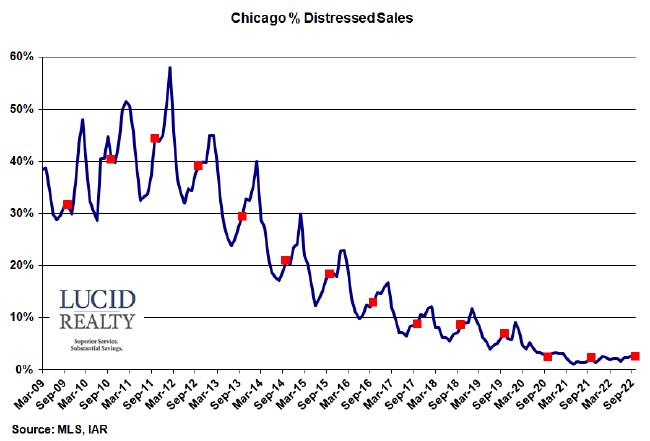 Chicago Home Inventory
The home inventory levels are what's keeping the Chicago real estate market's home prices from falling through the floor. Although they are up from last year they are still relatively low. In particular detached home inventory is still only at a 3.6 month supply, up from last year's 2.7 month supply. Although attached inventory is higher at 4.8 months – up from 4.2 months last year – that's not a huge number.
So, you know how prices are determined by supply and demand? Well, months of supply incorporates both of those in one number with supply in the numerator and demand in the denominator and right now they are kinda balanced. Yeah, buyers have retreated in light of higher mortgage rates but those buyers are also sellers who don't want to give up their really comfy mortgages right now so the supply has shriveled up as well.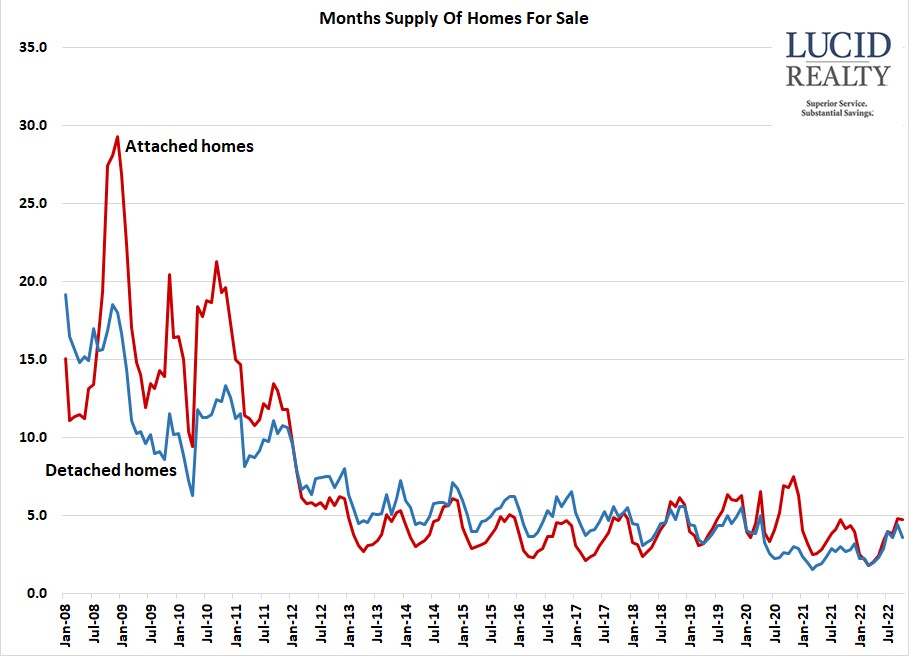 Chicago Home Sale Market Times
You can also get a read on the overall health of the Chicago real estate market by looking at how long it takes for homes to sell and they are still selling rather briskly – precisely because supply and demand are well balanced. Attached homes that closed in October went under contract in only 66 days, down from 80 days last year, while detached homes sold even faster – 55 days, though that's higher than last year's 48 days. Looking at the graph below you can easily see that this is generally faster than it has been historically.