I knew it was coming and it finally did. For a few months now Chicago home sales have been trending slightly downward but not dramatically. Sales remained at the top end of the historic range of the past 15 or so years. However, contract activity has been declining more significantly so it was inevitable that eventually closings would be hit harder than they had been.
So it's no surprise that June closings were down 12.6% from last year. On the one hand that's the biggest year over year decline in 2 years but on the other hand last June was an all time record for closings. So there. Also, if you look at the graph below you'll see that we're still running at the upper end of the range for the last 15 years and higher than both 2018 and 2019.
So it's not the end of the world but it's going to sound worse when the Illinois Association of Realtors reports the decline as 15.8% in about a week and a half. They just have a different way of doing math.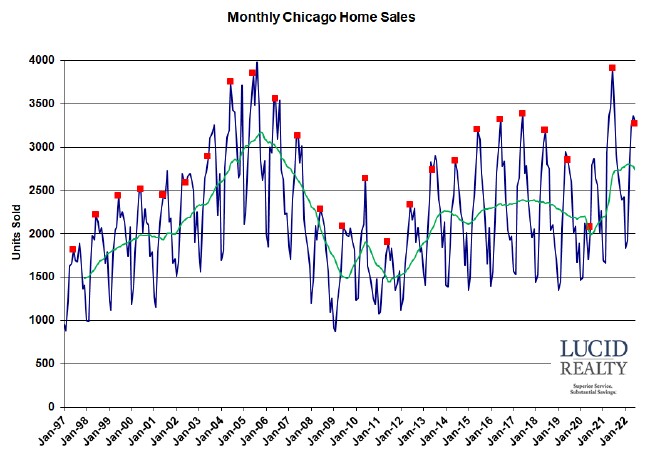 Chicago Home Contract Activity
Here is the contract activity problem I was just talking about. Each of the last 4 months has had a larger year over year decline than the prior month. For June the decline was 22.4% and if you look at the graph below you'll see that it hit the lowest level of the last 10 years. However, what's interesting is that most of this decline is attributable to far fewer contracts on attached homes – i.e. condos and townhomes. I'm going to guess that attached contracts are down 31% while detached contracts are down maybe 12%. I'll get into the reason for this a bit later but it's not as bad as it sounds.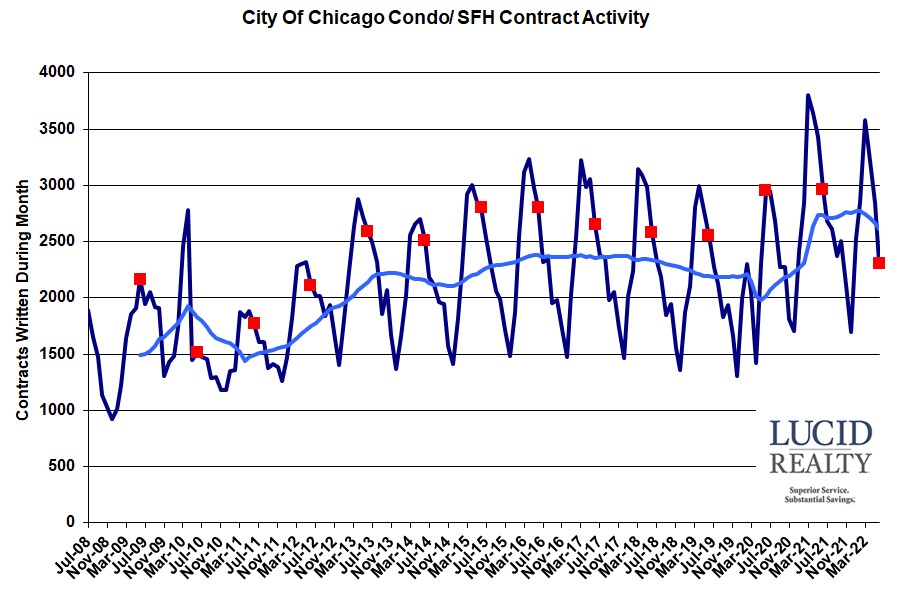 Pending Chicago Home Sales
Until June sales have been subsidized by a backlog of homes under contract waiting to close – i.e. pending home sales. I think that subsidy has pretty much run its course as pending sales just hit the lowest level of the last 11 years, down 1378 units (that's a lot) from last year and 561 units from May. Maybe this backlog can be drawn down a bit more but instead look for closings to track more closely with the declines in contracts going forward.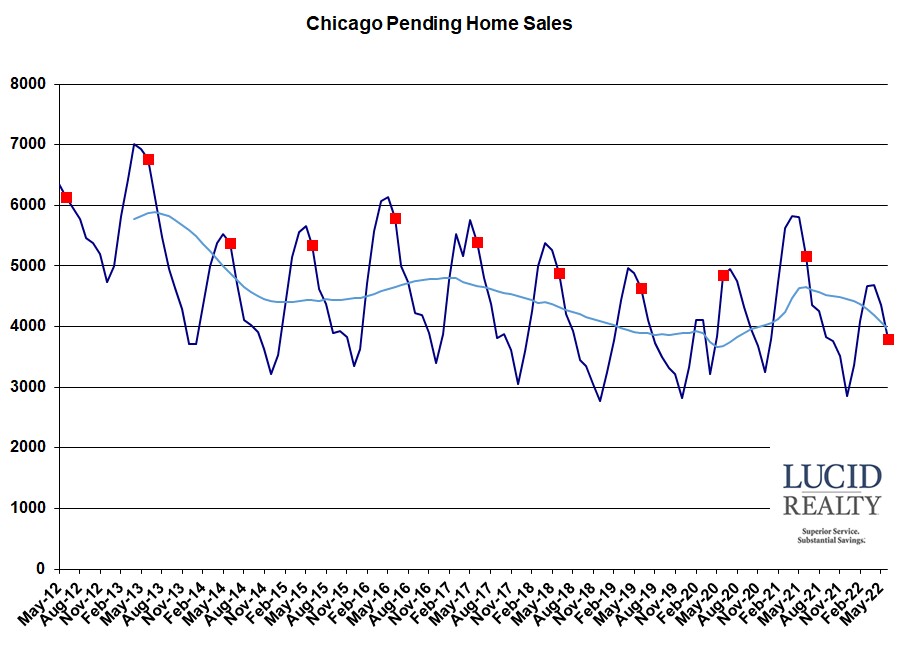 Distressed Chicago Home Sales
The percentage of home sales that are distressed is ever so slightly drifting up after trending down over the last 10 years or so. In June 1.7% of Chicago home sales were distressed, compared to 1.6% last year. When the foreclosure moratorium was in place it definitely depressed this number but now that the moratorium has been lifted it's not like foreclosures have come roaring back. Basically they came back to where they were trending (downward) before the damn virus started to make its rounds.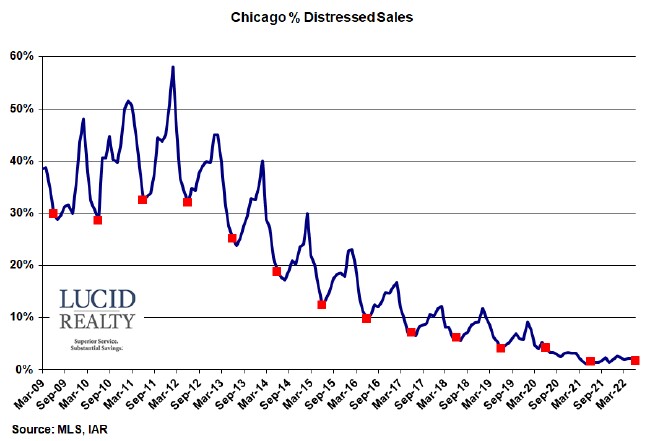 Chicago Home Inventory
The inventory of homes for sale in Chicago may be a big part of the story as to why home sales are so low. Attached home inventory reached a new low for June with only a 3.1 month supply, down from 3.3 months last year. Detached inventory matched last year's low of only 2.4 months. However, the months of supply number actually tends to mask the magnitude of the problem because I've got contracts in the denominator. So if an inventory shortage depresses contract activity then the months of supply number won't look as bad. So I'll put the situation in perspective. In absolute terms the number of attached homes on the market is down 27% from last year. That may very well be causing the decline in contracts.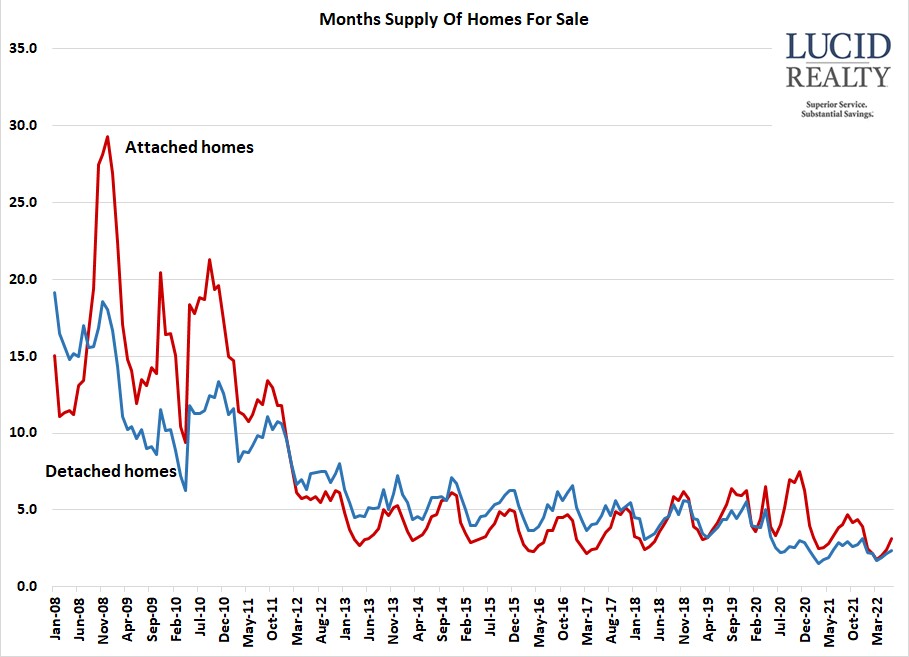 Chicago Home Sale Market Times
When you look at how fast homes are selling in Chicago the market looks pretty strong actually. Market times are near record lows. On average attached homes went under contract in 54 days, down from 69 days last year, lending more credibility to the argument that the condo market is strong but there just isn't enough for sale. Detached homes averaged 43 days on the market which is up only slightly from 40 days last year. And half of the homes are going under contract in about 2 weeks. #RealEstate #ChicagoRealEstate
Gary Lucido is the President of Lucid Realty, the Chicago area's full service real estate brokerage that offers home buyer rebates and discount commissions. If you want to keep up to date on the Chicago real estate market or get an insider's view of the seamy underbelly of the real estate industry you can Subscribe to Getting Real by Email using the form below. Please be sure to verify your email address when you receive the verification notice.