Up until the Chicago real estate market update for June there were signs on the horizon of the market slowing down but closings were still looking pretty good. We knew it couldn't last and, sure enough, the market cratered in July. Closings were down 25.9% from last year. Once again, that was the biggest drop in 2 years but, since the last 2 years were distorted by Covid culture, let's compare it to 2019. July was down 8.6% from then and, as  you can see in the graph below, it was also the lowest sales level in 10 years.
In a couple of weeks the Illinois Association of Realtors will report that closings were down 27.6% because they insist on doing things differently than I do.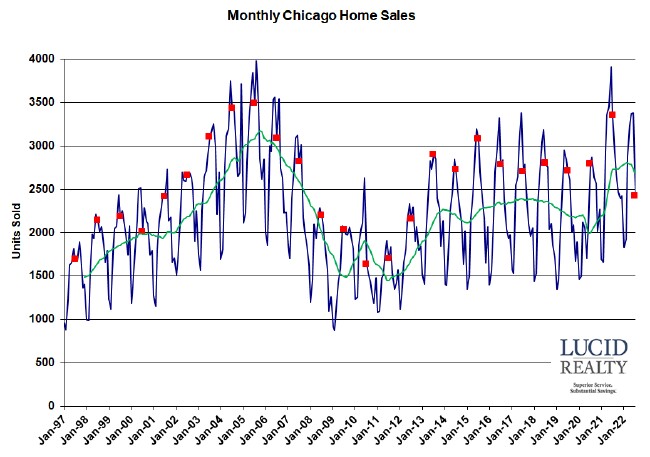 Chicago Home Contract Activity
For four months now contract activity has been signaling to us that sales were about to take a hit. If you're writing fewer contracts you will be closing fewer sales. It's that simple. The plunge in July contracts was even bigger than we had in June, falling 29.1% from last year which means we have more very slow sales months in store for us. Contracts are down on both condos/ townhomes and single family homes but clearly the condo/ townhome market is taking a bigger hit. However, read on because that doesn't necessarily mean what you think it does.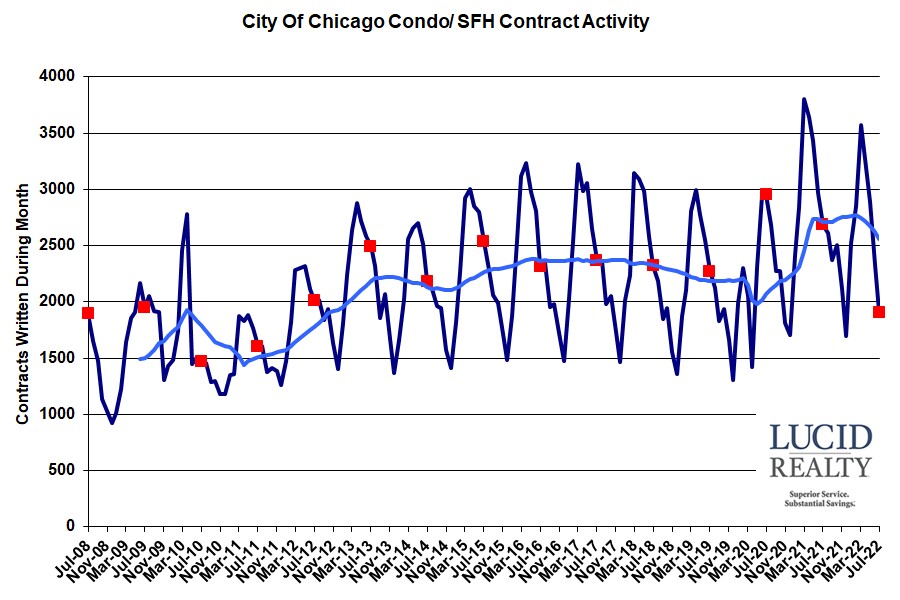 Pending Chicago Home Sales
Future closings also look pretty grim because pending homes sales are also down, hitting a new record low since I've been tracking the data. They were down 1359 units from last year and 788 from last month. Both numbers are extremely large for this metric, which you can get a really good sense of from the graph below. In the simplest terms this means that the current sales pipeline is pretty thin.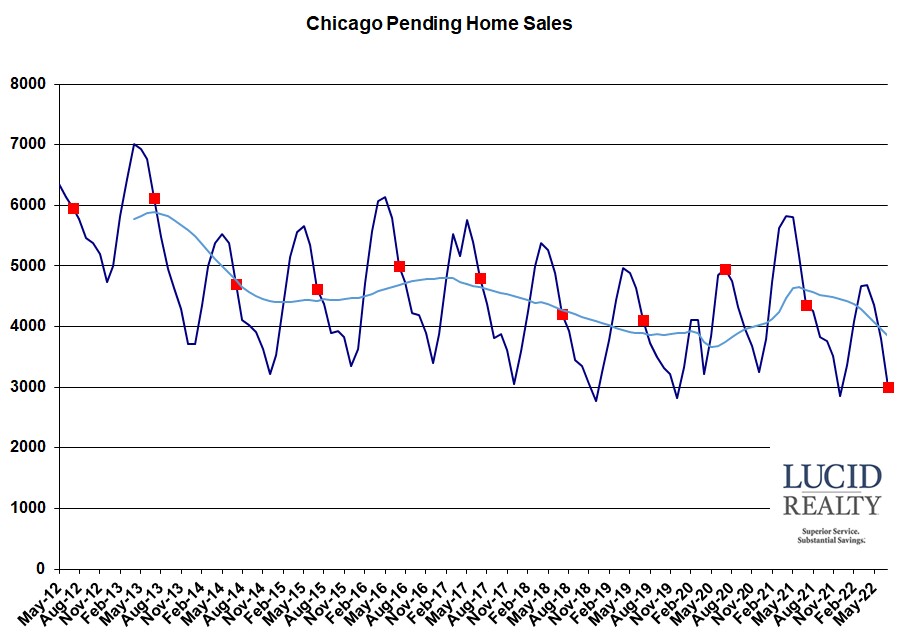 Distressed Chicago Home Sales
For the first time in recent history the percentage of home sales that are distressed actually went up by a noticeable amount. 2.3% of July's sales were distressed compared to 1.3% last year. But this is nothing more than a return to more normal distressed property sales after they were depressed by the pandemic foreclosure moratorium. As I've been reporting, there are no signs of a resurgence of foreclosures so I don't expect these percentages to rise much higher.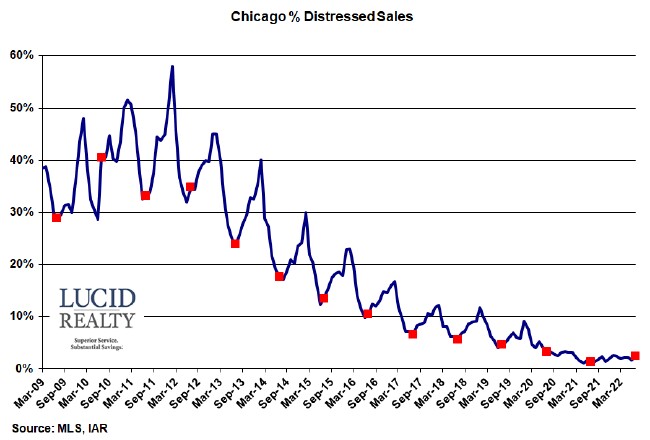 Chicago Home Inventory
July marked a significant change in Chicago's home inventory situation. For the first time in a few years the months of supply actually increased. Attached inventory rose from a 3.8 month supply last year to 3.9 months this year while detached inventory went up by a much larger amount – from 2.9 months to 3.5 months. Both of those numbers are still on the low side but it definitely demonstrates how the market has changed.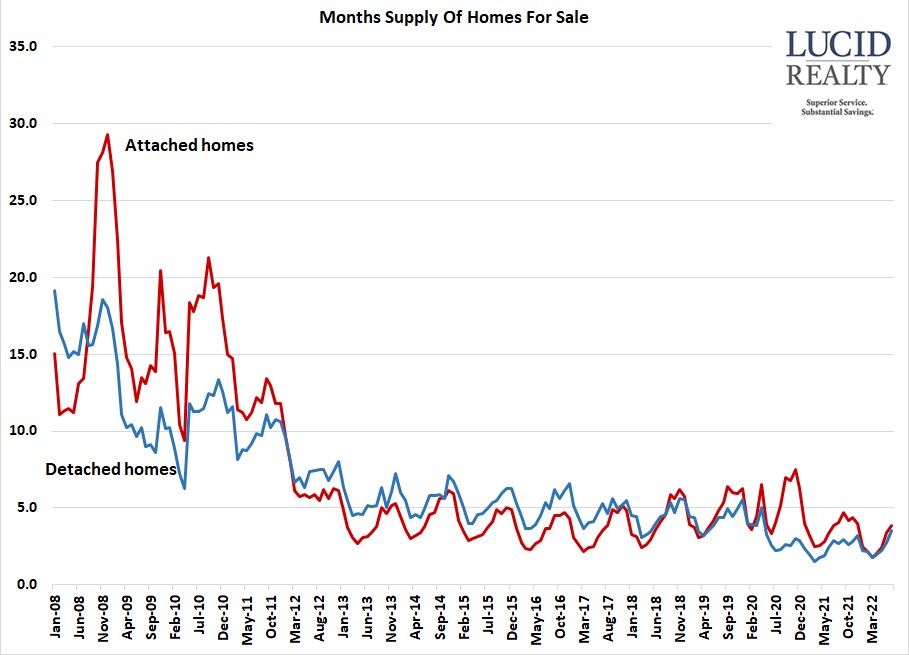 Chicago Home Sale Market Times
With all the data pointing to a slow down in the market I was surprised to see that homes are still selling…not just fast but faster. Attached homes that sold in July went under contract in only 48 days, down from 66 days last year, while detached homes sold in only 40 days, down slightly from 42 days last year. This may seem a bit inconsistent with the higher inventory levels but keep in mind that these went under contract when inventory was still lower than last year.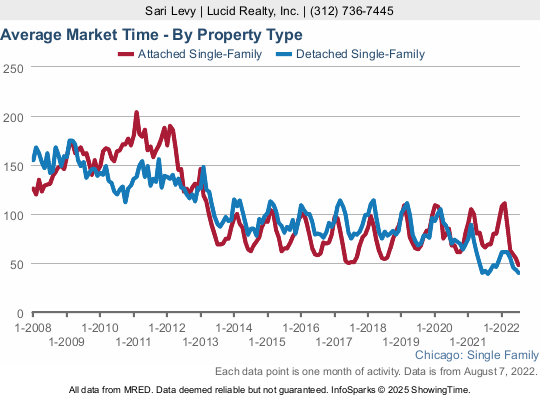 #RealEstate #ChicagoRealEstate
Gary Lucido is the President of Lucid Realty, the Chicago area's full service real estate brokerage that offers home buyer rebates and discount commissions. If you want to keep up to date on the Chicago real estate market or get an insider's view of the seamy underbelly of the real estate industry you can Subscribe to Getting Real by Email using the form below. Please be sure to verify your email address when you receive the verification notice.