Incredibly, January blew the home sale numbers out of the water with a 7.8% increase over last year. But keep in mind that last year was pretty strong also. So comparing last month to 2020 we get a 25.9% gain. It's also at least a 15 year record as you can see in the graph below that has all the January data points flagged in red and a green 12 month moving average. It might even be a 16 year record once the final sales numbers settle in a few months from now.
Of course, in a couple of weeks the Illinois Association of Realtors will report a mere 6.0% gain over last year because of their flawed methodology.
You should also note that the sales gain was driven by increases in both attached and detached homes, though attached homes contributed just a little more.

Chicago Home Contract Activity
The number of contracts written has been trending down the last two months. January was 5.7% below last year which likely means that we are about to see negative sales comps. However, as you can see in the graph below January still had the second highest number of contracts written since I've been tracking this. In fact, January was 14.5% higher than the 2020 number.

Pending Chicago Home Sales
What appears to be feeding sales in the face of declining contract activity is a decline in pending home sales. January had 413 fewer homes pending than last year and that means that either contracts are closing faster or we're emptying the pipeline. However, the graph below appears to show that we are close to the pre-pandemic lows in this number.

Distressed Chicago Home Sales
Distressed home sales as a percentage of total sales drifted down a bit more in January, falling to 2.7% from 3.2% last year. We're pretty close to the bottom so there's not much room to fall anymore, plus the foreclosure moratorium is over and foreclosure activity is picking up a bit.

Chicago Home Inventory
Just when you thought that the inventory of homes for sale couldn't get any lower it surprises us. January hit new lows for both attached and detached homes with attached homes down to a 2.4 month supply and detached homes down to a 1.9 month supply. Both of those numbers are comfortably in "sellers' market" territory, which is really great news for home sellers and bad news for buyers.

Chicago Home Sale Market Times
The amount of time that it takes to sell a home in Chicago is a bit strange right now. Sure, as expected with such low inventory detached homes are selling really fast – only 61 days compared to 76 days last year. However, despite record low inventory it's actually is taking longer for condos to sell – it's up to 108 days from 91 days last year. That makes absolutely no sense unless there are a lot of overpriced condos on the market.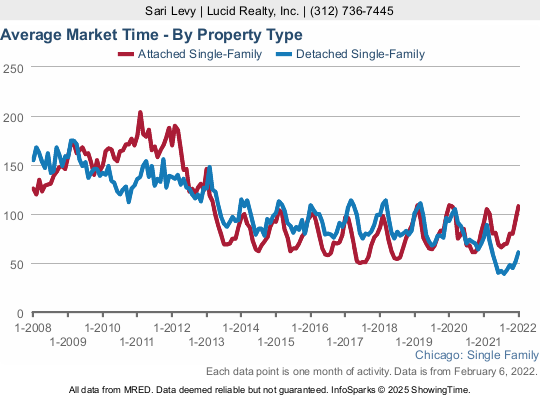 #RealEstate #ChicagoRealEstate #Coronavirus
Gary Lucido is the President of Lucid Realty, the Chicago area's full service real estate brokerage that offers home buyer rebates and discount commissions. If you want to keep up to date on the Chicago real estate market or get an insider's view of the seamy underbelly of the real estate industry you can Subscribe to Getting Real by Email using the form below. Please be sure to verify your email address when you receive the verification notice.