It's still relatively early in this cycle of increasing mortgage rates but so far closings have not really been impacted. There's a bit more to this story below but, in the meantime, check out this graph and remember that last May set a blow out record for home sales. So when I tell you that this May's sales were down by 1.8% that's actually really impressive. It was up 14.0% from 2019 and it was the second highest sales in 16 years. This is one of those times when coming in second is nothing to frown about.
As usual the Illinois Association of Realtors will report slightly weaker sales than me in two weeks. They will come in with a 4.5% decline.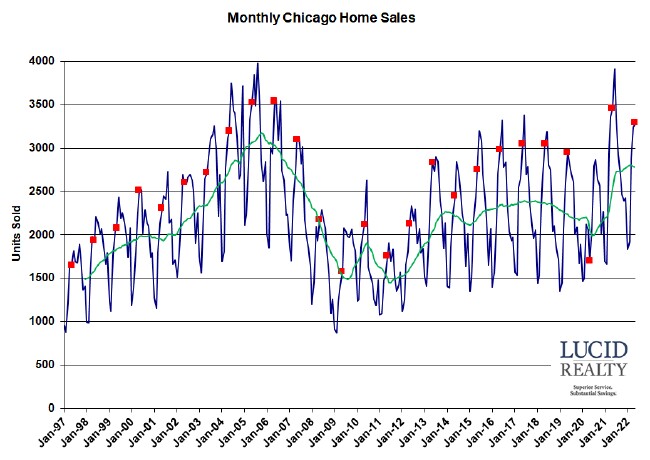 Chicago Home Contract Activity
However, the rest of the story is in the contract activity, which is starting to show signs of weakness and it's a leading indicator of sales, right? May was the third month in a row of fairly significant and increasing declines in contracts written. You can see it clearly in the moving average line in the graph below. May contracts were down 18.6% from last year and only up slightly from the 2019 level. You would think that eventually this would show up in lower sales figures.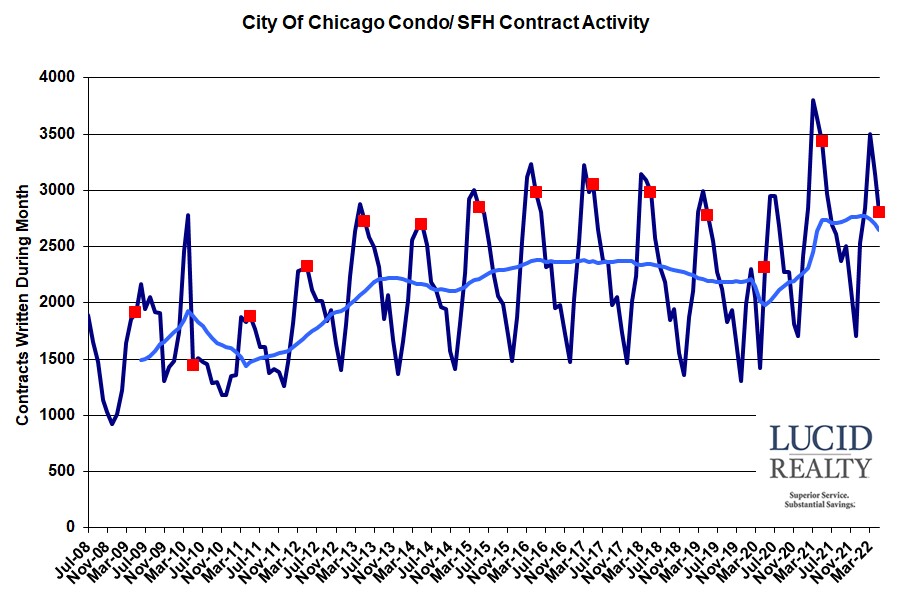 Pending Chicago Home Sales
What's been keeping the lower contract figures from translating into lower sales is a backlog of pending sales which has been drawing down for about a year now. You can see that in the graph below – check out the moving average line. May's pending home sales were down 1455 units from the previous year and 328 units from April. That's pretty significant when  you consider that May sales were 3291 units. But there are limits to how much more we can go to the "well" for additional sales.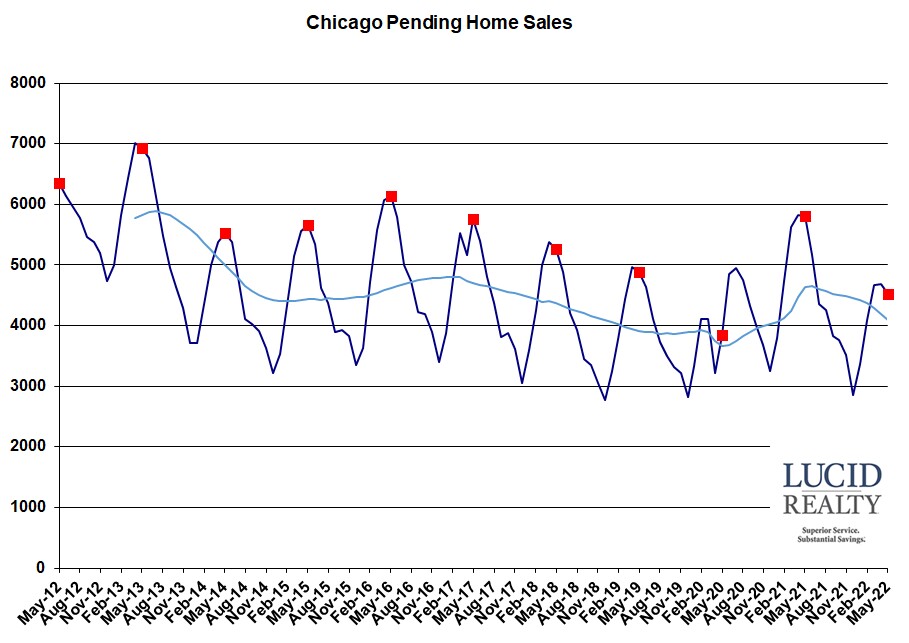 Distressed Chicago Home Sales
I've been talking about how foreclosure activity has been fairly muted since the expiration of the foreclosure moratorium so it's no surprise that the percentage of distressed sales remains pretty low. However, it has been ticking up slightly lately. May came in with only 2.2% distressed sales compared to an even lower 1.1% last year. You can see the trend in the graph below. But I don't think the percentage is going to go much higher, given the low level of foreclosure activity.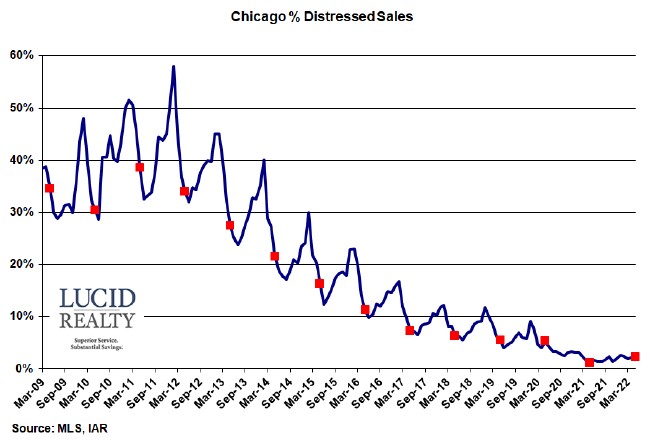 Chicago Home Inventory
The strength of the market can be measured by the supply/ demand imbalance as summed up in the months of supply. Both detached and attached homes keep hitting new lows. Detached inventory was the same as last year with a 1.9 month supply while attached inventory fell to 2.3 months vs. 2.8 last year. Just glancing at the graph you can see how 5 months was a more typical number once we got past the housing crash and that is generally seen as a more balanced market.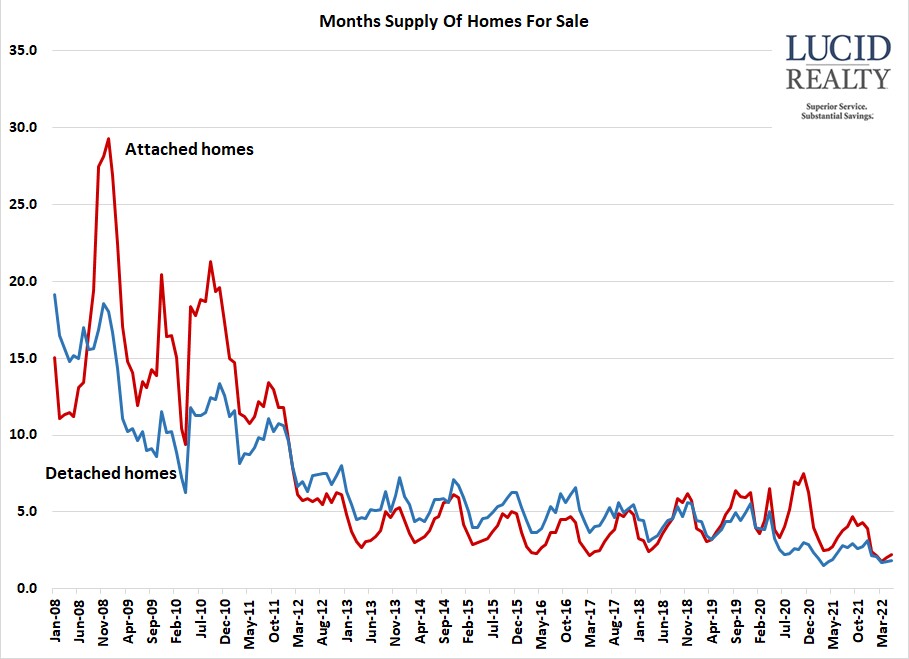 Chicago Home Sale Market Times
How long it takes to sell a home is also a great indicator of the strength of a market and again we're seeing some positive signs. Attached market times are fairly low at 59 days on average – down from 81 days last year – but, as you can see in the graph, that's not a record. On the other hand detached market times of 46 days is a record low and that is down from 50 days last year.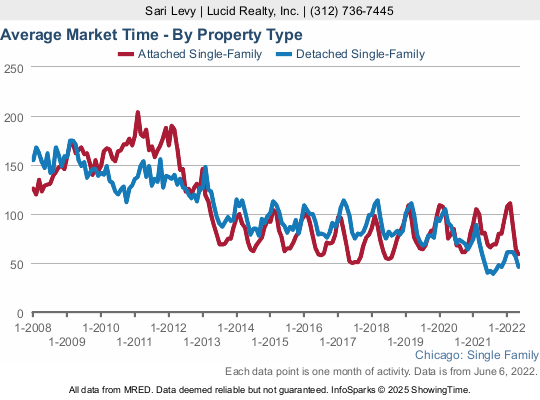 #RealEstate #ChicagoRealEstate
Gary Lucido is the President of Lucid Realty, the Chicago area's full service real estate brokerage that offers home buyer rebates and discount commissions. If you want to keep up to date on the Chicago real estate market or get an insider's view of the seamy underbelly of the real estate industry you can Subscribe to Getting Real by Email using the form below. Please be sure to verify your email address when you receive the verification notice.