More than 2 years into the pandemic and the Chicago real estate market keeps chugging along. When you look at the graph below you'll be reminded that last April we set a record for home sales – maybe even an all time record. So it's actually quite impressive that this April sales fell by a measly 3.1%. That's the second highest level in 17 years and the third highest level in the entire history that I have readily available. Also note that the light green moving average is still trending up from its already high levels.
Since 2020 was a short term outlier and 2021 was so extraordinarily high let's compare these sales to 2019. This year was higher by 24.5%!
The Illinois Association of Realtors always calculates a slightly lower number than me so in two weeks they will report a 5.4% decline.
Going forward, keep in mind that the recent spike in mortgage rates is making everybody nervous. It could cause people to stay put since they likely have a much lower mortgage rate than they can get today and it could discourage first time home buyers as well. But people have to move for all sorts of reasons that have nothing to do with finances so it's unclear just how big of an impact this could have.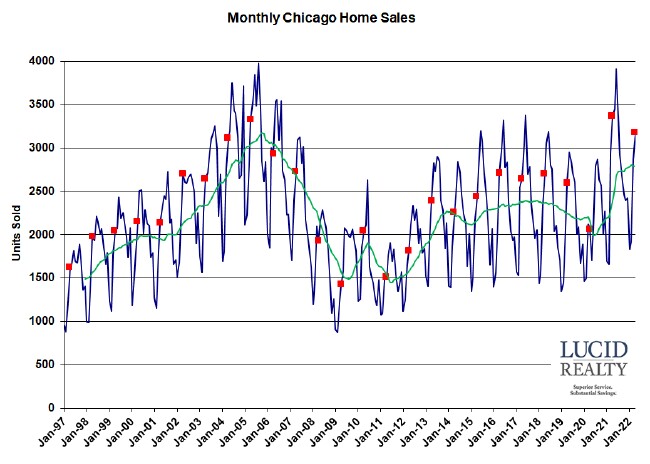 Chicago Home Contract Activity
The number of contracts being written showed a 16.4% decline from last year, which is the third decline in a row. However, it's still at the upper end of the range but this could be the first signs of the Chicago real estate market slowing down.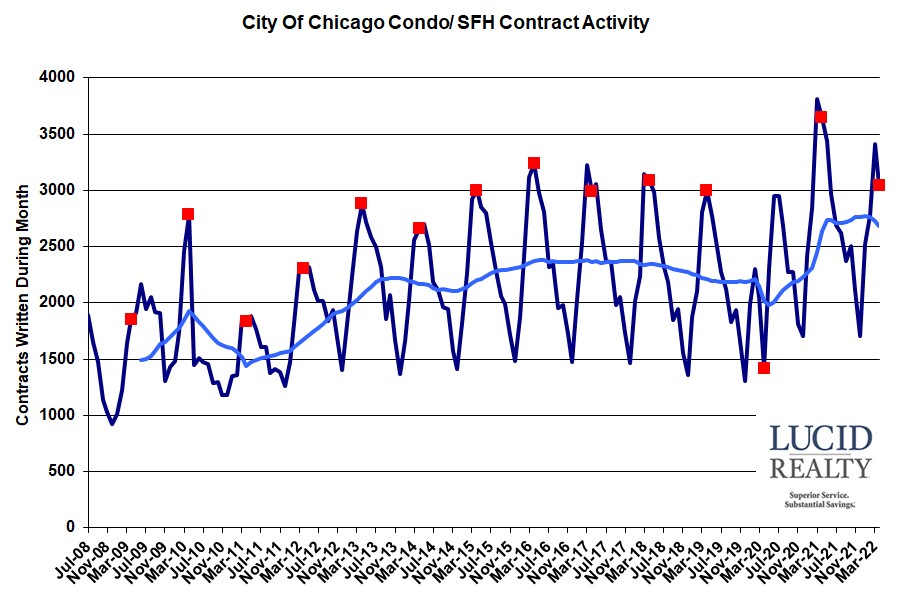 Pending Chicago Home Sales
Pending home sales fell by 1150 units from last year, which is a very large amount. Those 1150 units basically came out of the pipeline and supplement the contracts being written to culminate in closed sales. That has allowed closings to continue at a fast pace even though contract activity is down. But you can only pull off that trick for so long.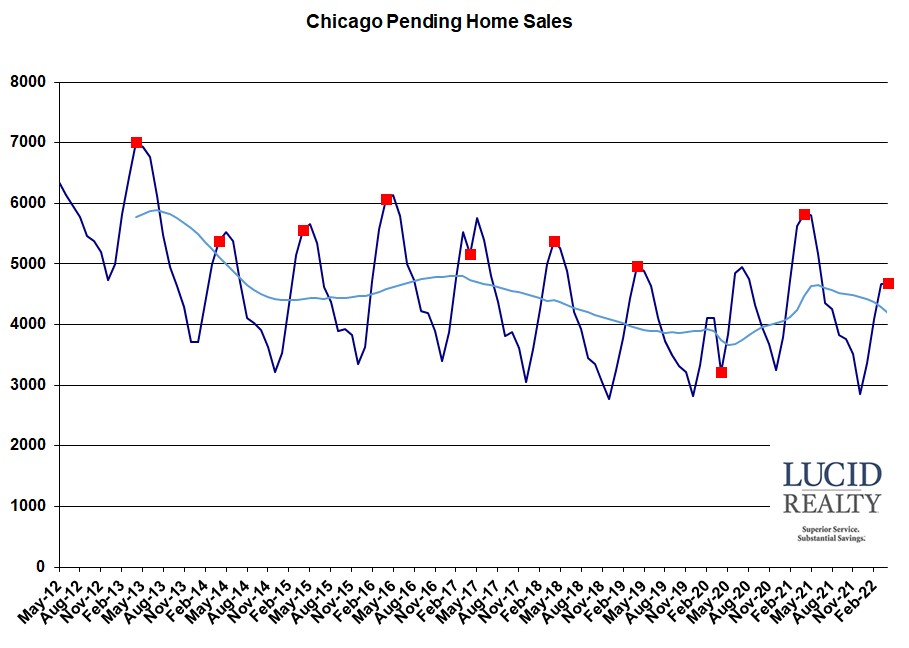 Distressed Chicago Home Sales
The percentage of Chicago home sales that are distressed has been steadily declining. However, April was the first month with a year over year increase in almost 2 years, with 2.2% distressed compared to only 1.5% distressed last year. Now keep in mind that until recently there was a moratorium on foreclosures so this could be a bit of backlog working its way through the system. However, as I said in my most recent foreclosure update, I don't think we're going to see a flood of foreclosures coming through.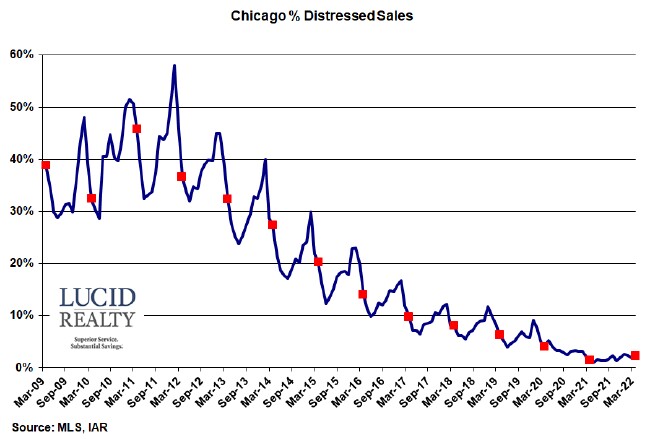 Chicago Home Inventory
The inventory of Chicago homes for sale continues to drop from already low to even lower, setting new records. In April the months of supply of detached homes for sale dropped to a mere 1.6 months of supply from last year's 1.8 months of supply. Attached homes had an even bigger drop, going from 2.6 months last year to 1.9 months. Yeah, it's a great time to be a seller but then you have to buy something else…unless of course you no longer have use for a home. Then you have bigger problems to worry about.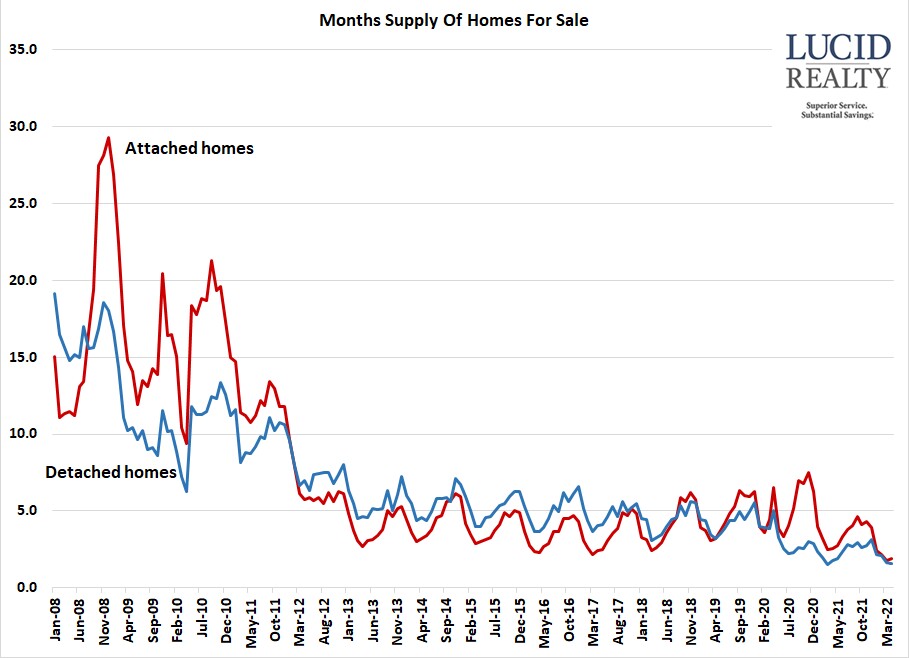 Chicago Home Sale Market Times
With tighter inventory comes faster sales and that pattern held true in April. Detached homes sold on average in only 56 days compared to 60 days last year but half of the homes sold in 15 days or less. Attached homes sold in only 64 days, which is down substantially from 80 days last year, and half of the homes sold in 16 days or less. For sure there are plenty of homes that are just sitting – most likely just overpriced for what they have to offer.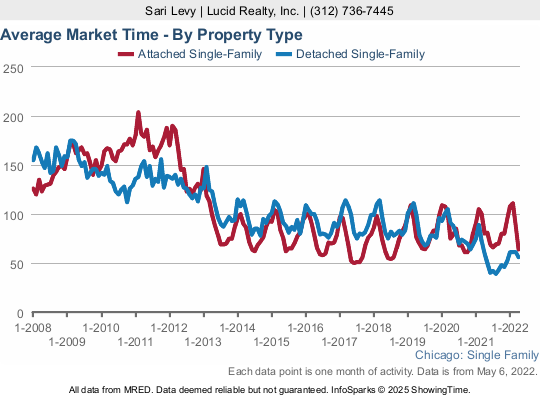 #RealEstate #ChicagoRealEstate
Gary Lucido is the President of Lucid Realty, the Chicago area's full service real estate brokerage that offers home buyer rebates and discount commissions. If you want to keep up to date on the Chicago real estate market or get an insider's view of the seamy underbelly of the real estate industry you can Subscribe to Getting Real by Email using the form below. Please be sure to verify your email address when you receive the verification notice.