So far my belief that Chicago has reached a bottom in housing prices continues to be supported by the data. The latest Case Shiller index came out a few minutes ago and it shows that Chicago prices are up 1.7% in the last month. That's 4 months in a row now of increasing prices. Of course, they are still down 12.7% from a year ago and down 22.6% from the peak in September 2006. However, it is clear that we are below the 20 year trendline and coming back strong. Of course we'll have to wait until the tax credit expires to find out what's really going on but this is certainly encouraging news – for sellers that is.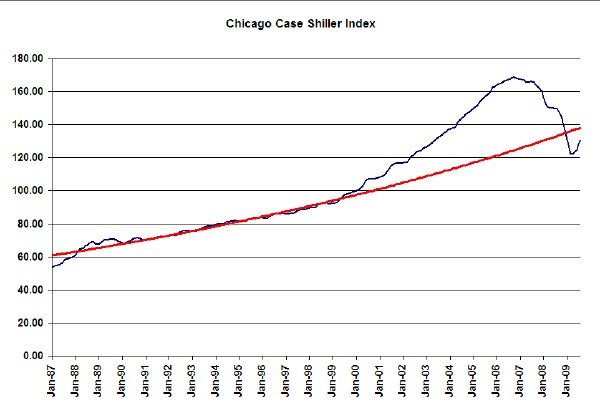 The Case Shiller index is the only true measure of housing price trends in the country because it actually looks at price changes in the same homes from one sale to the next. You will often see the media and even the various real estate associations report on median price trends but that is a totally bogus measure. Median prices can go down even as true prices are rising. How is this possible? Let me give you an example. Suppose you have 10 $300K homes and 10 $500K homes sell in one year and then a year later only the 10 lower priced homes sell for $330K each. The median price just went down from $400K to $330K. See what I mean?
So when you see an article about median prices just don't bother reading it.
You can always find the most up to date version of this data and other information on our Chicago area housing statistics page.