Well, I didn't think we'd live to see the day that I would turn bullish on the Chicago housing market but there are definitely signs of us turning the corner. Despite the fact that I still think home prices in this city are outrageous (compared to income levels) you can't argue with the trends. A short while ago I made the case that Chicago home prices have bottomed. Now we're seeing further evidence of sales picking up and inventory levels turning the corner.
Today the Illinois Association of Realtors released the August sales data for the Chicago metro area. As you can see from the chart below we've now had two months in a row where sales volume has risen above the previous year's level after 3 years of steady decline.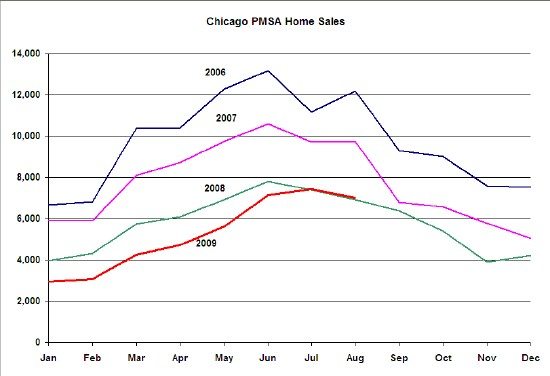 However, the city of Chicago is still seeing declines in sales rates but I think it's significant that the broader area is picking up. One word of caution here, however. This sales pickup may be the result of the pending expiration of the $8000 tax credit. When that is gone there is a real chance that sales could revert back to year over year declines.
In addition, inventory levels have finally dropped below last year's level.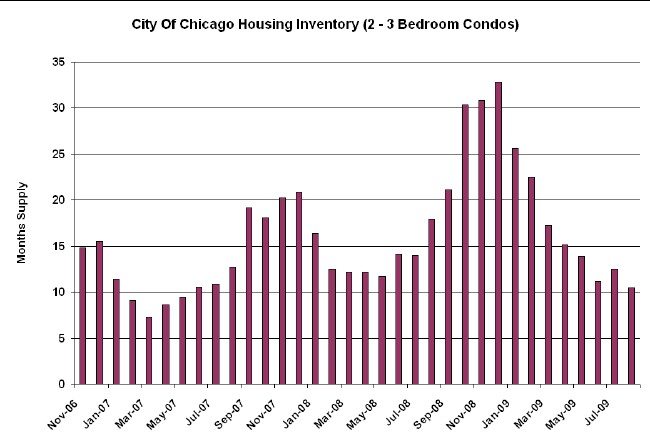 You can see the inventory data and market times for several individual Chicago neighborhoods here: