When we updated our Chicago real estate market statistics recently we noticed that the last 24 months of history for 2 – 3 bedroom condos (the sweet spot of the housing market in Chicago) had changed dramatically from the last time we updated these statistics.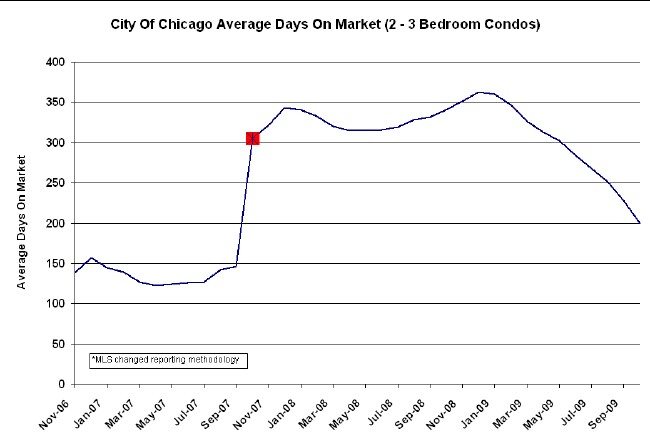 The red marker on the graph marks the spot where the new market time data begins. After calling the data provider and launching a 2 day investigation we discovered that they had just fixed an error in the way that they determine the days on the market. The result is that the market times are now shown to be much worse than we had thought but they have also been exhibiting dramatic improvements throughout the course of 2009.
You can see a similar improvement in the Chicago housing inventory, though these statistics were not impacted by the change.
Condo market times are down and inventory levels are down since the beginning of the year. The number of condos on the market is down at the same time that the number of condos sold is up.
There are probably several factors at play here. Certainly the tax credit is helping sales volume and I believe that sellers who are not prepared to price their properties properly have given up on selling – for the time being at least. Many of them just can't afford to sell at current market levels. Some argue that this represents a shadow inventory of housing that will come back to haunt us another day. However, while I think that may prevent real estate values from rising, I don't think it's going to further depress Chicago housing prices because these home owners have already demonstrated an unwillingness to sell at current prices.
As always you can find our housing market statistics for several Chicago neighborhoods at the links below: