RealtyTrac came out with their December and year end Foreclosure Market Report late last week and it was no surprise that 2016 was a 10 year low in foreclosure activity for the nation as a whole as you can see in the graph below. Activity was also down 14% from 2015.
Interestingly they also looked at the "vintage" of the current properties in foreclosure and 55% of them were originated between 2004 and 2008 – the height of the bubble peak. So we're still suffering from that whole fiasco. For Illinois it's slightly lower at 50.4% and Cook County is slightly higher than Illinois at 53.1%.


Daren Blomquist, senior vice president at ATTOM Data Solutions, the parent company of RealtyTrac commented on the makeup of the foreclosure pipeline:
The national foreclosure rate stayed within an historically normal range for the third consecutive year in 2016, even as banks continued to clear out legacy foreclosures from the last housing bubble, particularly in the final quarter of the year. Foreclosures completed in the fourth quarter had been in the foreclosure process 803 days on average, a substantial jump from the third quarter and indicating that banks pushed through significant numbers of legacy foreclosures during the quarter. Despite that push, we still show that more than half of all active foreclosures nationwide are on loans originated between 2004 and 2008, with a much higher share of legacy foreclosures in some markets.
For Chicago foreclosure activity actually spiked up again in December, primarily due to a surge in auction activity, which helps clear this mess out. However, bank repossessions actually dipped to a 16 month low.

Chicago Shadow Inventory
The good news is that the backlog of foreclosures in Chicago finally took a significant plunge in December as you can tell by looking at the next graph. It's been only slowly drifting down for almost 2 years but last month saw the biggest plunge in 20 months.
Although progress has slowed down lately we've cut that shadow inventory by almost 70% since I've first started to track these numbers.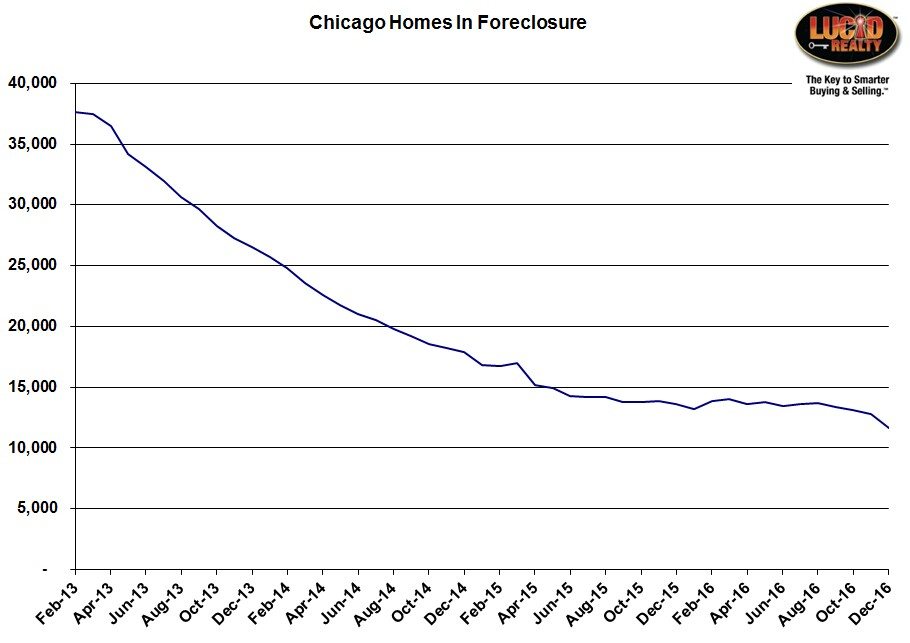 #Foreclosures #ChicagoForeclosures
Gary Lucido is the President of Lucid Realty, the Chicago area's full service discount real estate brokerage. If you want to keep up to date on the Chicago real estate market, get an insider's view of the seamy underbelly of the real estate industry, or you just think he's the next Kurt Vonnegut you can Subscribe to Getting Real by Email using the form below. Please be sure to verify your email address when you receive the verification notice.