Last week ATTOM released their July Foreclosure Market Report for the nation and every major city. At the national level foreclosure activity dropped 4% from June but Rick Sharga, executive vice president of market intelligence at ATTOM, suggested that this drop might just be normal seasonality:
While it's encouraging to see both foreclosure starts and completions drop off a bit in July, it's also worth noting that there may be some seasonality impacting the numbers. In eight of the last 10 years Q3 foreclosure activity has been lower than the previous quarter, so we might just be seeing a return to a more normal seasonal pattern of delinquencies and defaults.
As is usually the case, Chicago and Illinois had some of the highest foreclosure rates in the country with Chicago ranking second among major metropolitan areas and Illinois also ranking second among states. However, I've got ATTOM's Chicago's foreclosure activity graphed below and the July activity continues a downward trend that started after the March peak. In fact, since the moratorium on foreclosures ended Chicago foreclosure activity has remained pretty much below the pre-pandemic level.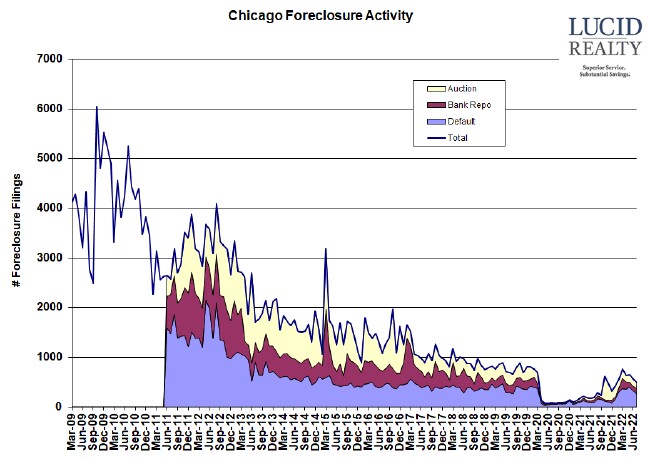 I think what's driving this overall decline in foreclosure activity is the fact that delinquencies are running at extremely low levels. The graph below comes from Black Knight's June Mortgage Monitor Report. Although June ticked up ever so slightly from May you can see that we are still well below historic lows going back to 2001.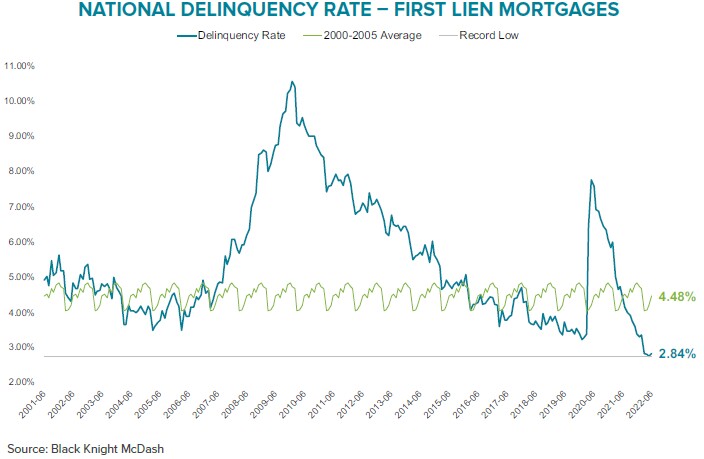 Chicago Shadow Inventory
The number of Chicago homes in some state of foreclosure continues to gradually rise from extremely low levels. We've added 983 units over the last 13 months but the graph below puts it in perspective. We are running below the levels we were at prior to October 2020.