It's no secret that the entire real estate market really sucks right now, with Chicago home sales at 11 year lows. But some might be surprised that, so far at least, it's not resulting in higher foreclosure activity. As I've explained before high home owner equity and low unemployment, reflected in low delinquency rates, have been successfully keeping a lid on foreclosures as the foreclosure market report released by ATTOM earlier this month shows. Don't be fooled by their scary headline. Read what Rick Sharga, executive vice president of market intelligence at ATTOM, is actually saying about the situation:
Foreclosure starts in November nearly doubled from last year's numbers, but are still just above 80 percent of pre-pandemic levels. We may continue to see below-normal foreclosure activity, since unemployment rates are still very low, and mortgage delinquency rates are lower than historical averages.
You can see the historic trend in the graph of Chicago foreclosure activity that I maintain below. It should be clear that we are running below pre-pandemic levels, with maybe even a bit of a downward trend recently. Nevertheless, the ATTOM report once again recognizes Illinois and Chicago for the highest foreclosure rates in the nation.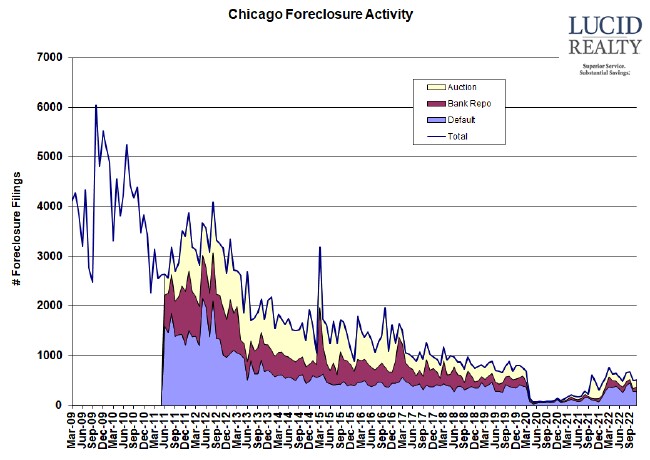 Black Knight's October Mortgage Monitor Report once again shows just how low the delinquency rate is in historic terms. I just don't see how you can have a higher foreclosure rate with historic lows in delinquencies. Yeah, they also have a scary headline but the overall data speaks for itself.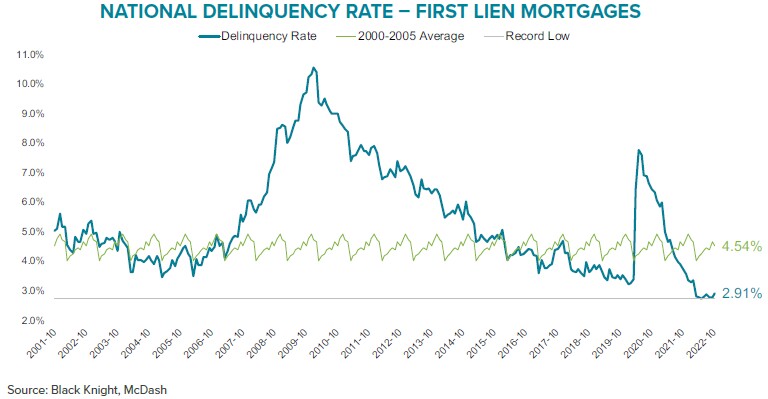 Chicago Shadow Inventory
There is further good news in that the number of Chicago homes IN foreclosure finally ticked down after approximately a 16 month run of steady increases. I have been assuming that this was just a refilling of the pipeline after the foreclosure moratorium so it's good to see the trend break. Now we'll see if my theory gets confirmed by the data over the next few months.