In lieu of their usual Foreclosure Market Report this month RealtyTrac released a report on equity rich and seriously underwater homeowners. However, I still grabbed their updated data for Chicago foreclosure activity which shows July hitting a new low since I've been tracking the data.
Now, I've written about this before – the fact that lower foreclosure activity is not necessarily a good thing. The graph below shows the history of foreclosure activity in Chicago, broken down by the 3 components that RealtyTrac tracks in order to compile their total. You definitely want defaults to decline but you also want to see homes that are not going to be redeemed from the foreclosure process dealt with quickly so that you don't end up with a lot of trashed homes dragging down the neighborhood. That means you actually want to see a high level of auctions and bank repossessions.
So while July hit a new low in overall foreclosure activity it was driven by the fact that it hit a new low in bank repossessions and this is not a good thing. This is a little hard to see in the graph below but trust me the purple region is slightly narrower than it's ever been.

Chicago Shadow Inventory
So when homes are not moving out of the foreclosure pipeline you end up with a lot of "shadow inventory" which I track for Chicago in the graph below. The number of these homes was declining at a nice clip for a long while, then it stalled, then it picked up again, and now it looks like it might have stalled once again. After the shadow inventory went in the wrong direction in June, July actually saw a decline but it was small. We just can't seem to break below that 10,000 number.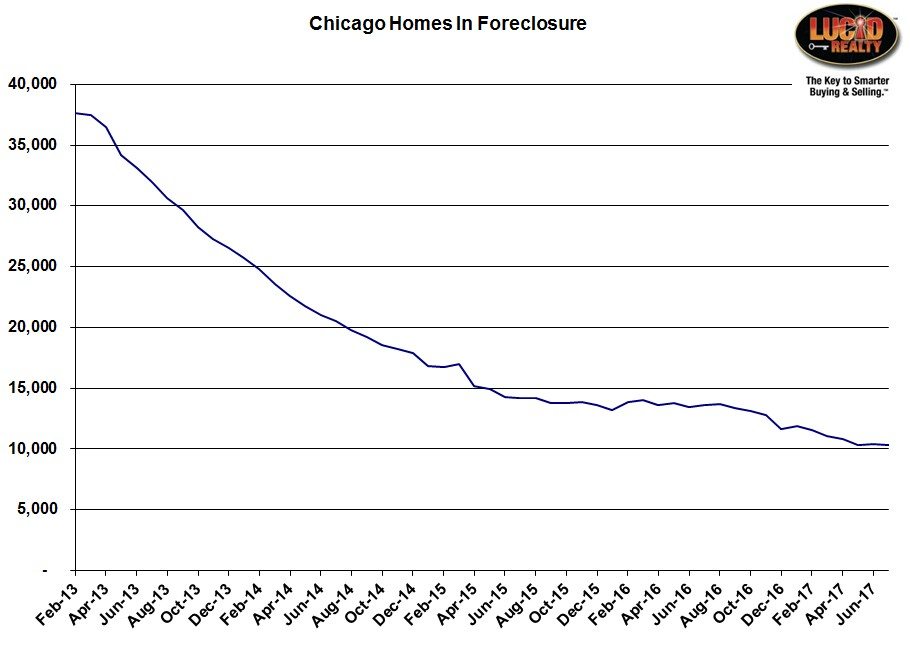 #Foreclosures #ChicagoForeclosures
Gary Lucido is the President of Lucid Realty, the Chicago area's full service discount real estate brokerage. If you want to keep up to date on the Chicago real estate market, get an insider's view of the seamy underbelly of the real estate industry, or you just think he's the next Kurt Vonnegut you can Subscribe to Getting Real by Email using the form below. Please be sure to verify your email address when you receive the verification notice.