9 years ago I wrote a post about the insanity of a steel company located on expensive Lincoln Park real estate: Why Finkl & Sons Is In Lincoln Park. I guess it took 9 years for the city of Chicago to realize that I was right about the best use of this land and give up on Mayor Daley's irrational attachment to manufacturing that goes back to 1990. Just last week the city released their final version of the North Branch redevelopment plan that covers 760 acres along the river on the north side from Kinzie to Fullerton, which includes the 22/ 28 acre Finkl & Sons site.
The current North Branch industrial corridor sticks out like a sore thumb in the aerial photo below – just west of clybourn but east of the highway.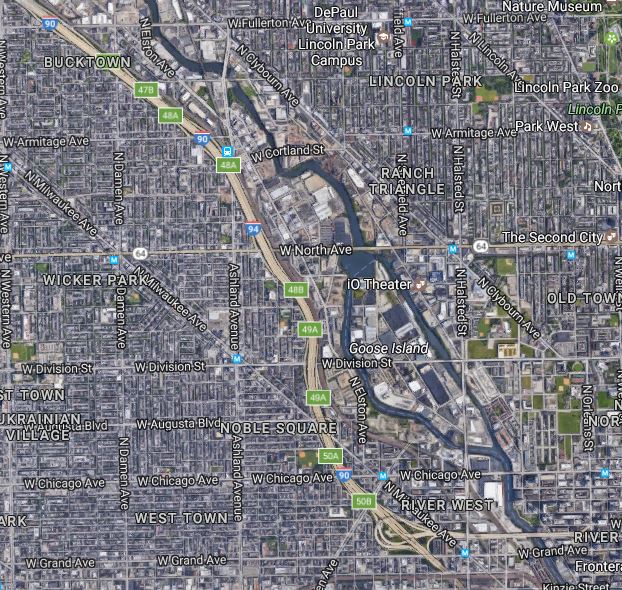 Obviously I have always felt as though this land was seriously underutilized. I could understand not wanting to allow residential or retail space to be used for manufacturing but to not want manufacturing space to be used for residential or commercial space has never made any sense to me. Finally this restriction has been removed.
In light of these changes the Finkl site was sold for $140 MM last year, compared to the $80 MM value back when I published my original post on the subject.
The plan, which is being considered today by the Chicago Plan Commission, includes 32 acres of park space plus an additional 10 acres of recreational space for sports. According to a Chicago Tribune article the plan would also include "riverfront trails, wetland parks with boardwalks and an extension of The 606 trail past Ashland Avenue". The city's release claims that:
The plan's implementation over the next 20 years could triple the local employment base, create tens of thousands of construction jobs, add several thousand new residents, and generate hundreds of millions of dollars in economic activity.
You can find the entire 130 page North Branch Framework on the city's Web site.
#Foreclosures #ChicagoForeclosures
Gary Lucido is the President of Lucid Realty, the Chicago area's full service discount real estate brokerage. If you want to keep up to date on the Chicago real estate market, get an insider's view of the seamy underbelly of the real estate industry, or you just think he's the next Kurt Vonnegut you can Subscribe to Getting Real by Email using the form below. Please be sure to verify your email address when you receive the verification notice.