University Commons
The following addresses are located in University Commons
1033 W14th Place
1069 W 14th Place
1111 W 14th Place
1151 W 14th Place
1000 W 15th Street
1001 W 15th Street
1070 W 15th Street
1071 W 15th Street
1110 W 15th Street
1111 W 15th Street
1150 W 15th Street
1151 W 15th Street
Condos Currently For Sale In University Commons
University Commons is situated immediately adjacent to the University of Illinois (Chicago) campus. Together with adjoining University Village, where 900 new homes have been built, this has become Chicago's most sought-after neighborhood. The park-like UIC campus creates an environment of open green space, as well as the opportunity to enjoy lectures, films and plays from the University's vast recreational and cultural resources.
University Commons is located only 5 minutes from all major highways and 10 minutes from the Loop and is in close proximity to the city's best variety of cultural food choices as it is minutes from fascinating Chinatown, Greek town, Little Italy, and the South Loop.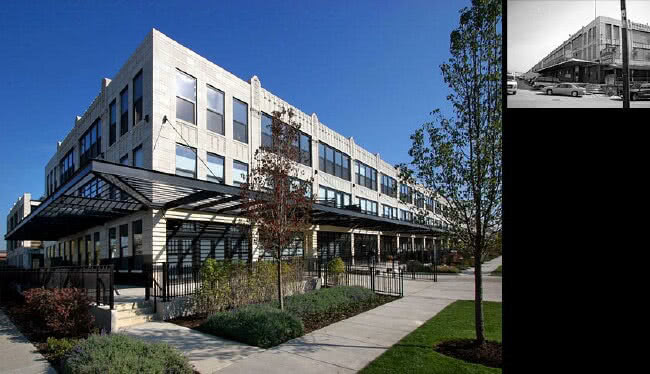 As you enter the secure lobby from tree-lined 15th Street at the far eastern end of the University Commons development, you are only a few feet from Ivy Hall and Morgan Street. As you enter, you are surrounded by the Terra Cotta buildings that made up South Water Market. These buildings, designed by architects Pappageorge/Haymes, have been completely restored. The complex contains six landmark buildings (with 12 different addresses) housing a total of 929 residential loft conversions that were formerly warehouse buildings serving as Chicago's wholesale fresh produce marketplace. This unique urban neighborhood features meticulously restored structures with intricately carved terra-cotta facades.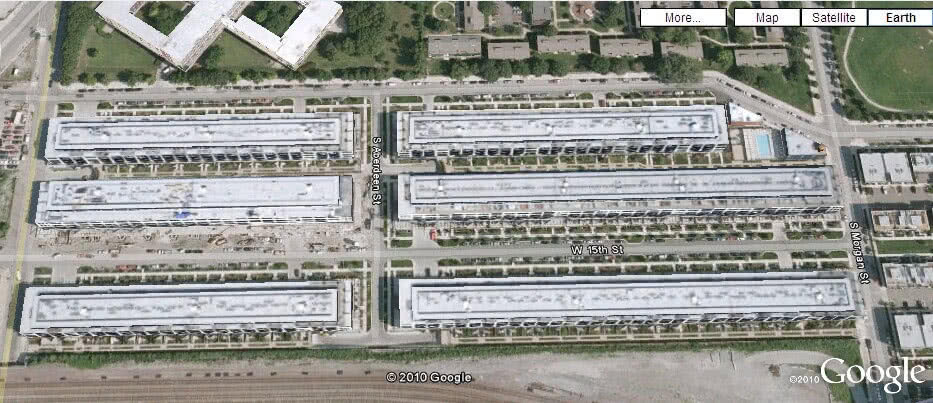 University Commons boasts expansive homes where room heights soar up to 12-feet and panoramic floor-to-ceiling windows are filled with light. Another exceptional interior feature at University Commons is the home office, included in almost every residence. Each unit includes cat-5 wired high-speed Internet service. In addition, University Commons is loaded with terrific amenities:
Outdoor swimming pool
Separate fitness center in each building
Separate party room in each building with a kitchen
28 seat private theater and kitchen
Shared rooftop deck
Dog run
Prices of the units can vary dramatically depending upon the floor, the exposure, and the finishes. For instance, the top floor penthouses are new construction on top of the rehab with finished ceilings, while the lower floors are rehabs of the original warehouses with concrete ceilings and pillars. Views vary between a ground level south facing view of the railroad track, a north facing view of another set of lofts, and an unobstructed north facing view of the city. Finally, the finishes can vary dramatically depending upon the upgrades chosen, which could add up to $100,000 to the price of a unit.
The development is managed by Draper & Kramer, who has a staff of 4 located on site 6 days per week. The buildings are very well maintained. The property manager can be reached at 312-666-0019.
Unfortunately, the homes in University Commons have not maintained their value very well, partly because of the fact that the units were originally sold with an 8 year property tax benefit that does not pass on to secondary buyers. Extremely low property taxes – e.g. $1000 on a $450,000 unit – allowed the original buyers to pay a premium to the developer for that tax benefit. However, that premium can not be recovered since the secondary buyers will not receive the tax benefit.
Floor Plans
The floor plans include enormous floor-to-ceiling windows and ceilings up to 12-feet high and offer extraordinary living space for the dollar. The floor plans shown below represent some of the smaller layouts but there are units up to 1600 square feet, including single floor layouts and duplexes.
Typical 1P Unit
2 Bedroom, 2 Bath
980 Square Feet (Courtyard)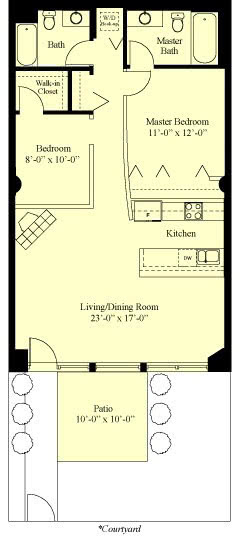 Typical 3P Unit
2 Bedroom, 2 Bath
980 Square Feet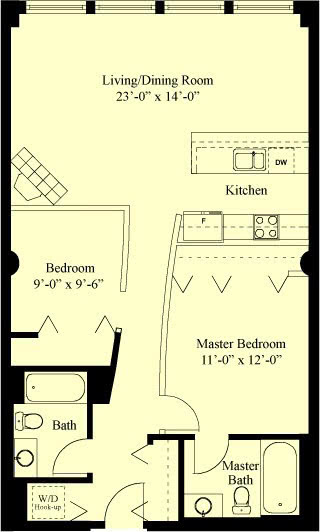 Typical 1B Unit
2 Bedroom, 1 Bath
860 Square Feet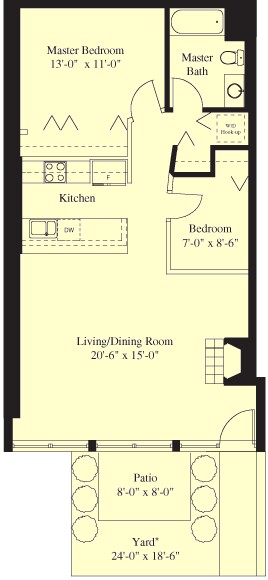 Typical 2 Bedroom, 2 Bath + Den unit
1217 Square Feet
Typical 3BUnit
2 Bedroom, 2 Bath
1,036 Square Feet