345 N LA SALLE DRIVE, CHICAGO, IL 60654
Condos Currently For Sale In The Sterling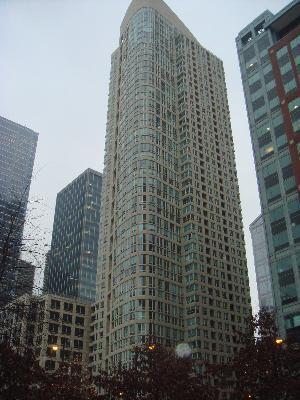 The Sterling is a 50-story high rise on the southeast corner of LaSalle and Kinzie, near the Chicago River. It opened in 2002 and has 389 residential units ranging from studios to three-bedroom units. Owners in the building have been troubled. As of March 10, 2012, 75% of sales in the building were distressed and as of April 10, 2012 almost 63% of the units in the building were being rented. 10 units were in foreclosure and 14 were delinquent in their assessments.
The amenities offered by The Sterling include hospitality/party room, sun deck, two outdoor tennis courts, an outdoor heated pool, and a fitness center. The commercial space on ground level includes CVS Pharmacy, dry cleaning, Quizno's, and a 7-11. There is an on-site management office, as well as 24-hour maintenance and door staff. The building does not have parking itself, but an adjacent building contains an eleven-story parking garage. Parking is separate from the condominium association.
The units feature a washer/dryer in each unit, garbage disposal, open kitchen plans, and granite countertops. Some units have private balconies, and many have stainless-steel appliances and hardwood floors. Monthly assessments include heat, air conditioning, and basic cable.
Floor plans vary depending on whether it is an even or odd floor; the chart below indicates, when necessary.