165 N CANAL STREET, CHICAGO, IL
Condos Currently For Sale In Randolph Place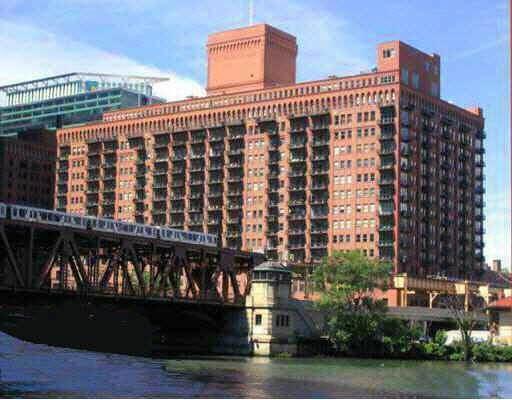 Randolph Place is a sixteen-story building located in the West Loop, conveniently near the Theatre District, the Chicago Lyric Opera, and the Museum Campus. The building was originally designed in 1917 by Daniel Burnham, who designed the 1893 World's Fair in Chicago. (He is most noted for having envisioned a city in which the residents had access to public parks along the lakefront.) Originally, the building was known as the Butler Brothers Warehouse. Over time, the building was home to various other business interests, including the Canadian Northwest Railroad, but in 1999 it was converted to loft-style condominiums, and presently contains 341 units.
Among the features preserved during renovation were the 10-foot interior ceilings (15 feet on the 15th floor), the brickwork facade, and the Tuscan-style arcading. The residences feature such amenities as oak hardwood floors, ventless gas fireplaces, and balconies. Many of the units also have "bonus rooms" up to 400 sq ft that may be attached to the units or located in the center of the building. Beware of the double counted kitchen though. We found a number of units where they show the dimensions of the kitchen as a separate room and then count that space again in the measurements of the combo living room/dining room.
There is also a receiving room as well as a luxurious lobby with 24-hour doorman. As far as transportation is concerned, a bike storage room is available, as well as indoor heated parking. Individual storage lockers and a state-of-the-art fitness center round out the amenities available at Randolph Place.
If you happen to work downtown, you could walk to work in the Loop from this building. In addition, the building is directly across the street (Canal) from the planned Metramarket, a 100,000 square foot French market. Presently, the east-facing units offer a spectacular view of the river, but the possibility exists that a new high-rise might be built on a narrow strip of land standing between Randolph Place and the river, cutting off those views. There are rumors of two different developments being planned next to the building: 400 W. Randolph and 150 N. Riverside Plaza.
Cats are permitted and do not require payment of a fee, though they must be registered with the management company. There is a fee per dog.