Division & Clybourn, Chicago, IL 60610
Condos Currently For Sale In Parkside Of Old Town
Parkside of Old Town is a venture of the Chicago Housing Authority intended to improve many CHA neighborhoods by demolishing existing high rises and replacing them with mixed-income developments, some to be sold at market prices and others to be reserved for CHA residents. Part of Mayor Daley's Plan for Transformation, this development replaces the Cabrini Green buildings but it has struggled to get off the ground, starting construction as it did toward the tail end of the housing boom.
History of Cabrini Green
The early Cabrini Green developments were constructed starting in 1942. Unlike many public housing projects, Cabrini Green adjoined two affluent neighborhoods (Gold Coast and Lincoln Park.) Initially Cabrini Green was an integrated neighborhood (in terms of relative income levels), but after World War II the area degraded rapidly when the nearby factories, which had employed most of the residents, began to shut down. At the same time that jobs were being lost in large numbers, the city was withdrawing crucial services like police patrols due to a lack of funding. Cabrini Green soon became a symbol not just in Chicago, but nationwide, of the worst problems of urban housing projects. It devolved into gang territory, with police fearing to enter the neighborhood, and the primary economic activity came from illicit activities such as drug dealing. The housing buildings, many of which had been poorly constructed of low-quality materials, suffered a number of maintenance problems and often a very real lack of any kind of services; at one point, garbage chutes in one building were so badly clogged that rotting garbage had piled all the way up to the fifteenth floor.
The City of Chicago has made multiple, unsuccessful efforts to revitalize and restore Cabrini Green to its original purpose, that of providing affordable housing to those under the CHA's authority while encouraging higher-income families to move in and create a mixed-income area. In 2000, Mayor Richard M. Daley put forth a Plan for Transformation under which old CHA high-rises would be demolished and new ones built in their place, with a mix of CHA-supported housing, units sold at market prices, and some "affordable" units whose prices are reduced to make them affordable for working-class families. More information on Cabrini Green, including its history and further details on Mayor Daley's Plan for Transformation, can be found on Wikipedia.
Parkside of Old Town
Located at Division and Orleans, this development has encountered a number of delays and fiscal problems. Most recently, the developer would have defaulted on a construction loan from JP Morgan Chase, but was rescued by the City of Chicago, which allowed Parkside to claim tax-increment funding earlier than it was to have been able to (initially the plan called for the tax-increment funding to go into effect when 85% of the units had been sold; the city is allowing Parkside to claim the funding at 43% instead.) Parkside is being built in two phases, only one of which is selling now, and will have a total of 800 units. 30% of the units are earmarked for former CHA residents, 20% for "affordable housing" for moderate income families, and 50% to be sold at market price. The market-price homes range from 700-square-foot one-bedroom condos (starting around $215,000) to 2250-square-foot three-bedroom units starting around $799,000.
Parkside Of Old Town consists of a total of eight buildings.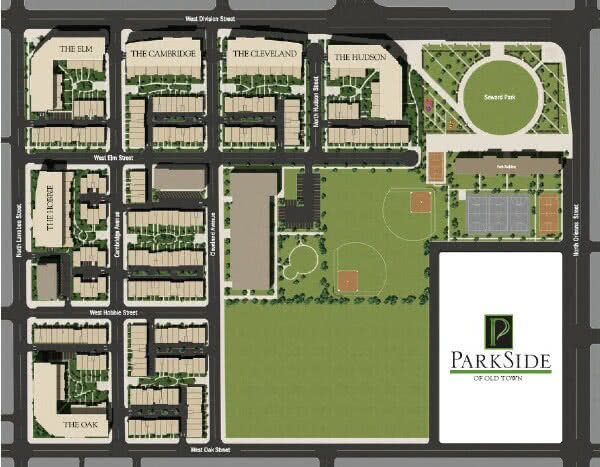 As of January 2010, units in The Hudson and The Cambridge are listed for sale by the developer. The developer lists parking spaces available for sale. For those who prefer not to drive, there is a grocery store in easy walking distance (less than two blocks), and the development is near the Sedgwick stop on the Purple and Brown lines of the L, and just a few blocks from Clark/Division on the Red line, providing easy access to the amenities of the Loop and the rest of the city. There are a number of restaurants nearby, and the Steppenwolf Theatre is just a few blocks northwest if you follow Clybourn.