55 E Erie St, Chicago, IL 60611
Condos Currently For Sale In 55 E Erie Street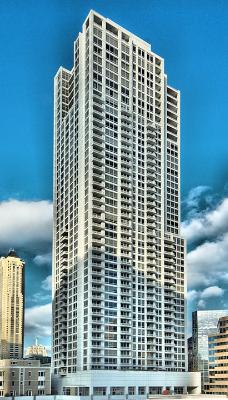 55 East Erie is the third-tallest all-residential building in the United States (the top two spots are held by Trump World Tower in New York City, and 340 on the Park in Chicago.) A block away from the Magnificent Mile, this 56-story, 194-unit condominium tower boasts views of the Chicago skyline and Lake Michigan. There are seven floors of split-story penthouses with express elevator service, and four so-called "Skyhomes," which are unique 4-story townhomes with their own elevators. 29 units are rented.
55 East Erie boasts a fitness center with towel service, a full-length lap pool, Jacuzzi, and locker rooms with saunas and steam rooms. Each piece of cardiovascular equipment has its own individual TV.
For the car-owning Chicagoan, there are 425 deeded parking spaces; those who prefer their own propulsion can store their bikes on-site as well. Professionals will appreciate the on-site dry cleaner. There is a hospitality room with full kitchen, 24-hour door staff, and on-site engineers and maintenance.
Among the other amenities offered are building-wide ultra-high-speed internet, emergency-use defibrillators, a book club, and an activities committee that arranges get-togethers to introduce residents to famous neighbors or watch big sporting events.
| | | | | |
| --- | --- | --- | --- | --- |
| Floors | Type | Bedrooms | Bathrooms | SqFt |
| 14-33 | F Tier | 1 | 1.5 | 1060 |
| 14-33 | A Tier | 2 | 2 | 1575 |
| 14-33 | B Tier | 2 | 2 | 1407 |
| 14-33 | D Tier | 2 | 2 | 1762 |
| 14-33 | C Tier | 3 | 2.5 | 2028 |
| 14-33 | E Tier | 3 | 3 | 2384 |
| 14-33 | CD Tier | 3 | 3.5 | 3804 |
| 14-33 | EF Tier | 4 | 3.5 | 3459 |
| 34-48 | G Tier | 1 | 1.5 | 1487 |
| 34-48 | J Tier | 2 | 2 | 1436 |
| 34-48 | H Tier | 2 | 2.5 | 1889 |
| 34-48 | K Tier | 2 | 2.5 | 2375 |
| 34-48 | I Tier | 3 | 2.5 | 2227 |
| 34-48 | GK Tier | 3 | 3.5 | 3724 |
| 34-48 | AB TIer | 3 | 4.5 | 3375 |
| 49-55 | AB Tier | 3 | 3.5 | 4165 |