I knew it was bad and getting worse but as we updated our Chicago neighborhood housing market statistics I started to see deterioration on a scale I had not seen before. It used to be that the evidence of a slowdown was limited to the fringe areas of the city. Sacred neighborhoods like Lincoln Park and Lakeview seemed to be immune. However, that was not the case in November and December which saw home inventory levels (on a months of supply basis) rise to unprecedented levels throughout the city. So I decided to look at Chicago as a whole for the first time. The picture is not pretty.
We follow 2 – 3 bedroom condominiums in the city because they are such a large percentage of the housing stock. Although Chicago condo inventory has been on an upward trend for the entire year it seems to have really skyrocketed in the last 2 months as a result of plunging sales. Inventory levels are approaching 2 years of supply.
Meanwhile, there is a clear pattern of these condos taking longer to sell (the ones that did sell). After a brief spike in the spring of 2007, it was taking slightly longer than 80 days for condos to sell for about a year. However, there is a clear upward trend in the data over the last year and it is now taking more than 100 days for condos to sell in Chicago (again, those that do sell).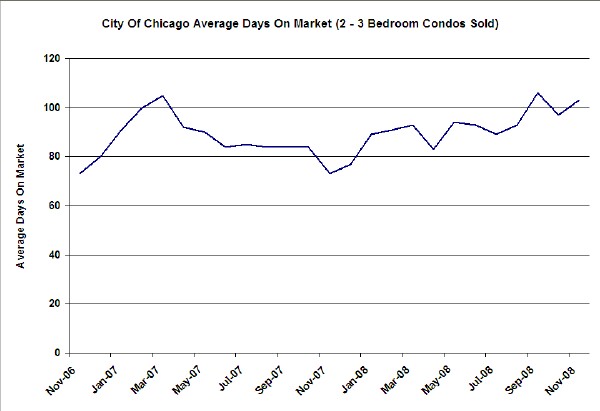 We have neighborhood level housing data at the following links. Be sure to check out Lincoln Park and Lakeview:
This may be stating the obvious but with inventory levels rising and mortgage rates coming down it looks like it's going to be a great spring for buyers. Not so much for sellers, though the decline in mortgage rates should increase demand.