S&P Dow Jones CoreLogic released their February Case Shiller home price indices this morning which showed that the nation's single family home prices rose by 19.8% over the last 12 months. That's up from January's 19.2%. I think that's close to an all time record.
Of course Phoenix still tops the list with a 32.9% increase, followed by Tampa at 32.6%. Chicago set almost a 34 year record with a 13.1% gain, which put us near the bottom of the list of 20 metro areas. But the good news is that at least another metro area fell behind us. We are now 4th from the bottom, ahead of Minneapolis, New York, and DC.
Condo/ townhome price gains set a 7 year record with a 5.6% gain.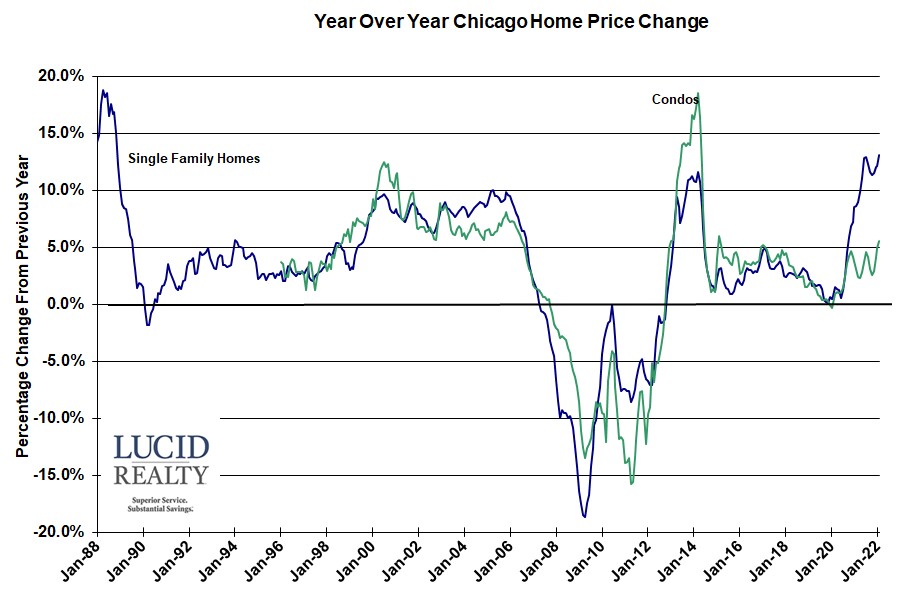 Craig J. Lazzara, Managing Director at S&P DJI, commented on the relative strength of home prices but also cautioned about the impact that higher mortgage rates might have on future appreciation.
The National Composite's 19.8% year-over-year change for February was the third-highest reading in 35 years of history. That level of price growth suggests broad strength in the housing market, which is exactly what we continue to observe. All 20 cities saw double-digit price increases for the 12 months ended in February, and price growth in all 20 cities  accelerated relative to January's report.
The macroeconomic environment is evolving rapidly and may not support extraordinary home price growth for much longer. The post-COVID resumption of general economic activity has stoked inflation, and the Federal Reserve has begun to increase interest rates in response. We may soon begin to see the impact of increasing mortgage rates on home prices.
Case Shiller Chicago Area Home Price Index By Month
The graph below shows the Case Shiller index values for the Chicago area by month along with a red trendline based on single family prices before the bubble developed. Single family home prices rose by 1.2% from January, surpassing the bubble peak level by 3.9%. Condo/ townhome prices rose 0.2% but that still leaves them 0.4% below their peak. Notice how over the last few months single family home prices have really pulled ahead of condo prices.
Relative to their trendline single family home prices are still lagging by 19.4% but let's keep things in perspective. Single family home prices are now up a total of 70.5% from the bottom of the market while condo prices have risen 64.8%.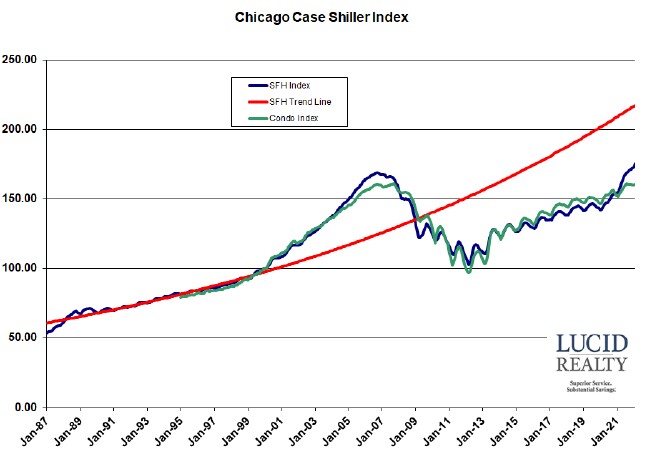 #ChicagoHomePrices #CaseShiller #HomePrices
Gary Lucido is the President of Lucid Realty, the Chicago area's full service real estate brokerage that offers home buyer rebates and discount commissions. If you want to keep up to date on the Chicago real estate market or get an insider's view of the seamy underbelly of the real estate industry you can Subscribe to Getting Real by Email using the form below. Please be sure to verify your email address when you receive the verification notice.