So far there is no sign of higher mortgage rates depressing home prices. Chicago area single family home prices are still appreciating at the upper end of the recent historic range but it slowed down a bit since last month and we're still near the bottom of the pile, slipping down one more slot in the rankings. That is what this morning's release of the March Case Shiller indices from S&P Dow Jones CoreLogic tells us.
The nation's single family home prices rose 20.6% in the last year, which is up from 20.0% last month. In contrast, Chicago area home prices only rose 13.0%, which is down from 13.2% last month. And that caused the Chicago area to drop to 3rd from last place among the largest 20 metro areas tracked by these folks. And places like Tampa are still registering 34.8% gains. Sad.
Condo prices, on the other hand, are actually picking up speed, which is not too surprising since their inventory is down these days. In the last 12 months their prices are up 6.4%, which is the highest appreciation in almost 8 years.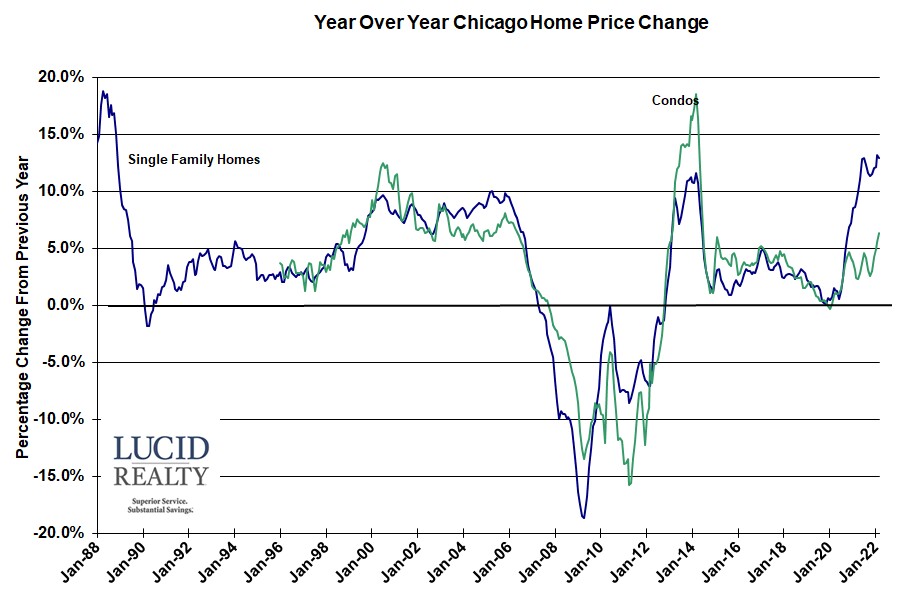 Here is Craig J. Lazzara's, Managing Director at S&P DJI, take on what is going on:
Those of us who have been anticipating a deceleration in the growth rate of U.S. home prices will have to wait at least a month longer.
Mortgages are becoming more expensive as the Federal Reserve has begun to ratchet up interest rates, suggesting that the macroeconomic environment may not support extraordinary home price growth for much longer. Although one can safely predict that price gains will begin to decelerate, the timing of the deceleration is a more difficult call.
Case Shiller Chicago Area Home Price Index By Month
The graph below shows you what the Chicago area price trend has looked like for both single family homes and condos. As you can see single family homes have really taken off lately. Single family prices were up 1.5% in just the last month and have only recently surpassed the bubble peak. They are now 5.6% above that peak. Condo prices are only now starting to take off, with a 2.0% increase in the last month and only this month surpassing their peak by 1.6%.
The gains from the bottom of the housing market crash are impressive. Single family prices have risen 73.2% while condo prices have risen 68.1%.
The red line is a trend line that I created off of pre-bubble single family home indices. As you can see we've been lagging that for a while but recently we've been closing the gap. We are now 18.3% below that line.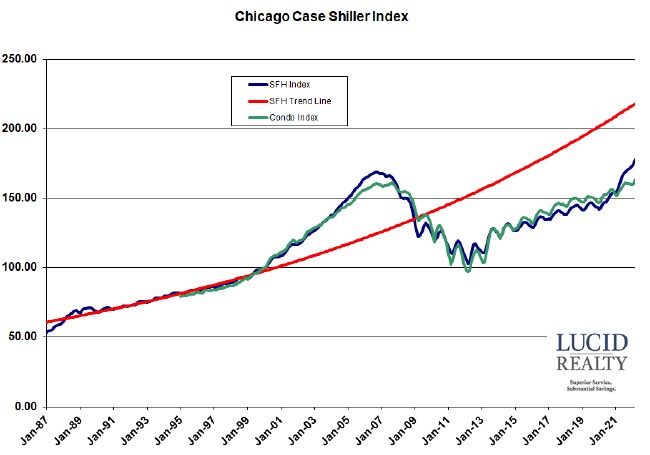 #ChicagoHomePrices #CaseShiller #HomePrices
Gary Lucido is the President of Lucid Realty, the Chicago area's full service real estate brokerage that offers home buyer rebates and discount commissions. If you want to keep up to date on the Chicago real estate market or get an insider's view of the seamy underbelly of the real estate industry you can Subscribe to Getting Real by Email using the form below. Please be sure to verify your email address when you receive the verification notice.