You would think that with the Chicago area's low home inventory that our home prices would be taking off. They are advancing but not nearly as fast as the rest of the nation and we are in fact falling further and further behind the rest of the country. S&P CoreLogic just released their November Case Shiller home price index for the 20 metro areas they track and the nation as a whole and the Case Shiller Chicago home price index came in with another disappointing performance.
The gain in single family home prices from last year pulled back to 4.0% after hitting a record level last month. That leaves us in 4th place from the bottom, which is where we have been for quite some time. Portland and Seattle are both slightly above 10% still and the nation as a whole is showing a 5.6% gain over last year.
Chicago area condo prices pulled way back to the lowest gain in almost 2 years: 1.6%. Just last month we were at 3.2%.
You can see the historic year over year price gains for both Chicago area home price indices in the graph below. The good news is that prices have been rising now for 49 consecutive months.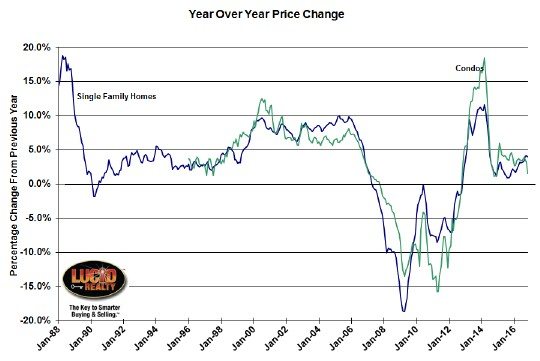 David M. Blitzer, Managing Director & Chairman of the Index Committee at S&P Dow Jones Indices hedged about the future direction of national home prices but he seems to be generally optimistic:
With the S&P CoreLogic Case-Shiller National Home Price Index rising at about 5.5% annual rate over the last two-and-a-half years and having reached a new all-time high recently, one can argue that housing has recovered from the boom-bust cycle that began a dozen years ago. The recovery has been supported by a few economic factors: low interest rates, falling unemployment, and consistent gains in per-capita disposable personal income. Thirty-year fixed rate mortgages dropped under 4.5% in 2011 and have only recently shown hints of rising above that level. The unemployment rate at 4.7% is close to the Fed's full employment target. Inflation adjusted per capita personal disposable income has risen at about a 2.5% annual rate for 30 months.
The home prices and economic data are from late 2016. The new Administration in Washington is seeking faster economic growth, increased investment in infrastructure, and changes in tax policy which could affect housing and home prices. Mortgage rates have increased since the election and stronger economic growth could push them higher. Further gains in personal income and employment may increase the demand for housing and add to price pressures when home prices are already rising about twice as fast as inflation.
Case Shiller Chicago Home Price Index By Month
Single family home prices in the area declined by 0.8% from last month. A decline at this time of the year is not unusual but the second worst cities tracked, Detroit and San Francisco, fell by only 0.1%. Yeah, we're worse than Detroit. Meanwhile, the nation as a whole was actually up from October by 0.2%. And Chicago condo prices actually plummeted by 2.2% last month, which is the worst one month decline in almost 3 years. That's why I'm saying that we are falling further behind. But I guess the good news is that Chicago is getting more and more affordable vs. the rest of the country.
You can get a pretty good historic perspective on Chicago area home prices in the graph below (you can click on it for a larger view). With these most recent declines Chicago single family home prices have fallen a total of 19.6% from the peak while condo prices have fallen by 15.4%. Nevertheless, they have recovered quite a bit from the bottom with single family home prices up a total of 31.9% and condo prices up 40.0%.
As you can see single family home prices are significantly lagging that red trendline (I created it from pre-bubble data). There is now a 24.6% gap.
The sad thing is that Chicago area home prices are still below an entire 5  year stretch of the bubble. Single family home prices were higher than they are now from November 2003 to December 2008 while condo prices were higher from December 2003 to February 2009.


#ChicagoHomePrices #CaseShiller
Gary Lucido is the President of Lucid Realty, the Chicago area's full service discount real estate brokerage. If you want to keep up to date on the Chicago real estate market, get an insider's view of the seamy underbelly of the real estate industry, or you just think he's the next Kurt Vonnegut you can Subscribe to Getting Real by Email using the form below. Please be sure to verify your email address when you receive the verification notice.