The S&P Dow Jones CoreLogic June Case Shiller home price indices released this morning for the nation and Chicago tell the story of a real estate market that is slowing down just a bit in some cities. Although the nation's home prices rose a very respectable 18.0% in the last year, that's still down from the May growth rate of 19.9%. When you look at the price changes from May to June you see that 6 metro areas actually saw a decline. Chicago was not one of them. But it's clear that we're starting to see the impact of rising mortgage rates.
Craig J. Lazzara, Managing Director at S&P DJI, emphasized that home prices are still doing well:
It's important to bear in mind that deceleration and decline are two entirely different things, and that prices are still rising at a robust clip. June's growth rates for all three composites are at or above the 95th percentile of historical experience. For the first six months of 2022, in fact, the National Composite is up 10.6%. In the last 35 years, only four complete years have witnessed increases that large.
He went on to point out that increasing mortgage rates would probably continue to depress future large price increases.
The Chicago area actually picked up in the rankings, rising from 3rd from the bottom to 4th. Some people believe that the fact that our price increases have been lagging the rest of the country might leave us poised to make up some of that distance. Single family home prices in the Chicago area registered a 13.1% annual gain, actually up slightly from May and the 14th consecutive month with a double digit percentage gain. It's clear from the graph below how extraordinary this is – just not extraordinary enough to keep up with the rest of the country.
Condo prices are up 7.3% in the same period – another 8 year record. For the past 8 months the year over year condo price increases have been larger each month. As I've been pointing out in my monthly updates condo inventory has been tight and that helps prices.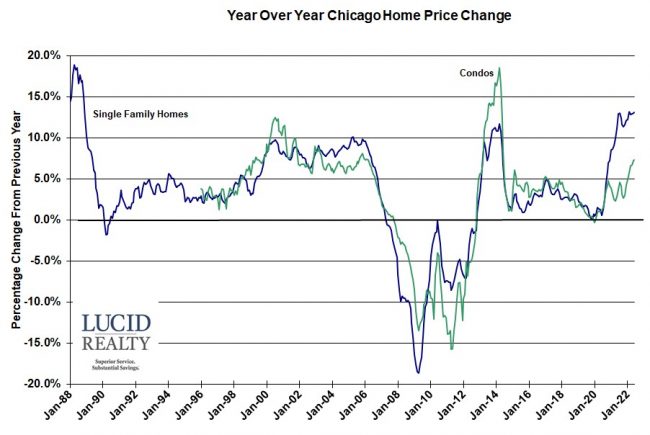 Case Shiller Chicago Area Home Price Index By Month
The Chicago area did pretty well in June, considering that so many metro areas actually saw declines from May, with single family home prices rising 1.8% and condo prices rising 1.0% in that month. The graph below plots all the Case Shiller Chicago home price indices over time with a red trend line that I developed from pre-bubble data. You can clearly see how we've been lagging that trend line for years but recently we have been closing that gap. Currently single family home prices are 14.6% shy of trend.
Unlike the rest of the country the Chicago area only recently surpassed the bubble, with single family homes now 11.4% beyond it and condos 5.7%. Understandably, there was a lot of ground to cover from the bottom. Single family home prices are up 82.7% while condo prices have risen 74.9% from the worst of those days.