Homes are currently a better investment than the stock market. At least that's the way it still looks based on this morning's S&P Dow Jones CoreLogic release of the May Case Shiller home price indices for the nation, including the Chicago area. The nation's home prices advanced 19.7% for the 12 month period. Although that's down slightly from April's 20.6% that's still very high considering that mortgage rates were already on the way up during that 3 month period for which the data is averaged. Craig J. Lazzara, Managing Director at S&P DJI, is still saying that higher mortgage rates will surely kill the party at some point. Maybe he's right but we're not seeing it yet.
Home prices in the Chicago area were up 12.9% for the same period, which is about where it was the last two times the data was released. Again we are towards the bottom of the ranking of the 20 largest metro areas – third from the bottom this time. But at least we've had 13 consecutive months of double digit price increases.
Interestingly, condo price appreciation is actually accelerating after lagging single family home appreciation for about 3 years. Well, it's still lagging but May was the 7th month in a row with higher year over year appreciation – 7.3%. That's also the highest rate in almost 8 years. You can see what's going on in the graph below.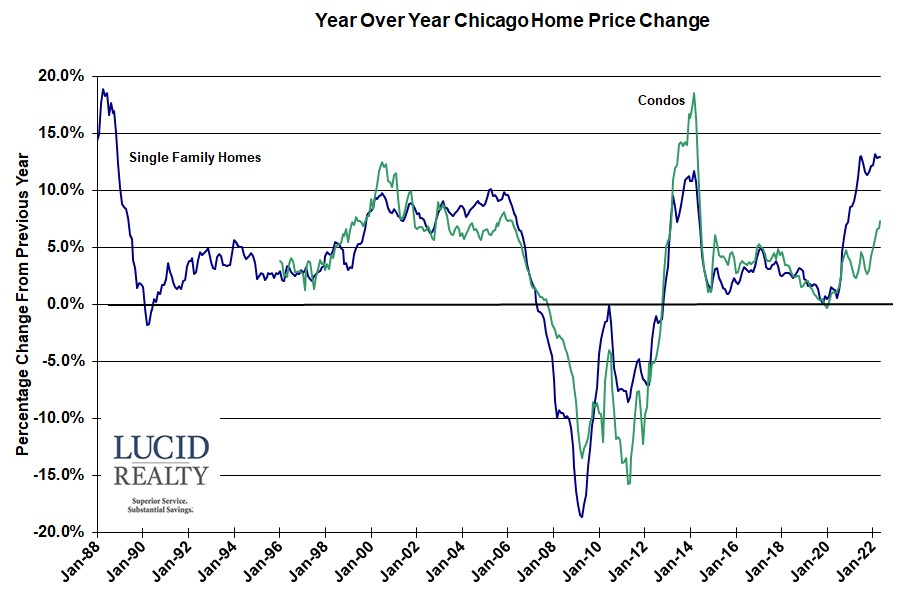 Case Shiller Chicago Area Home Price Index By Month
The graph below shows the Chicago Case Shiller numbers for both single family homes and condos going back to 1987. You can clearly see how single family home prices really started to take off in late 2020 with condo prices just now taking off. Single family homes rose 1.8% in May from April while condo prices were up 1.7%.
I also added a red single family trend line based on the pre-bubble values that we had been falling further behind from until the recent price surge when that gap started to close. Currently we are 15.9% below that line.
Single family home prices have risen 79.5% from their bottom while condo prices have risen 73.1%. Both indices have finally surpassed their bubble peak with single family homes exceeding it by 9.4% and condos exceeding it by 4.6%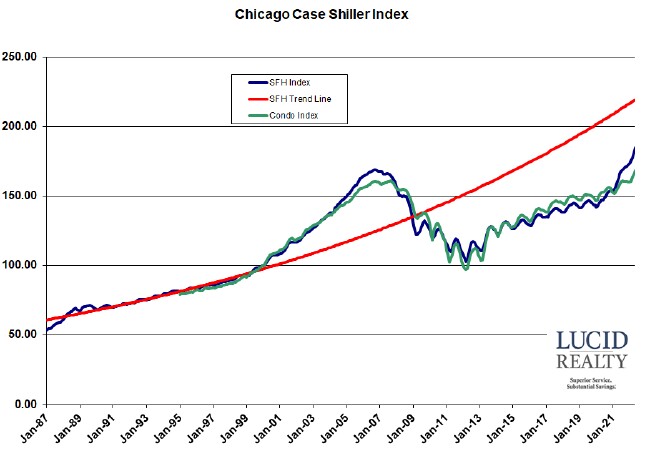 #ChicagoHomePrices #CaseShiller #HomePrices
Gary Lucido is the President of Lucid Realty, the Chicago area's full service real estate brokerage that offers home buyer rebates and discount commissions. If you want to keep up to date on the Chicago real estate market or get an insider's view of the seamy underbelly of the real estate industry you can Subscribe to Getting Real by Email using the form below. Please be sure to verify your email address when you receive the verification notice.